Although the news from the market has lately focused on all things Eurozone-related, one recent piece of news out of Asia caught my attention. Fitch Ratings has just downgraded Japanese government bonds two notches to A+.
This made me think that the classic line by Bart Simpson as he sits in the back of the family car - "are we there yet, are we there yet" - could just as well apply to the question of whether it is finally time to short Japanese Government Bonds? A simple way to consider this question is to simply look at the graphs below of Japanese 10 year government bond yields and total Japanese government debt.
20 Year Trend in 10 Year Japanese Government Bond Yields: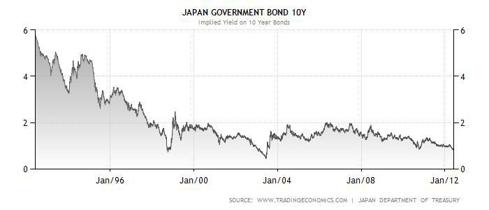 Japanese 10 Year Government Bond Yields Over the Last Year: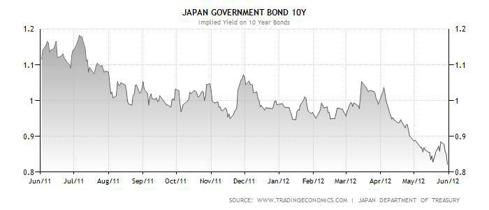 Growth of Total Japanese Government Debt Outstanding Over the Last 20 Years: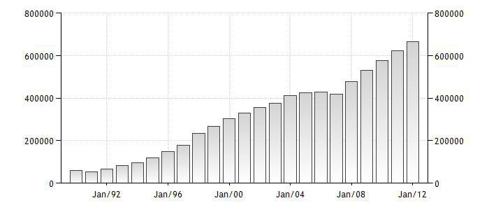 Projected Growth of Japanese Government Debt To 2016: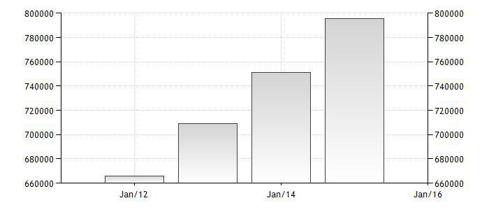 Total Japanese Government debt outstanding has now reached 239% of Japan's GDP, a level which makes the United States and our dysfunctional government in Washington look like positive spendthrifts. One perspective we could take is that there is no hope of Japan ever paying back this debt, and that there is simply nowhere for yields to go but up. Therefore, shorting Japanese government bonds is a fantastic opportunity for huge gains, a veritable one-way ticket to easy street.
By the same token, however, numerous investment analysts - many of whom are now former investment analysts - have been arguing for shorting Japanese bonds for at least a decade, and much money has been lost in this trade. Just to take one example I found, Moneyweek magazine in the UK had an article 15 months ago entitled "Japanese government bonds: could this be the best trade ever?". At the time, Japanese 10 year yields were approximately 1.3%, and the article stated that "1% is realistically the worst-case scenario." The Japanese 10 year currently yields 0.85%. Luckily for the writer of that article, he was just a journalist and not an investment manager.
Of course, it is certainly possible that the time truly has come to short Japanese debt. The Japanese national savings rate has declined from 16% twenty years ago to 2% today, a level well below even us supposedly profligate Americans. Furthermore, the Japanese Government Pension Fund, the largest holder of Japanese Government debt, has actually been selling more Japanese government debt then its been buying in order to cover payouts to Japan's rapidly growing legions of retirees.
The short answer to the question of shorting Japanese government debt is that while it certainly looks like it has finally become the ideal trade, history has taught us that this trade is far from a guaranteed success.
How to play Japanese government debt? If you believe that we are finally at the point where going short Japanese government is the right trade, then the PowerShares DB Inverse Japanese Government Bond ETN (NYSEARCA:JGBS) is the ideal trade. JGBS uses futures to provide a 1x inverse return on its' Japanese government bond index.
If you take the contrarian position - that Japanese yields still have further to fall and that the price of bonds will consequently rise - then the best option would be the PowerShares DB Japanese Govt Bond Futures ETN (NYSEARCA:JGBL).
Disclosure: I have no positions in any stocks mentioned, and no plans to initiate any positions within the next 72 hours.