Who is benefiting most from the recent stock market (NYSEARCA:SPY) sell off? The answer: the 47% of Americans that are not invested in stocks. They are benefiting from the decline in stocks because the sell off is having a spill over effect into broader risk asset markets. This includes the energy and agricultural commodities markets.
When the stock market peaked on April 2, so too did gasoline. Since then, we have seen the spot price of gas decline by over 22%. So if you are driving around in a car or truck for your work this summer, or if you are planning a long drive for your summer vacation, the cost for making these trips may become increasingly less expensive if the current trend continues.
click to enlarge images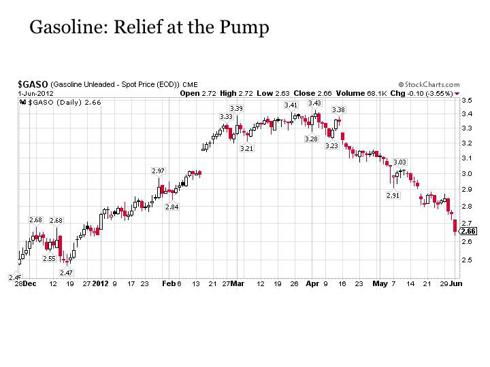 Click to enlarge
Agricultural commodities prices also peaked at the outset of the second quarter. And although they have thrashed back and forth along the way, they are down 14% over the last few weeks. Once again, if you plan on eating or making a trip to the grocery store in the coming months, your meals may end up costing less than they were before.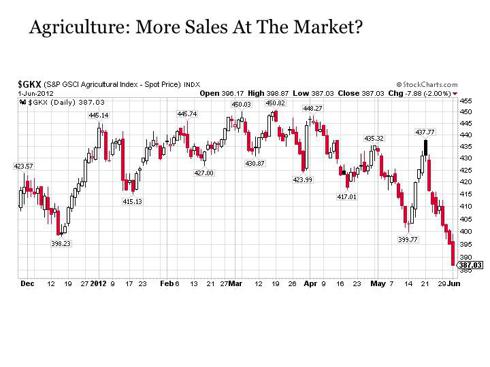 Click to enlarge
And for those among the 47% of Americans that do not own stocks and don't care what the markets are doing on any given day, they may be particularly pleased. For just less than half of Americans are experiencing absolutely no decline in their net worth - perhaps they've even seen a recent improvement if they own bonds instead of stocks - but they are looking at the prospects of paying less for gasoline at the pump and food at the grocery store. This effectively represents a tax cut that leaves consumers with extra money to spend on other products to help boost the economy.
And even if you are among those that remain invested in the market, the opportunity exists to take advantage of these recent price trends. McDonald's (NYSE:MCD), for example, stands to potentially from lower gasoline and agricultural costs due a reduction in operating expenses and product input costs. Moreover, product demand remains relatively stable regardless of how the economy performs due to its recession resistant product line-up.
Maybe letting the capital markets cleanse themselves has more merit than just helping find a new start for the U.S. economy. Perhaps it will even help provide an added boost to consumer spending along the way too.
Disclosure: I am long MCD.
This post is for information purposes only. There are risks involved with investing including loss of principal. Gerring Wealth Management (GWM) makes no explicit or implicit guarantee with respect to performance or the outcome of any investment or projections made by GWM. There is no guarantee that the goals of the strategies discussed by GWM will be met.