What would you think of a company with the following characteristics?
Manufactures precision industrial equipment with a worldwide market and customer base.
Has strong and growing profitability from selling its products.
Earnings are projects to grow at a 20% to 30% rate for the next several years.
The stock trades a a PE of less than 9.
That sounds pretty good to me, and the company I am looking at is Hardinge, Inc. (NASDAQ:HDNG). This New York based company manufactures advanced metal cutting equipment [lathes] for use in industries like aerospace, automotive, defense, heavy equipment and medical equipment. 60% of sales come from outside the U.S. and growth has been excellent.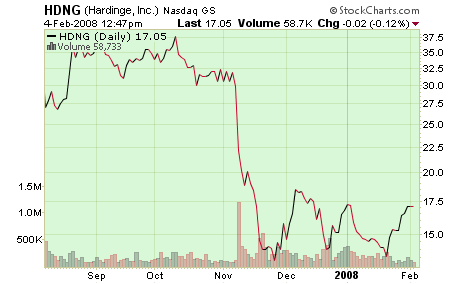 The share price of Hardinge was cut in half in November when, although net income for the 3rd quarter was up 35% quarter over quarter, the per share income was only up a penny. A recent share offering had diluted the shares outstanding. Orders were also down in the 3rd quarter, but that was in comparison to 2006 Q3, which had a bi-annual trade show which generated a one time order boost.
I see a company that is still growing sales and net income with projected income growth of at least 20% going forward. As noted above, if this is the case the current PE of 9 shouts value to me.
Disclosure: I currently do not have a position in HDNG.