Tongjitang Chinese Medicines Company (NYSE: TCM), a pharmaceutical company focusing on the development, manufacturing, marketing and selling of modernized traditional Chinese medicine in China, announced Monday that severe snow storms in central and southern China will negatively impact its first quarter 2008 financial results.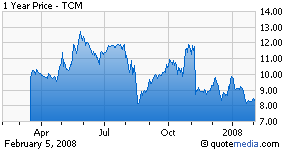 Xiaochun Wang, Tongjitang's chief executive officer and chairman of its board of directors, stated:
The extreme weather conditions are creating widespread power shortages and interrupting our manufacturing and product transportation. We halted manufacturing and product delivery from Guizhou Tongjitang Pharmaceutical and Guizhou LLF Pharmaceutical, and we are working diligently to assess the impact the extreme weather will have on our first quarter 2008 results. We also believe that our sales and promotional efforts are temporarily waning in the Central and Southern areas of China, as businesses remain closed and salespeople are unable to effectively travel. While all of these issues are short-term in nature, we anticipate that our first quarter results will reflect at least two weeks of weather-related sales disruption.
Mr. Wang continued:
Tongjitang will resume normal operations as soon as conditions allow, and we expect to update investors with any material developments as we deem appropriate. One certainty is that we remain confident in our long-term growth prospects.
Nineteen provinces and regions in China have been hit by the worst winter storms in over 50 years. Damage has been extensive in agricultural areas, particularly in areas in southern China producing winter crops. The Ministry of Agriculture reports that over 23 million acres of agricultural land have been affected by snow and freezing rain, with as much as 2.7 million acres having a total loss of winter production. In addition, extensive damage has been reported to greenhouses, support structures and agricultural equipment.
Along with agricultural damage has come extensive damage to property and economic production. The storms have resulted in over 60 deaths and over 1.7 million people relocated in the past two weeks. China's Ministry of Civil Affairs reports that the storms have destroyed 223,000 houses and damaged another 862,000, and caused a direct economic loss of RMB 53.8 billion (US$7.47 billion). Numerous cities and rural areas have been hit by power outages. Transportation disruptions have stranded hundreds of thousands of travelers, with the disruption made worse by the crush of travel occurring this week due to the upcoming Chinese New Year national holidays.
Despite the immediate disruptions, the longer term impact of the storms is expected to be muted. World Bank economist Louis Kuijs said that most of the impact of the storms, including rising food prices and a decline in industrial output over January and February, will turn out to be temporary, and that there 'could be some pick-up (later in the year) as investment takes place to solve the bottlenecks'.
Disclosure: none