Kimberly-Clark Corporation (NYSE:KMB) has some of the most recognized brands in the world. They have a proven track record of innovation; in fact, they have created five of the eight major consumer product categories in which they compete.
K-C is engaged in the manufacturing and marketing of a range of products made from natural or synthetic fibers using advanced technologies in fibers, nonwovens and absorbency.
The company operates in four segments: Personal Care, Consumer Tissue, K-C Professional & Other and Health Care. The Company has manufacturing facilities in 36 countries and products sold in approximately 175 countries.
Net Sales By Geography

| | |
| --- | --- |
| North America | 50% |
| Europe | 16% |
| Latin America, Asia, and Other | 34% |
Its products are sold under brands, such as Kleenex, Scott, Huggies, Pull-Ups, Kotex and Depends. It is also one to the leading manufacturers of health and hygiene products in the world with revenues in excess of $20 billion.
Net Sales By Business

| | |
| --- | --- |
| Personal Care | 44% |
| Consumer Tissue | 32% |
| Health Care | 16% |
| K-C Professional and Other | 8% |
First Quarter Results
K-C reported a profit of $468 million, or $1.18 a share, up from $350 million, or 86 cents, a year earlier. Excluding items such as restructuring costs, earnings rose to $1.24 from $1.09. Sales jumped 4.2% to $5.24 billion.
The company recently experienced stronger-than-expected sales growth helping to improve margins for the first-quarter 2012. Earnings rose a solid 34% as the consumer-products company's' cost-cutting measures seemed to improve overall performance.
Gross margin rose to 32.5% from 29.1% as input costs eased 0.8%. Sales at the personal-care segment, the largest by revenue, rose 8.2% and consumer-tissue segment sales were down 0.9%. The smaller K-C Professional and health-care businesses saw sales increase 3.8% and 4.4%, respectively.
The company also backed its full-year earnings guidance.
Business Strategies
K-C aims to win globally in personal care, bottom line. Did you know that Kimberly-Clark brands hold the No. 1 or No. 2 share position in more than 80 countries worldwide?
K-C has increased strategic marketing spending by more than $350 million over the last eight years and plans to continue to accelerate spending faster than sales through 2015 to support product innovation, growth in KCI and to further improve brand equity and market share.
K-C will grow its strong positions in this high-margin
business by leveraging its powerful brands and providing
winning innovations.
K-C will bring differentiated, value-added innovations to
grow and strengthen its brands while focusing on net
realized revenue, improving mix and reducing costs.
K-C's business in Asia, Latin America, the Middle East,
Eastern Europe and Africa will continue to execute targeted
expansion and growth plans, take advantage of attractive
market opportunities and deploy K-C's strong brands and
innovation capabilities.
K-C will continue to shift mix to faster-growing, higher margin segments within KCP and Health Care, including
safety and wiping in KCP and medical devices in Health Care
Dividend Growth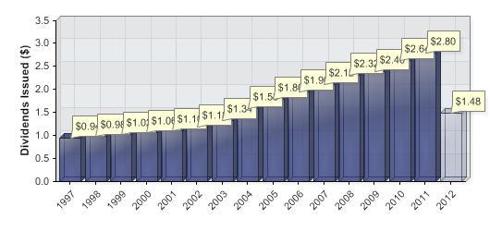 Isn't this chart a beauty? Dividend growth charts have become my favorite stock related chart. Don't we wish all our investments looked like this? This is what helps me sleep at night. K-C has consistently rewarded shareholders with increased dividends for 37 consecutive years and like clockwork another one is expected shortly. It has a 5 year dividend growth rate of about 7%.
Its pay-out ratio is in the stable 50% range. Earnings-per-share are projected to increase from 4.80 in 2011 to 5.13 in 2012 and 5.49 in 2013 which represents an increase of 6.8% and 14.3% respectively.
It also bought back roughly 19 million share in 2011 and expects to repurchase around another billion worth of shares this year. Net income has decreased slightly over the last few years but cash flow per share has increased.
Conclusion
I am long this stock and will continue to add to my position when the correct valuation presents itself.
Innovation investments going forward for K-C will focus on improving existing brands, enhancing margins and exploring new category opportunities.
Of course, this short article does not do enough to communicate all the facts and findings that are available. Hopefully it gives income investors some ideas for which they can continue to expound their own due diligence.
Disclosure: I am long KMB.