I recently purchased some shares in Cal Dive International (NYSE:DVR). Cal Dive International is in the marine construction industry and provides manned diving, pipelay and pipe burial services to the offshore oil and natural gas industry. It offers saturation, surface and mixed gas diving services.
It is a world leader in the diving support business- started in 1975, and owns and operates a diversified fleet of 34 vessels. They have bought out many competitors over the years.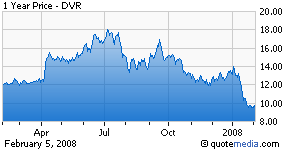 The Company's customers include oil and natural gas producers, pipeline transmission companies and offshore engineering and construction firms. Cal Dive International is about 73% owned by Helix Energy Solutions Group, Inc. (NYSE:HLX). I also own shares in HLX.
Here are some "stats" on DVR which show how it's a real bargain now.
Forward PE Ratio= 5.94
Return on Assets= 25.83%
Return on Equity= 41.11%
The diving business is seasonal- it slows down in the winter and picks up in the summer. Now is a good time to buy a stock like DVR.
There are two ways to "play" DVR.
The company is reporting earnings on Feb. 25, and there may be an earnings shortfall due to bad weather last quarter. So a shorter term swing trader might sell DVR before Feb. 25 to avoid the risk of an earnings shortfall.
A longer term investor could take a partial position in DVR now, and buy more if DVR drops after earnings are announced.
Full Disclosure: I am long DVR and HLX.