We recently posted Part 8 of our "Building A DIY Dividend Portfolio" series, which highlighted our top-ranked dividend stocks in the Materials sector (see summary table below).

As we highlighted in Part 8, we believe that patiently waiting for a low-risk entry point for a given stock will drastically improve your long-term investment results. Just because a stock has a high Parsimony composite rating, it doesn't necessarily mean that you should run out and purchase it that day. We scan the charts of our top-rated stocks daily looking for strong levels of support and resistance, which ultimately helps us determine a target "Buy Zone" for each stock.
Tactical Strategy for the DIY Dividend Portfolio
As a follow up to Part 8 (Part 8b, if you will), below are our target "Buy Zones" for each of these top-rated Materials stocks. For the most part, Materials stocks have pulled-back in response to the recent correction in the broader market (remember that the Materials sector has the second highest beta of any sector in the S&P).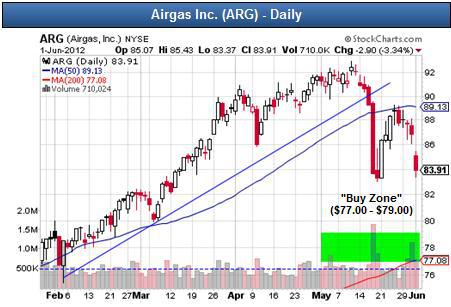 Airgas Inc (ARG) broke below its 50-day moving average a few weeks ago on very large volume. There was really no news that day, but the stock was down over 6%. Then over the following week, the stock gained back almost everything that it had lost. However, the 50-day moving average now looks like it is acting as short-term resistance. We expect ARG to test its 200-day moving average ($77.08) on further weakness and we would hold off buying until the stock reaches that level.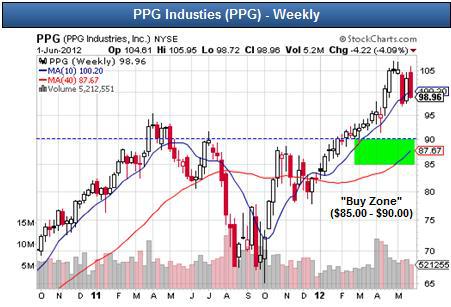 PPG Industries (NYSE:PPG) is only down 7.5% from its most recent peak. Since the stock has a relatively high beta, we would like to see it pullback a little further before we would consider pulling the trigger. As shown in the chart above, PPG was down almost 30% during the last correction, so we definitely want to be patient on this one.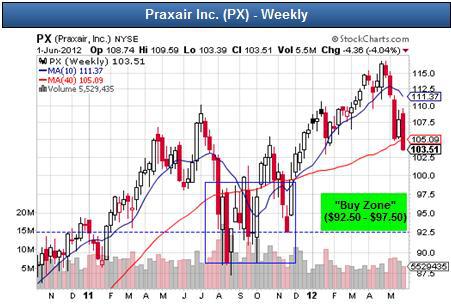 Praxair Inc (NYSE:PX) broke through its 40-week moving average last Friday and it is down over 11% from its most recent peak. The last two times the stock dipped below the 40-week moving average, it declined another 9% (on average). If PX follows this pattern again, it should drop right into our "Buy Zone" before heading higher.
Summary
As we highlighted in part 7, the Materials sector is clearly one of the weakest sectors in the S&P 500 and it definitely showed in our rating system. In fact, the top 3 holdings in the Materials Select Sector SPDR (NYSEARCA:XLB) all have Parsimony rating under 71:
From an asset allocation standpoint, we believe that your DIY Dividend Portfolio does not need to have exposure to every sector all the time. When a sector is relatively weak and it is difficult to find good opportunities within the sector, it is ok to take a pass. We think that that is a very important point to note here. That said, if any of the 3 top-rated stocks above fall into their respective "Buy Zones", they should definitely be considered for your DIY Dividend Portfolio.
Good luck out there...be patient!
Note to readers: Please make sure to "follow" us as we will be continuing our DIY Dividend Portfolio series over the coming week. We will also update readers if there are any new stocks entering their "Buy Zones".
Disclosure: I have no positions in any stocks mentioned, and no plans to initiate any positions within the next 72 hours.