BMO recently downgraded Human Genome Sciences (HGSI) to Market Perform. This was based on the firm's belief that the risk of GlaxoSmithKline (NYSE:GSK) rescinding its offer has increased and the likelihood of a significant price increase as a result of darapladib has been reduced. The firm lowered its price target to $13 from $17. This all happened post-poison pill swallowing.
This poison pill was rapidly, and gleefully, swallowed by HGSI. Although they are usually positioned as a Shareholder Rights Plan, in actuality many are installed to protect Board Members and Executives who are guilty of running their companies poorly. This is a snapshot at the record of HGSI going back to 6/11.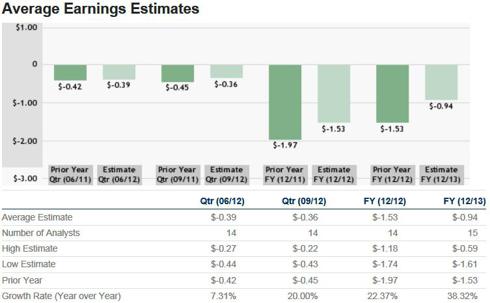 Click to enlarge
Table supplied by THE STREET
It becomes readily apparent that the earning estimates for this company have not reflected well for shareholders. Additionally, HGSI reported a $381 million loss last year, eclipsing a $233 million loss in 2010. The losses were attributed to the marketing and other administrative costs of Benlysta as stated by HGSI.
The appeal by a shareholder to nullify, and remove, the swallowing of the poison pill has been struck down in court. GSK will, more than likely, extend its deadline for an offer to rescind the poison pill until early July. But in the meantime, there has been talk about GSK seeking the ouster of the HGSI Board of Directors. According to the HGSI's bylaws, there appears to be precedent in requesting a change to the Board Members before the Annual Meeting. The very thing that the Board doesn't want to happen, would happen: the supplanting of their jobs to GSK friendly replacements. So at the end of the day, it should signal resolve in the actions of GSK and serve to shuffle the present Board of HGSI back to the negotiating table.
While others are hotly, and visibly, contesting and bidding on Amylin (AMLN) with the possibilities of Roche (OTCQX:RHHBY), AstraZeneca (NYSE:AZN), SANOFI (NYSE:SNY) Takeda Pharmaceuticals (OTCPK:TKPHF), and even GlaxoSmithKline, little has come from any other possible suitors for HGSI. They realize the many tendrils that have formed between GSK and HGSI-- and the equity and intellectual positions that GSK has in HGSI. And its bet on darapladib and albiglutide is precisely that; a bet. Both are still molecules that hold promise, but still need to demonstrate superiority to active comparators and in terms of clinical outcomes. This is a far cry from Amylin's Bydureon (a once-a -week injectable treatment for Type 2 Diabetes) which has already received the FDA Green Light to move ahead with the commercial realization of its promise in the diabetes market.
Andrew Witty, CEO of GSK, stated in his press release announcing the intended acquisition of HGSI:
"The transaction is well aligned with our long-term strategy of delivering sustainable growth, simplifying GSK's business model, enhancing R&D returns and deploying our capital with discipline. GSK is uniquely positioned to realize the full value of Benlysta, albiglutide, darapladib and Human Genome Sciences's other assets for the benefit of physicians, patients and shareholders. Through complete ownership, we can simplify and optimize R&D, commercial and manufacturing operations to advance these products most effectively and efficiently while securing the full potential long-term value of the assets."
I had invoked in a previously authored article about GSK and HGSI the concept developed by Fisher and Levin in their book Getting to Yes. That concept is: In Negotiations you are as good as your Best Alternative To a Negotiated Agreement, or BATNA for short.
In my estimation, HGSI is posturing to get a better acquisition price by GSK. What is their BATNA? Poor Sales Performance, Poor EPS, Intellectual Capital that is shared with GSK, one product commercially available (yet tracking poorly) and two of their largest and most promising products that have equity ties back to GSK, suggests that their BATNA is equivalent to the proverbial pistol without any bullets.
The BATNA for GSK is replete with possibilities. But, the one that is the most dire for HGSI will be the walk away position. I don't think GSK would want this, but it is a very plausible and real possibility that would ripple across HGSI and leave them with Lilliputian shareholder value. It is not unlikely-- all you have to do is look at Roche and Illumina (NASDAQ:ILMN) a gene sequencing company. The walk away was swift and the commensurate drop in share price was equally as fast. Can you pinpoint when in April Roche made their decision to pursue a future that did not include Illumina?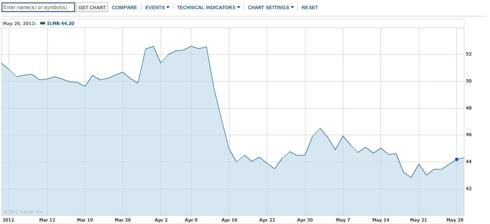 Click to enlarge
Graph supplied by Yahoo Finance
It is so sad in today's environment that we have reduced every viable transaction, merger and acquisition to an episode of Celebrity Apprentice. And while HGSI is looking to leverage its position (one that is difficult to quantify) and boost the ratings of its show, it is alienating and even provoking a partner that has been at its side from the early 1990s. To rebuff an offer without any discussion with that partner is difficult to fathom.
My estimation is the HGSI Board will do a BATNA analysis and come to the realization that the that their BATNA is profoundly weak and make a concerted effort to reaffirm its linkages with GSK and its legacy of scientific collaboration with its partner. I believe that at the end of the day, HGSI will probably get a face-saving $15/share and that GSK and HGSI can suspend any inklings of drama and get back to the business of finding cures for the patients who need them. The facts are that these two great companies have collaborated as partners since the early 1990s and it is the right time in their respective evolutions to combine as one company for a whole host of reasons that include: simplifying R&D and maximizing operations, marketing and manufacturing of all assets that HGSI has collaborated with GSK on.
Add 98 cents to the aforementioned and that should give you a dollar.

Disclosure: I am long GSK.
Additional disclosure: I have previously worked for GSK for over 31 years in a variety of positions.
Disclaimer: The information in the aforementioned article is provided for informational purposes only. It represents the opinions of the author and is not a call for action relative to the buying or selling of stocks and other investment vehicles. It is highly recommended that you conduct your own research and reach your own conclusions before you make an investment in anything.