Actionable Items:
CEF Weekly Review: On average, the 13 closed-end fund types registered a share price decrease of 1.1% for the week ending 6/1/12. The high-low spread (average percentage price change difference between the highest and lowest fund types) registered this week was +2.3% versus +3.1% the previous week.
The PowerShares CEF Income Composite (NYSEARCA:PCEF), an ETF that invests in taxable income CEFs, was down 1.4% for the week. PCEF is now up a modest 1.2% YTD on price appreciation alone. Currently, PCEF's trailing twelve months' yield is 8.2%. The S&P 500 dropped 3.0% capping out a dismal month as the index lost 6.3% of its value. The S&P 500 is now just up 1.6% YTD while the DJIA has given back its previous YTD gains.
CEF Weekly Fund Type Performance: The broad S&P 500 ended down 3.0% collapsing at the end of the week. Investors' confidence was undermined by the economic and policy ailments in Europe, U.S. and China. CEFs continued their gravitation towards fixed-income securities with SingleStMuniFnds and NatlMuniBndFnds eking out the only gains for the 13 fund types. Equity-oriented funds types were the laggards again for the second week running.
Natural resources help depress SpecEqFnds while small-cap had the same effect on the GenEqFnds. Both fund types generated positive PrcNAVSprds as the average share price declined less than NAV in each case. The greatest negative PrcNAVSprd for a fund type was InvGrdBndFnds where the average price declined 0.5% but related NAV increased 0.7%. PIMCO Corporate & Income Opportunity Fund (NYSE:PTY) price dropped 2.3% weighing on this fund type. PTY on Friday declared its recently increased $0.13 per share monthly distribution.
click to enlarge images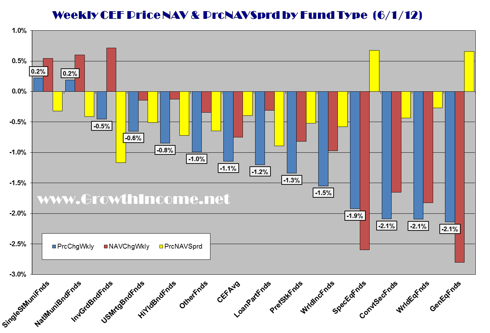 Click to enlarge
Weekly CEF Winners and Losers: One of the CEFs with the greatest positive PrcNAVSprd* for the week was Central Fund of Canada Limited . CEF's share price advanced 4.0% while its NAV per share declined 0.7% generating a positive PrcNAVSprd of 4.7%.
CEF is a large fund with 4.8 billion in total net assets with no leverage. It invests long-term in commodities-particularly gold and silver bullion. It pays a nominal distribution of 0.05% and trades at nominal discount of 1.2%. Trading in the stock surged on Friday to 2.8 million shares in contrast to its 3 month average daily volume of approximately 900,000 shares. Precious metals-particularly gold-have languished of late in favor of the U.S. dollar. With prospects of another massive flooding of fiat currencies on both sides of the Atlantic, gold rallied this week. The gold ETF (NYSEARCA:GLD) was up 3.2%.
One of the CEF(s) with the greatest negative PrcNAVSprd for the week was Korea Equity Fund . KEF's share price declined 4.1% while its NAV increased 0.7% generating a negative PrcNAVSprd of 4.8%. This was in contrast to another Korean CEF, Korea Fund (NYSE:KF). KF's stock price declined 0.3% while its NAV decreased 0.5% generating a positive PrcNAVSprd of 0.2%. The former CEF is much smaller with net asset value of $85 million versus the latter with $386 million.
KEF paid out a distribution of $3.065 per share last year. Earlier this year, it executed a cash-tender for up to 10% of its outstanding shares. The stock was off 3.0% on Friday on very light volume.
CEF Distribution Announcements This Week: The beginning of each month brings the avalanche of distribution announcements. Given that the current month also represents announcement of quarterly distributions the list is swollen. A list of CEF distribution announcements can be found at our website in the "Research" menu under "CEF Weekly Information".
Significant Events: Salient Midstream & MLP Fund (NYSE:SMM), a newly-organized, non-diversified, closed-end fund, announced Tuesday the pricing of its $180 million, 9 million share initial public offering (NYSEARCA:IPO) at an initial share price of $20.00 per share. This does not include an additional 1.2 million common shares that the underwriters may purchase pursuant to a 45-day option to cover over-allotments. SMM is the fourth CEF this year with a focus on MLP investments.
CEF Focus Stock(s) for the Week: In scanning this week's data, we noticed several of the bond funds price lagging their NAVs in what is generally considered a friendly environment for fixed-income. This was evident in the taxable bond ETF, Vanguard Total Bond Market ETF (NYSEARCA:BND)-although junk bonds lost ground this week.
One such CEF was BlackRock Core Bond . BHK is selling at a 5.1% discount and pays an annualized monthly distribution of 5.7%. Its monthly distributions have been steady and have been funded by net investment income ("NII"). BHK's average undistributed net investment income ("UNII") is $0.1696 per share indicating it is over-earning its distributions.
Its portfolio is over a half billion and its effective leverage, i.e. derivative positions, represents 28.2% of its total net assets. Over three-quarters of its portfolio is rated "BBB" or better. Trading in shares of BHK was slightly heavier at the end of this week than on successive "upticks".
The contrarian play this week would be any of the WrldEqFnds. The Turkish Investment Fund's (NYSE:TKF) share price was down 1% for the week while its NAV was up 1.2%.
The CEF focus stock section of this article is to "highlight" stocks of interest that may deserve further study.
Last Week's Focus Stock(s): Our focus stock last week was First Trust Senior Floating Rate Income Fund II . As the name implies, it invests in investment grade senior floating-rate notes. It currently has $526 million in assets with structural leverage of 30.2%. It is generating an annualized monthly yield of 6.6% and trades at a slight discount of 0.3%.
The stock was off 2.1% for the week. Including the $0.08 monthly distribution that went ex-dividend on Friday; it mitigated the loss to 1.5%. 100% of FCT's distributions over the past year came from net investment income. FCT has approximately $0.06 per share in undistributed net investment income.
Disclosure: I am long PCEF. I own a diversified portfolio of CEFs and ETFs and am long stocks in the CEFBig10™ and CEFMuni10™.) The first is a balanced equity-income portfolio (CEFBig10™) and the second a tax-exempt income portfolio (CEFMuni10™).
---
[*] All things being equal, price and NAV should move in tandem. A price movement greater than the NAV generates a positive PrcNAVSprd and may be interpreted as negative on a near-term basis and indicate that the stock is overvalued relative to its NAV which in theory is the stock's intrinsic value. The opposite would be true for a negative PrcNAVSprd.