This month healthcare giants outnumber biotech hopefuls two to one. But that does not mean June will not have exciting and volatile events. In fact, a few very impressive treatments are on the docket this month that will bring plenty of traders to the table in the days and weeks prior to the official decisions. This includes an end-of-the-month ruling on one of the year's most watched obesity drugs.
June 5th
The first FDA decision of the month will be a solid rejection for Ariad (NASDAQ:ARIA) and Merck's (NYSE:MRK) Taltorvic. Taltorvic has been developed to treat patients with metastatic soft tissue or bone sarcoma that have not seen an increase in sarcomas after four cycles of chemotherapy. On March 20, 2012 an Advisory Committee voted 13-1 against the approval of Taltorvic for the intended treatment.
The FDA decision is plain and simple. But how will each respective share price react? Well, simply put, the upcoming CRL will not have any bearing on each company's respective stock. Of course the negative Advisory Committee was expected to an extent and both firms have plenty of other projects going on that are more important, such as ASCO.
June 9th
Xenoport (NASDAQ:XNPT) and GlaxoSmithKline (NYSE:GSK) will receive a final ruling from the FDA regarding an sNDA for Horizant. Horizant is already approved for restless leg syndrome (RLS) and the indication the FDA will be ruling on is to treat patients with postherpetic neuralgia. Postherpetic neuralgia is caused by nerve damage after a shingles outbreak.
Horizant will likely be approved for this second indication. The biggest issue with Horizant were pancreatic acinar cell tumors in rats that caused the FDA to reject Horizant back in early 2010. Fortunately these issues were resolved and Horizant was approved one year later. I expect a similar ruling this time around.
Xenoport's share price has been quite active recently. In early May we saw the share price jump 41.7%. I do not think the train has left the station. Obviously 41% has been missed, but with just over a week before the decision I expect to see Xenoport's stock wake up again.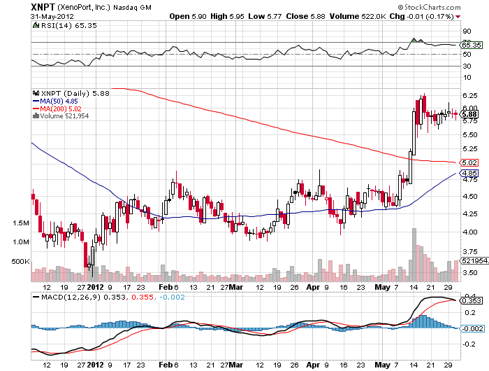 June 13th
One of the more under the radar Advisory Committee meetings will be to discuss Edwards Lifesciences' (NYSE:EW) Edwards Sapien Transcatheter Heart Valve. The committee's goal is to discuss the heart valve while giving recommendations and eventually vote on the premarket approval application. To keep it short, the Sapiens system is very good. It seems like every time Edwards creates a new product it is safe and works well.
I am expecting a positive review for the Sapien transcatheter, both the 23 and 26 mm versions. Edwards' stock is coming off a big jump in late April after a stellar earnings report, but any positive news will lead to a little blip on the radar as investors rejoice over the possibility of a new and improved product.
June 20th
June 20th will be a long day for the FDA's Advisory Committee because two decisions will be handed down. The first is for Sanofi's (NYSE:SNY) semuloparin sodium injection which treats venous thromboembolism (VTE) in cancer patients undergoing chemotherapy. Going into the meeting things are looking bright for Sanofi. According to Sanofi's phase three SAVE-ONCO studies, semuloparin decreased the death rate of cancer patients due to symptomatic-deep vein thromboembolism, non-fatal pulmonary embolism, or VTE by 64%.
This is an astonishing decrease in death rate and, among other things, Sanofi and semuloparin were selected for Best of ASCO in 2011. Now, this does not mean that semuloparin is a guaranteed home run.
While the efficacy is strong, the most important aspect is safety. It is clear there is a medical need for semuloparin because one of the biggest risks - outside of cancer itself - for cancer patients is thromboembolism and other types of blood clots that can cause death or require immediate attention. From Sanofi's data it appears semuloparin is safe. There was a slightly higher rate of bleeding (2.8% vs. 2.0%) compared to placebo, but one of the keys is that semuloparin did not cause lower platelet counts.
Currently Sanofi's share price is well off the 38 level where the stock belongs. If the Advisory Committee gives a positive recommendation then we may see the share price rise 11% get back to that level. This surge may not come in one day, but the Advisory Committee will be a great spark to the flame.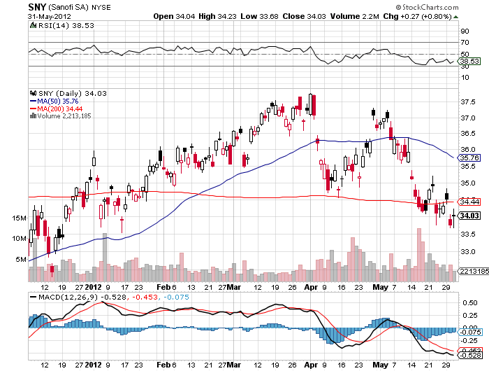 In the afternoon the Advisory Committee will discuss Ligand (NASDAQ:LGND) Onyx's (NASDAQ:ONXX) Kyprolis. Kyprolis is intended to treat patients with relapsed or refractory multiple myeloma who have received two prior lines of therapy that included a proteasome inhibitor and an immunomodulatory agent. Kyprolis has been granted accelerated review by the FDA. Currently Kyprolis is in the midst of its phase three trials, therefore it is difficult to make any concrete decisions.
With that said, according to the phase 2b results there are some positives and negatives in my mind. First off, Kyprolis has an overall response rate of 24.1% and a clinical benefit rate of 34.2%. These are not that bad considering the population being studied did not respond or relapsed from prior treatments. Also, the median duration of response to Kyprolis was 8.3 months and the median survival time was 15.5 months. Again, Kyprolis may not work forever, but for patients that failed previous treatments this is a great new treatment.
On the other hand, there are several common adverse effects that were found: 1) low blood platelet count in 27% of patients; 2) anemia in 22% of patients which is likely caused by the low platelet counts; 3) abnormally low lymphocytes in the blood in 18% of patients; and 4) neutropenia in 10% of patients. Also less than one percent of patients were documented with grade three peripheral neuropathy.
As you can see Kyprolis has a wonderful array of adverse effects. Therefore the question the Advisory Committee must ask is whether the intended group is better off with or without Kyprolis. It is evident that patients who do not take Kyprolis will likely perish anywhere from 8-20 months quicker than those that receive the treatment. This is an important note to make.
It appears Onyx's share price has been climbing higher based on the upcoming regulatory decisions. Ligand's stock on the other hand is currently at the tail end of a long disastrous slide. I expect to see both stocks climb higher prior to the Advisory Committee and assuming a positive recommendation is handed down then both stocks will steam roll to new highs. I will be on the sidelines on this one. It is too difficult for me to decide what the Advisory Committee will determine. But some will point out that the accelerated approval status is a positive indicator.
June 21st
Repligen (NASDAQ:RGEN) will be receiving a CRL on June 21st for the firm's synthetic version of secretin which has been developed to help with the detection of pancreatic duct abnormalities with magnetic resonance imaging in patients with pancreatitis. This is an open and close case because the FDA has already told Repligen that the CRL is coming and more clinical trial data is needed.
The share price will head lower in time. When the CRL is officially announced I expect to see a small but noticeable gap lower. After that, it is back to the drawing board as Repligen responds to the FDA's response.
June 27th
June 27th and June 28th will be loaded with action from the FDA. Kicking it off is an official decision regarding Arena's (NASDAQ:ARNA) Lorqess. This has been one of the most anticipated decisions of the year. Lorqess has been developed to treat individuals who are obese with a BMI over 30 or individuals with a BMI over 27 with a co-morbid disease. Lorqess has not only been developed to reduce weight, but also keep the weight off.
The most important news came from a positive Advisory Committee vote on May 10, 2012. The committee voted 18-4 in favor of the approval of Lorqess. So here we are, Lorqess received an 18-4 vote, Qnexa (NASDAQ:VVUS) received a 20-2 vote. Qnexa was ultimately delayed three months giving Lorqess the opportunity to reach the market first.
But not so fast. Lorqess may suffer the same fate as Qnexa and get a delayed response from the FDA. This is not a guaranteed fact, but it is something to consider. After all the Advisory Committee felt that Qnexa is a better treatment according to the slightly more positive vote.
It appears both Qnexa and Lorqess will reach the market in 2012. But the question is which will be the first. Lorqess has the advantage at the moment but I am interested to see the FDA's ruling. I will also be on the sidelines for this decision because the likelihood of a delay is very high. However if a decision is made, I think the FDA may side with the Advisory Committee on this one.
That same day and continuing into June 28th an Advisory Committee will begin a two day look at metal-on-metal hip replacement products. There has been discussions for years about metal-on-metal hip replacements causing more problems than helping. While this committee will not be discussing any particular product from any particular company, three of the biggest players in that industry can be effected if a negative outcome occurs.
Three of the largest metal-on-metal hip replacement producers are Zimmer Holdings (ZMH), Johnson & Johnson (NYSE:JNJ) and Wright Medical Group (NASDAQ:WMGI). It is also important to note that many orthopedic surgeons do not use metal-on-metal devices. However any restrictions on metal-on-metal devices by the FDA will cause minor problems for these companies. Johnson & Johnson will be the least effected and Wright will likely be the most effected by any negative decision. Zimmer and Johnson & Johnson both have heavy artillery elsewhere, but Wright does not have that luxury, and losing a hip replacement product could be devastating.
June 28th
Bristol Myers Squibb (NYSE:BMY) and Pfizer (NYSE:PFE) will be receiving final word on Eliquis after a long delay. Eliquis has been developed to prevent stroke and systemic embolism in patients with atrial fibrillation. The reason for the delay was because Bristol Myers and Pfizer submitted new data concerning the NDA. The FDA declared the new data a major amendment to the application. This is all standard protocol, thus we cannot make any judgments based upon the delay.
Eliquis is currently in good shape. Eliquis proved to be more efficacious than the current mode of treatment known as warfarin. On all levels tested Eliquis proved to be superior than warfarin. Compared to warfarin, Eliquis reduced the risk of stroke and embolism, major bleeding, and death by 21%, 31% and 11% respectively. Eliquis also reduced the chances of intercranial bleeding by 58%. Overall, adverse effects were lower with Eliquis by 160 bp and discontinuation of the study was 220 bp less than warfarin for Eliquis patients.
I am usually very picky about the safety of a new treatment because that is what the FDA looks for and quite frankly if a treatment does not work the firm would not be submitting it to the FDA. In this case it appears Eliquis has a slew of adverse effects that may cause problems. Fortunately the study conducted was simply testing for non-inferiority against a present treatment. And Eliquis proved to be safer than warfarin across the board. It may not be the safest drug to use, but it is safer than the current treatment.
Because of this the FDA will likely approve Eliquis. The extra data submitted that led to the delay was likely the icing on the cake for this NDA. Bristol Myers's stock has been pretty stagnate recently, but an approval will send the share price substantially higher. Pfizer on the other hand will simply add another notch in the healthcare giant's belt and continue to move forward.
June 29th
The final scheduled event of the month is a final decision regarding Astellas' (OTCPK:ALPMF) overactive bladder treatment Betanis. Betanis is approved in Japan and according to an April 5, 2012 Advisory Committee there is no guarantee that the FDA will approve Betanis.
The committee voted in favor of approval 7-4. This is good news for Astellas, but a unanimous vote would have been much more pleasant. Betanis' mode of controlling overactive bladder is novel because instead of inhibiting involuntary bladder contractions, Betanis stimulates beta three receptors to essentially relax the bladder to a point where it can fill with urine without any involuntary bladder contractions, thus allowing for proper urination.
However, treatments that bind to beta three receptors in this manner can cause problems. For instance, in the case of overdosing on the drug it may be very difficult to urinate at all despite having a full bladder if the bladder muscles are relaxed and unable to contract. This can then cause extreme pain and discomfort as well as the possibility of infection.
With that said, I will not make any concrete decisions on this one. After considering the vague phase three data disclosed by Astellas, a wobbly Advisory Committee, and the fact that Betanis is approved in Japan it is difficult to side one way or the other.
As you can see there are not many spectacular biotech events planned for June. Most events will come and go without much notice unless you are watching closely. For instance a major firm like Pfizer will not be effected by one FDA decision. Instead Pfizer is effected by patent expirations and other similar events. But there is still plenty of fun in June that traders can take advantage of.
Disclosure: I am long PFE.