The Dun & Bradstreet Corporation (NYSE:DNB) is the world's leading source of commercial information and insight on businesses. The company's history goes back more than 170 years. D&B generated $1,758 million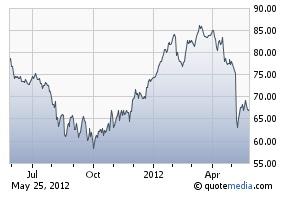 in revenue in 2011, with a net profit of $260 million. D&B sells it services globally. North America is the biggest market accounting for 71% of the revenue; Europe generates 14% of revenue and Asia 15% of revenue. Growth in the last 3 years has mainly come from Asia, which increased its contribution to overall revenue from 8 to 15%. Customer solutions are mainly sold through a sales force of approximately 2,200 members, of which approximately 1,100 are in the North American segment and 1,100 are in the international segment.
D&B key asset is their commercial data base containing more than 200 million business records. This information is used to provide services in 3 business segments:
Risk Management Solutions accounts for 63% of total 2011 revenue and consists out of traditional risk management solutions primarily used for new credit applications, and value added-added risk management solutions supporting decision making & portfolio management.
Sales & Marketing Solutions accounts for 30% of total 2011 revenue and provides solutions consisting of marketing lists, labels and customized data files used by companies in their direct mail and marketing activities.
Internet Solutions accounts for 7% of total 2011 revenue and provides products that address the online sales and marketing needs of professionals and businesses, integration tools that bring this information into the day-to-day workflow of customers, and research and advice regarding starting up and managing a business.
Margins are impressive and an indication of a company with a wide moat. Gross margins over the last 10 years have been between 66 and 73%, and operating margins consistently above 20% (Graph 1). To maintain the competitive advantage D&B continues to invest in its technology platform to improve data quality (better coverage and accuracy) and provide new sources of insight.
Graph 1: 10 year margin trend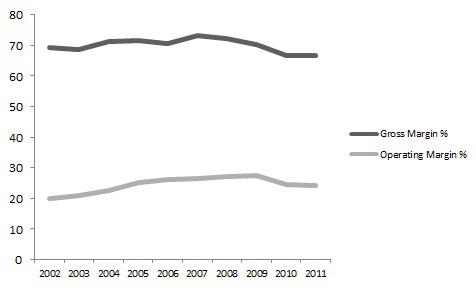 The capital requirements to run the business are very minimal. Less than 20% of the operating cash flow is required for capital expenditure, leaving more than 80% of free cash flow available to increase shareholder value. D&B has used the free cash flow in the last 10 years to reduce the outstanding share count with more than 30%. The board of directors approved a new share buyback program of $500 million (15% of current market cap) in November 2011. The share buy backs have been one of the key drivers to generate a CAGR% of more than 10% over the last 10 years (Graph 2: EPS).
Graph 2: 10 year EPS trend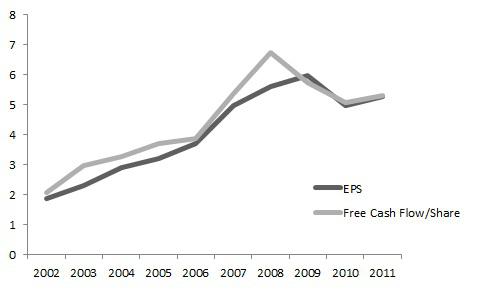 D&B share price has been trailing the S&P500 this year and dropped around 13% after the announcement of the Q1 results. Investors were clearly disappointed by the first quarter performance and potential impact of the situation in China.
During the Q1 conference call the CEO said the following about the performance:
"Last night, we announced our first quarter results. Core revenue was up 1%; operating income, up 3%; EPS, up 5%; and year-to-date free cash flow was $152 million. Simply put, I am disappointed with our top line performance, especially in North America, which was down 1% to prior year after 2 quarters of growth in the second half of 2011. The shortfall in North America was concentrated in Risk Management Solutions, or RMS, where reported revenue was down 5% in the quarter and partially offset by growth in Sales & Marketing"
And the following about the situation in China:
"Let me take a moment and frame the issues in China for you. We are dealing with 2 separate but related issues: first, potential violations of the Foreign Corrupt Practices Act, or FCPA, which we self-reported to the SEC and Department of Justice in March; second, allegations by the Chinese government that certain data collection practices at our Roadway operation may violate local consumer data privacy laws. We are proactively working on both these matters and made a decision to permanently shutter our Roadway business."
These short term issues are a good opportunity for investors looking for a long term position in a consistent, stable business. The company still expects to grow EPS in the high single digits in 2012. The CEO has to say the following about the 2012 outlook during the Q1 earnings call:
Now despite the lower revenue outlook, we expect to minimize the impact on the bottom line. Our flexible business model will allow us to resize our expense base to match the lower revenue growth and deliver our profit commitments in 2012. As such, our operating income and EPS guidance remains unchanged. In summary, here's what we now expect: revenue growth of 0% to 3%, operating income growth of 4% to 7% and EPS growth of 8% to 11%.
A wide moat business, being able to grow earnings per share with more than 10% annually, should trade with a P/E of 15, putting the stock price around $80. A discounted cash flow calculation also indicates an intrinsic value around $80. The current price gives a margin of safety of around 20% offering an attractive entry point.
Disclosure: I have no positions in any stocks mentioned, but may initiate a long position in DNB over the next 72 hours.