First an overview of the company: China Yuchai International Limited (NYSE:CYD) is a holding company that owns a 76.4% interest in Guangxi Yuchai Machinery Co. Ltd. China Yuchai is majority controlled (via a "special golden share") by the Hong Leong Asia Group based and publicly listed in Singapore. The Hong Leong Group Singapore was founded in 1941 by the Kwek family and is one of the largest privately controlled business groups in Southeast Asia. Hong Leong Asia acquired majority/ownership stakes in three China businesses in December 2001: Henan Xinfei, China's second-largest refrigerator, freezer and air conditioners manufacturer; China Yuchai International Limited, parent of Guangxi Yuchai Machinery, China's largest independent diesel engine manufacturer; and Rex Industrial Packaging, a leading manufacturer of industrial packaging containers in China, Malaysia, Indonesia and Singapore. In 1989, Yuchai became one of China's 500 largest industrial enterprises in terms of profitability and tax contribution. In July 1992, in order to raise funds for expansion, Yuchai became the first state-owned enterprise in the Guangxi Zhuang Autonomous Region to be restructured into a joint stock company. In May 1993, to further finance expansion, Yuchai sold (Foreign) shares and became a Sino-foreign joint stock company. China Yuchai then went public on the New York Stock Exchange in December of 1994 at US$10.00.
China Yuchai International specializes in light, midsize and heavy-duty diesel truck engines and also sells diesel engines to bus manufacturers, independent truck makers, and automobile manufacturers. Other products include diesel power generators, diesel marine engines, engine parts and lubricating oils. China Yuchai has an excellent reputation among vehicle manufacturers and customers for performance, reliability and customer service. Yuchai operates 31 regional sales offices in major geographic regions in China; and with a sales force of approximately 609 persons nationwide, the company provides a comprehensive range of services to its customers, including dispatching engineers to provide on-site assistance to major customers in the resolution of technical problems. Guangxi Yuchai management strongly believes that customer service is an important part of maintaining its market competitiveness and hence Yuchai has a nation-wide network of over 1,150 authorized service stations that provide repair and maintenance services, spare parts, retrofitting services, and training to Yuchai's customers. To ensure a consistently high level of service, Yuchai trains the technicians at each of these service stations, while owning and operating over 20 repair training centers. In 2006, Yuchai sold approximately 284,000 diesel engines and was consistently ranked #1 in unit sales by China Association of Automobile Manufacturers.
click to enlarge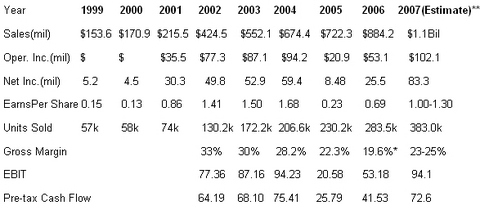 *Note: This gross margin differs from Hong Leong Asia's results reported on February 28, 2007. HLA reported a gross margin 22.2%, almost the same as 2005. HLA management (Singapore) explanation: "The difference is because warranty expenses were included as part of cost of sales under US GAAP results while under Singapore GAAP these were reported under selling and distribution expenses."
**Also: The above 2007 estimates do not reflect the impact of the Company's "investment stakes" in Thakral and HLG Enterprises or the continued interest costs when these stakes were first purchased.
The Hong Leong Asia Group of Singapore, which holds only 22% of CYI, continues to put its own interest ahead of all other shareholders through its ownership of the "golden/special" share. HLA's selection and support of CYI executive management continues to destroy shareholder value by not understanding the potential and changing dynamics of China's diesel engine business, and its continuous delays in financial reporting only further prove that it is unable to fulfill its fiduciary responsibilities to shareholders. U.S. based shareholders have been extremely patient with CYI's Chief Executive Officer, Mr. Teo Tong Kooi; he alone is primarily responsible for the mismanagement of CYI and the delayed financials.
These delays began on December 12, 2006, when executive management of CYI chose to change auditors, from KPMG Hong Kong to KPMG Singapore (See 6-K filing dated May 15, 2007). Also in this announcement, CYI delayed the announcement of its unaudited financial results for the quarter ended March 31, 2007. CYI's explanation: "As previously disclosed, CYI had a change in its independent auditors in December 2006. CYI is currently in discussions with its new independent auditors on the application of various accounting policies and standards to CYI's financial results in accordance with US GAAP. CYI will announce its financial results as soon as CYI and its independent auditors finalize the application of appropriate accounting policies and standards to be followed by CYI."
What happened in 2007
April 30, 2007 – Threshold Capital writes its first "Open Letter to the Board of China Yuchai International Limited" requesting management to engage an Investor Relations firm to improve communications with shareholders, immediately cancel the "golden/special" share, outline CYI's vision for their "new business strategy" (announced in February 2005), and increase shareholder value.
On July 2, 2007, CYI reported in a SEC 6K filing that "Although management of China Yuchai International Limited (CYI) has been working to complete all the required information for its annual report on Form 20-F for the fiscal year ended December 31, 2006 (the Form 20-F), and a significant part of such information has been completed as of this date, the Form 20-F could not be completed on or before the June 30, 2007 prescribed due date."
July 25, 2007 – CYI reported in a SEC 6K filing that it, once again, has not completed its annual report on Form 20-F for the fiscal year ended December 31, 2006. They also stated that "CYI's auditors have also requested certain information from CYI and its subsidiaries which will require additional time for management to produce." Executive management was also notified at this time that due to this continued delay, CYI could be the subject of enforcement action by the SEC and/or the suspension of trading or de-listing of CYI's shares on The New York Stock Exchange.
August 3, 2007 – CYI reports in a SEC 6K filing that its Audit Committee "received information regarding potential accounting errors of approximately RmB 123 million (US$16.5 million) and RmB 45 million (US$6 million) by its subsidiary, Guangxi Yuchai Machinery Company Limited, in accounts for fiscal years ended December 31, 2005 and December 31, 2006." In addition, CYI reported that on July 12, 2007, its Audit Committee requested internal audit to independently review the circumstances of the accounting entries in question and that the Committee will conduct an independent inquiry and retain independent counsel to conduct this inquiry. This release goes on to state, "CYI will make no further public statements regarding the independent inquiry or the potentially erroneous accounting entries until the completion of the independent inquiry."
August 6, 2007 – Threshold Capital once again corresponds with the Board of CYI – outlining how outraged I was at their continued delays and excuses; also how the company should retain a dedicated CFO to reside at Guangxi Yuchai headquarters to prevent further financial mistakes.
August 15, 2007 – CYI reports in a SEC 6K filing that it is deferring the announcement of its unaudited interim results for the three and six months ended June 30, 2007.
August 23, 2007 – CYI reports in a SEC 6K filing that the potential accounting errors first mentioned August 3, 2007, appear to have been an understatement of accounts payable of approximately RmB 168 million ($US 22.5 million) by Yuchai. CYI also states that its previous independent auditors have informed the company that results for 2005 and interim results for 2006 should not be relied upon.
In October 24, 2007, shareholders finally were able to claim a small victory. In a 6K SEC filing, CYI announced the appointment of Mr. Ho Tuck Chuen as its new Chief Financial Officer; he would join the company on November 15, 2007. Also, CYI announced that it retained the Global Consulting Group, a New York based strategic communications consulting firm, to be its investor relations counsel.
November 14, 2007 – CYI reports in a SEC 6K filing that it is deferring the announcement of its unaudited Q3 2007 results due to the Audit Committee's continued inquiry into the potential accounting errors mentioned above.
December 4, 2007 – CYI reports in a SEC 6K filing that it appoints its new CFO, Mr. Ho as a Director of CYI; and its previous CFO, Philip Ting had resigned from the Board. More important in this release was the company reported updated sales performance for the first ten months of 2007. The company sold 315,000 engines during this time period, a 33.8 percent increase over the same period in 2006. The company also announced contract wins with the Beijing and Shanghai bus networks, a major milestone for the company. The models sold to these municipalities are Yuchai's heavy-duty, high margin, Euro IV, diesel engine.
December 28, 2007 - CYI announced that its subsidiary, Guangxi Yuchai Machinery Company Limited won 3 major awards at the China International Summit Forum on the Auto Parts Industry in Beijing. The most important part of this news release was commentary by Mr. Qiwei Wu, Vice President of Yuchai Machinery, who stated "We are on our way to achieve record high diesel engine sales with over 400,000 units in 2007." Also in this news release was the statement "Due to tight cost control management programs and an energy conservation plan, in the first ten months of 2007, Yuchai Machinery managed to reduce overall cost per product as compared to the same period in 2006. This statement essentially confirms higher gross margins for 2007.
January 22, 2008 – CYI shareholders were FINALLY notified via a 6K filing that the Audit Committee has concluded its work and that there was NO FRAUD or intentional wrongdoing on the part of any employee of CYI or Yuchai in regards to the accounting mistakes found back in July/August 2007. The Audit Committee has made recommendations to the Board in order to prevent such occurrences from happening again and the Board agreed to implement each of these recommendations. Also in this news release, CYI shareholders were notified that the company's 2007 annual meeting of shareholders will be held on Thursday, February 14, 2008 in Hong Kong WITHOUT ITS 2006 AUDITED FINANCIAL STATEMENTS BEING PRESENTED TO SHAREHOLDERS. The company's reason: "in the process of evaluation the application of US GAAP regarding certain matters that have come to its attention during the audit of the 2006 consolidated financial statements as they apply to the consolidated financial statements and potentially to the Company's 2005 consolidated financial statements." CYI executive management has used this above excuse for over 9 months and shareholders have had it!! I should also add that according to CYI's Byelaws, "Not more than 15 months shall elapse between the date of one Annual General Meeting and the date of the next." According to CYI filings, the last Annual General Meeting was help on September 15, 2006 in Hong Kong. As this is a time frame of 17 months, this is a clear violation of the company's laws. To add further insult to injury, the company attached the proxy in this news release for shareholders. As with most companies, a shareholder can choose to vote "For", "Against," or "Abstain" when choosing company Directors. In CYI's proxy released on January 22, 2007, shareholders only have the choices of "For All" or "Withheld for All". This is a drastic change from the company's proxy for 2006 when shareholders could individually vote for each Director.
A question of fiduciary duty
At the present time, and still as a shareholder of the Company, I am extremely dissatisfied and outraged with the way Executive management and the board of directors of CYI, controlled by Hong Leong Asia, the Singapore based holding company, are conducting the business of Yuchai, in communicating with the global financial markets, and enhancing shareholder value.
Mismanagement of the company has put CYI at a significant competitive disadvantage to its largest competitor Weichai Power (OTCPK:WEICF). Last year Weichai accessed capital at very favorable terms. On April 30, 2007, Weichai Power completed a Shenzhen A-share listing at 20.47 and closing at 64.93. They raised 3.9 billion RMB in the process. At the critical time for CYI management to act in the financial market, they completely shut off communication with the investment community and changed their auditor (December 2006) for, what appears to be, no good reason. This led to endless re-examination of the company's 2005 and 2006 financial results and delayed the filing of the financial reports by almost a year, and significantly damaged the stock performance of CYI. This has not only destroyed shareholder value, but also exposed the company to greater competitive risk by putting the company at a significant disadvantage relative to its major competitor. There were reports in the Chinese press during 2007 that Yuchai Group, parent company of China Yuchai International, was exploring the same endeavor, i.e. listing on China's mainland exchanges, but these efforts were rejected by the Kwek family who control Hong Leong Asia.
It is important that I make the distinction here between CYI, controlled by Hong Leong Asia, the Singapore based holding company, and CYI's subsidiary Guangxi Yuchai Machinery, the mainland China-based operating company. Guangxi Yuchai Machinery Company, led by Mr. Yan Ping and his management team, delivered spectacular results for shareholders in 2007 with estimated unit sales above 383,000 units; a 35% growth rate over 2006. The most accurate characterization of this performance is that this remarkable growth occurred despite, rather than because of, the Singapore based management.
It is now very clear to classify the Singapore based management as anything but negative value for shareholders. Regarding the officers of the company and the board, there is little scope in this situation for blaming the problems on the failings of a subordinate. As publicly traded CYI is a holding company, it only has two officers and less than 10 employees in total. The CEO Mr. Teo Tong Kooi, has presided over the company throughout the period during which all of these problems have arisen and as such must be viewed as the sole individual primarily responsible for the mismanagement. Based on what is transpiring at the company, neither Mr. Teo, nor the board are fulfilling their fiduciary responsibilities in managing a company which is publicly listed in the US. The status of current management in the eyes of the investment community was plainly visible when the previous CFO was replaced in October 2007: the stock appreciated approximately 20% during the trading day. The removal of CYI's Chief Executive Officer, Mr. Teo Tong Kooi would undoubtedly also result in an immediate appreciation of the stock. Mr. Teo has been telling shareholders that he is doing all he can to complete the audits and reports results for 2007, but according to this interview on CNBC Asia on December 9, 2007, it certainly doesn't appear like he "is doing all he can to complete the audits and financials.":
US based investors are stepping up their campaign to urge the Board and executive management of China Yuchai International Limited to take action. An important focus of independent shareholders has now become the "golden/special" share structure which has allowed HLA, controlled by the Kwek family, significant privilege over all shareholders, including their Chinese "partners." During the above time – all of 2007 - Hong Leong Asia, listed in Singapore, was able to report its own financials on time with consolidating CYI's financials into its reported results. Why should HLA shareholders benefit from CYI's 2007 interim results and not CYI shareholders? This is inexcusable and US based shareholders have begun to actively explore legal options to remove the "golden/special" share. There have been recent legal rulings in the European Union outlawing the existence of "golden/special share" structures.
Threshold Capital has once again written another letter (.doc file) to the Board of Directors of CYI, which was received by the Company on Monday, February 4, 2008. I plan to attend the upcoming Annual General Meeting on February 14, 2008 in Hong Kong, to address the Board and demand a specific plan to enhance shareholder value. If Mr. Kwek is in attendance at this AGM, I will have just one question for him: "Mr. Kwek, what do you wish your legacy to be?"
Disclosure: Threshold Capital Corp and its clients currently hold a position in China Yuchai International, Limited and plan on holding that position through the Company's Annual meeting.
Disclaimer: Peter A Delgado II is the Principal and owner of Threshold Capital Corp, a state Registered Investment Adviser in the State of New Jersey. The above commentary represents the opinions of Peter A Delgado II and Threshold Capital Corp and in no way constitutes a solicitation of business or investment advice. It is intended solely for informational and entertainment purposes of the reader and the author.