Introduction
Crocs (NASDAQ:CROX) is a global leader in casual footwear and has an above average growth rate and below average stock valuation. This gap between the company's valuation and its growth rate doesn't seem warranted and the shares could rise significantly in the next eighteen months, if not earlier. I believe that a dividend or share repurchase program will further help the stock price reach its fair value. In addition to having undervalued shares, Crocs could also be an acquisition target for another company in the footwear and clothing industry or even a private equity firm. Finally, the company is exploring a number of growth initiatives, which offer upside potential with limited downside.
Share Valuation
Crocs' stock has been pretty volatile in the past 18 months. After reaching a high of about $32 per share in August of 2011, the shares have been trading near the same price levels as the spring of 2011. At the same time, Crocs has made progress in its profitability. The company earned $0.31 per share in the quarter ending on March 31, 2012, a 29% rise compared to the first quarter of 2011. Crocs' management estimates that the company will earn between $0.61 and $0.63 per share in the second quarter. This is usually the strongest quarter, due to the nature of its products. Also this earnings guidance is in line with the second quarter of 2011, when the company earned $0.615 per share. For the entire 2011, Crocs earned $1.24 per share and I estimate that the company will earn $0.40 and $0.15 per share in the third and fourth quarters of this year, bringing the 2012 earnings per share to around $1.47. Thus, the company's estimated 2012 price to earnings ratio is 12.2, which is inline with that of the S&P 500. However, Crocs has higher growth rate than the average company in the index.
It is safe to assume that Crocs will be able to maintain this growth momentum given that the company increased the number of its stores by 68 (18%) in the past 12 months and due to new growth initiatives (discussed later). In addition, the casual shoe category is not that sensitive to economic uncertainties. Crocs was able to grow its sales to over $1 billion in 2011, a 27% increase from sales of $789 million in 2010. In its latest quarter, ending March 31, 2012, sales reached $271 million, a 20% improvement from the same period in 2011. Based on this growth rate, I project that Crocs will be able to reach earnings per share of $1.80 to $1.90 in 2013. At a price to earnings ratio of 12, the stock should trade between $21.6 and $22.8 per share, or 20%+ higher than its current levels. This is a good rate of return for a period of slightly over 18 months. These estimates are conservative and any expansion of the price to earnings ratio would cause even larger capital appreciation. A dividend or share repurchase announcement could also help the share price.
While Crocs is able to grow revenues and profits at a decent pace, it is doing so without borrowings and causing strain on its balance sheet. In fact, the company had over $200 million in cash as of March 31, 2012 and no debt. During the first quarter of this year, the company had a small cash outflow from operating activities due to increase in inventory related to new stores, increase in accounts receivable due to stronger sales, and a decrease in accounts payable.
Competition
Crocs' stock has an identical valuation as the stock of another major shoe manufacturer, Deckers (NASDAQ:DECK). However, Crocs' has an estimated growth rate of 17.5%, which is favorable to Deckers' expected growth rate of 14.4%. In addition, I believe that Crocs is a better investment since it gears its shoes towards warmer weather and Deckers towards colder one. Deckers' major brand is UGG, the well-known luxury boots made out of sheep skin. UGG sales represented 66% of Deckers' total sales in 2011. However, the fastest growing markets are emerging markets, those in Asia and the Americas, where the climate tends to be warmer than that of Europe. A tendency toward higher global temperature favors Crocs. Finally, a prolonged economic distress in Europe will likely have worse impact on Deckers, as it is focused more on high-priced luxury products.
Acquisition Target
It appears that companies in the shoe industry are undergoing restructurings. Recently, Nike (NYSE:NKE) announced that it will divest its Umbro and Cole Haan brands. Earlier this spring, Wolverine World Wide (NYSE:WWW) acquired Collective Brands (NYSE:PSS) in a partnership with two private equity firms. This was preceded by VF Corp's (NYSE:VFC) 2011 acquisition of Timberland for about $2 billion. Wolverine World Wide and VF Corp paid multiples of 12.3 and 15.2 to earnings before interest, tax, depreciation, and amortization (EBITDA) for their respective targets. Assuming an EBITDA multiple of 14 and multiplying it by the trailing twelve months EBITDA, Crocs' stock is worth about $24 per share or over 40% higher than current levels.
A number of companies could be interested in Crocs. Nike (NKE) already owns Converse, another casual footwear brand, and it will be easy to integrate Crocs. VF Corp, which has a bias towards cold weather products, may also want to acquire Crocs in order to diversify its offerings. Both Nike and VF Corp have growth rates lower than that of Crocs and an acquisition will be accretive to their earnings per share. Finally, a private equity firm could also be interested in Crocs due to, among other reasons, the company's lack of debt. Private equity firms prefer to acquire companies without debt as they can load the company with debt and pay themselves a hefty tax-advantaged dividend.
Summary
In addition to undervalued stock and being a possible acquisition target, Crocs will likely continue to grow organically because of a number of growth initiatives by brand licensing. For example, it recently granted a license to a sun-glass manufacturer on Long Island to sell sunglasses under the Crocs brand. While the future looks bright, Crocs is certainly not without copycats. A recent start-up out of Vancouver, Native Shoes, which makes shoes similar to Crocs, could be a threat. However, Native Shoes is still in its early stages as the company is considering plans to hire a dozen employees and relocate to an office space by mid-2012.
In conclusion, the spring and early summer months are the strongest for Crocs' sales. In the past few years, the stock has risen during this period (see charts below) while this year the stock seems to lag. I believe there is not a strong reason for this underperformance and I think the shares will rebound as the company has strong fundamentals and many growth opportunities ahead for its brand.
click to enlarge images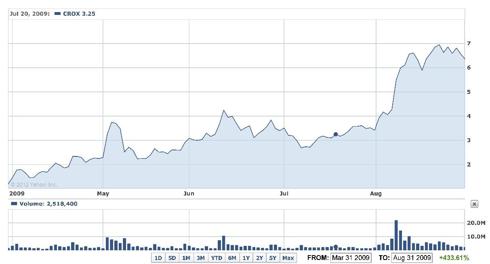 Click to enlarge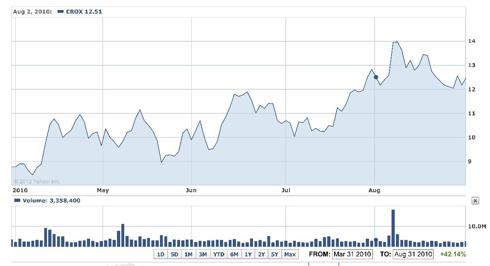 Click to enlarge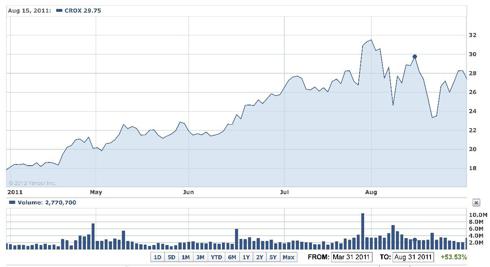 Click to enlarge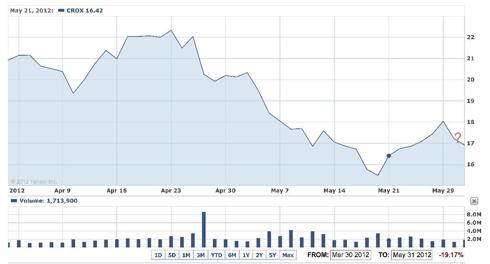 Click to enlarge
Disclosure: I have no positions in any stocks mentioned, and no plans to initiate any positions within the next 72 hours.