How would you react to having your gross income reduced by 1/5th? I think most people would consider that a pretty substantial setback with regard to their finances. A similar revenue pressuring situation is faced by AmerisourceBergen (NYSE:ABC) with the recent events involving their largest customer, Medco, merging with Express Scripts (NASDAQ:ESRX) who is served by one of ABC's competitors. That competitor is Cardinal Health (NYSE:CAH) and no doubt they will be competing fiercely with AmerisourceBergen to win an estimated $20 billion a year contract with the newly formed company, which retains the name Express Scripts.
Express Scripts issued an RFP for a new contract expected to commence on October 1st, 2012, in which AmerisourceBergen fired the first goodwill "shot" by amending their existing agreement with Medco to end when the contract is awarded rather than running into 2013. With a deal worth $20 billion you might as well pull out all of the stops no matter how small a gesture. This is especially true when so much is at stake.
The outcome of the contract award is not only extremely important in terms of revenue and earnings for AmerisourceBergen, but also gives at least some insight into how competitive AmerisourceBergen is in the industry. They have already succumbed to losing large retail customer formerly known as Long's Drugs, acquired by CVS (NYSE:CVS) in 2008, when it did not renew it's contract in 2011. Losing a large competitive contract with Express Scripts would certainly start to raise some questions about AmerisourceBergen's ability to win and/or maintain future contracts.
Medco accounted for 19% of revenue and 5% of earnings for AmerisourceBergen in 2011 and while I believe ABC would be able to recover from the loss of its largest customer long term it would be a significant setback near term. Most businesses would struggle to replace the immediate removal of almost 20% of annual sales. This may very well be the case come October 1st, 2012.
AmerisourceBergen has demonstrated intent to reward shareholders through dividend increases and share buyback programs, with a 10 year dividend compound annual growth rate of 33% and a most recent approved share repurchase program in the amount of $750 million. Earnings have also experienced a double digit compound annual growth rate of 13.57% over the last decade. Figures 1 and 2 depict the 3 and 5 year CAGR (compound annual growth rate) for earnings and dividends.
click to enlarge images
Figure 1. Earnings growth has been accelerating over the last decade with the 3 year CAGR above both the 10 and 5 year CAGR.

Figure 2. Dividend growth has been decelerating recently with the 3 year CAGR below the 5 year CAGR but still holding above the 10 year CAGR.

With a current P/E ratio around 12.86, AmerisourceBergen is trading near the historic low valuation P/E ratios for 2010 and 2011 based on the current consensus EPS estimate for 2012 of $2.82. This may be signaling a reasonable entry point for buying ABC. Figure 3 shows historic high and low P/E ratios investors were willing to pay for ABC stock since 2002.
Figure 3. Historic high and low P/E ratios.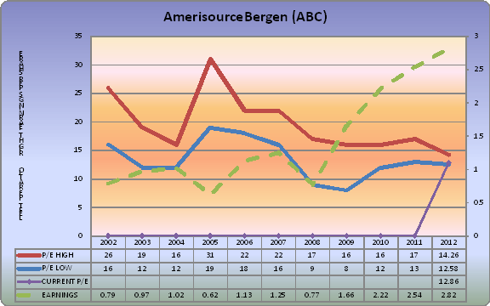 Between the three key players in the North American health care distributor market, McKesson (NYSE:MCK) edges out AmerisourceBergen in earnings growth over the last decade with a CAGR of 14.61% compared to ABC's 13.57% rate. Cardinal Health lags both by a wide margin with a dismal 3.36% CAGR. As for dividends, AmerisourceBergen blows away the competition with its 10 year dividend CAGR more than doubling both McKesson and Cardinal Health at 35.29% to 14.35% and 15.37% respectively, since 2002. Cardinal Health takes the lead with a current dividend yield of 2.34% as compared to ABC's 1.43% and MCK's 0.92%.
I feel that regardless of the outcome of the Express Scripts contract award, AmerisourceBergen is a good long term investment based on the continued execution of double digit earnings growth and measures taken by management to increase shareholder value through dividend hikes and share repurchase programs. If AmerisourceBergen fails to secure the Express Scripts contract or even a partial contract it will be important to see how well management responds to the loss of at least 12 cents per year contributed to EPS by Medco. Ultimately, this would only decline the near term growth rate of EPS which is why I also believe the psychological impact of not securing a new contract is more damaging near term than the loss of revenue and earnings.
Disclosure: I am long ABC.