These days, many commodity investors are living in uncertainty because they read on the internet that China, the largest consumer of commodities in the world, is slowing down. In this article, I will take a look at the most important commodities consumed by China. We will see if our concern about China slowing down is validated.
China is already the world's largest consumer of the main industrial metals: copper (NYSEARCA:CPER), nickel (NYSEARCA:JJN) and zinc. In the energy space, China is the largest consumer of coal in the world. In construction, China is the largest cement (+ ceramics and plate glass) consumer in the world. In the precious metals industry, China is the largest gold (NYSEARCA:GLD) and platinum (NYSEARCA:PPLT) jewelry consumer in the world. Indeed, a slowdown of China will have a large impact on commodity prices.
1. Copper
Since the crisis of 2008, China amazingly increased its copper imports. Even if the copper isn't being used, the Chinese are storing the copper inventory in warehouses as collateral for U.S. dollar loans. April imports totalled 375,258 tonnes, down 18.80% from the 462,182 tonnes imported during March. However, if we look at the long term chart (Chart 1), China is still importing larger and larger quantities of copper. We will need to continue monitoring this trend the coming months to see if China is really slowing down.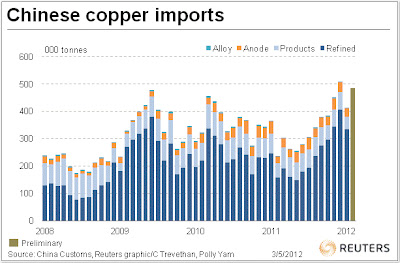 Click to enlarge
2. Nickel
Similarly to copper, nickel imports have surged in China, but since 2011 it has slumped. Imports totaled 2.77 million tonnes in January 2012, down 36.6% from December, according to Chinese customs data. Shipments from the Philippines were down 63.3% on the month to 596,024 tonnes, compared with an all-time high of 3.56 million tonnes recorded in September 2011 (Chart 2). However, recent bans on nickel exports from Indonesia + 20% export tax on remainder will support nickel prices and diminish a worldwide glut.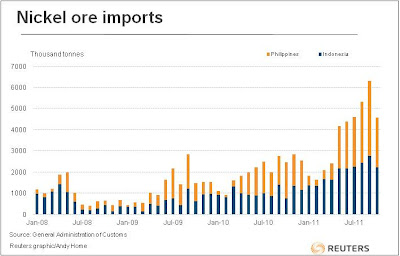 Click to enlarge
3. Zinc
Zinc demand has been very weak. Zinc demand for imported concentrate for April 2012 has fallen by 31% y/y. Meanwhile, domestic mine output has continued to grow very strongly, rising by 20% y/y. Stock levels of zinc at the LME are at all time highs, indicating production is higher than demand for the metal (Chart 3). This bearish trend has been spilled over to the zinc stocks. For example, Belgian zinc producer Nyrstar has been hitting all time lows.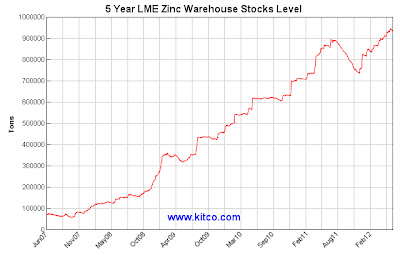 Click to enlarge
4. Coal
Coal has been booming in China as this energy source is still predominant in China (Chart 4). In April 2012, China coal imports rose to 25.1 million metric tonnes, while it was only 11 million metric tonnes a year ago.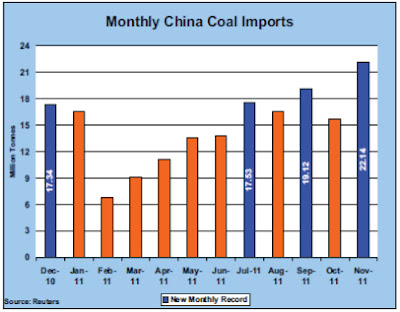 Click to enlarge
5. Cement
China's cement production has been going up very rapidly over the decade due to construction demand. Consumption has boomed so much that cement consumption per capita has outpaced almost every country in the world (Chart 5). A bubble could be looming in the cement industry.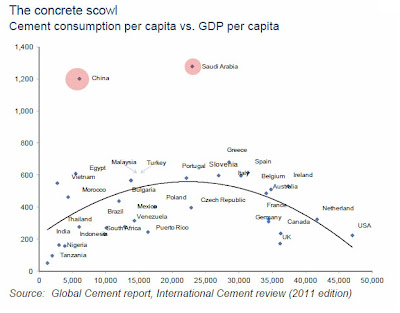 Click to enlarge
Cement consumption is tied to the housing market in China. Although many say there is a housing bubble in China, statistics are still evidencing a rise in the Shanghai property index since 2012 started (Chart 6). This rising trend is probably due to several decreases in the reserve requirements of Chinese banks.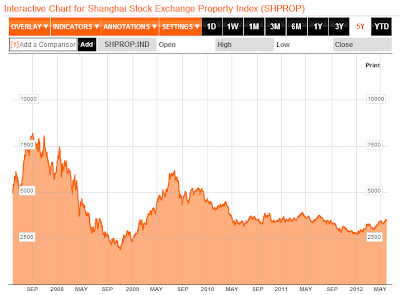 Click to enlarge
6. Gold & Platinum
In one of my previous articles, I pointed out that China's gold imports from Hong Kong are soaring. With current low gold prices, China will continue to buy on dips, as it is a safe haven play during this depression.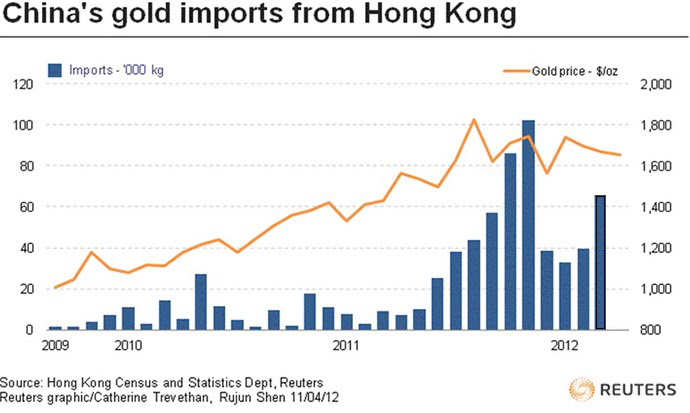 Click to enlarge
Chart 7: China Gold Imports from Hong Kong
As for platinum I pointed out that demand for platinum is suffering from the declining automotive industry. Platinum imports fell by 30% to 239koz year over year, but were up 27% month over month. As rhodium prices keep falling down, the automotive industry will continue to slump. I already analyzed this correlation between the automotive industry and rhodium in this article. We know China is the largest auto consumer, so platinum and palladium demand has been deteriorating. As a consequence, the platinum to gold ratio is again below a ratio of 1.
Overall conclusion: We see declining Chinese interest in industrial commodities and a rising interest in precious metals. So yes, China is slowing down, but not for gold.
Disclosure: I am long (NYSEARCA:AGQ), (GLD), (NYSEARCA:PSLV), (NYSEARCA:PHYS).