Recently National Real Estate Investor (NREI) published its annual ranking of the largest owners of retail real estate and that list included many publicly-traded REITs. The largest four owners, Simon Property Group (NYSE:SPG), General Growth Properties (NYSE:GGP), DDR Corp. (NYSE:DDR), and Kimco Realty (NYSE:KIM) accounted for around 609 million square feet or around 40 percent of the largest twenty-five retail owners.
Many of the REITs saw rankings diminish as they have been focusing on dispositions and pruning non-core assets. As David Bodamer, Editorial Director at NREI wrote:
Simon Property Group, which perennially tops the rankings, reported that its U.S. portfolio at the end of 2011 was 10 million sq. ft. smaller than it was the year prior. General Growth Properties, which spun some of its assets off into Rouse Properties, had an even bigger drop from 164.1 million sq. ft. in 2010 down to 136.0 million sq. ft. in 2011. In fact, of the top 10 firms, only Kimco Realty Corp and Weingarten Realty reported larger portfolios in 2011 than in 2010.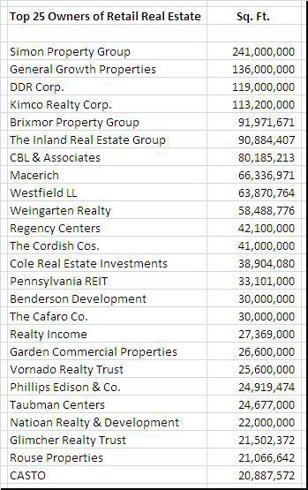 According to NAREIT there are 29 retail sector constituents (REITs) with a total market capitalization of $128 billion (as of April 30, 2012). The average dividend yield of the retail sector is 3.15 percent and the sector is made up of around 26 percent of the market capitalization for the entire equity REIT sector ($490 billion).
Based upon the NREI ownership rankings, Simon Property Group continues to dominate the rankings with around 241 million square feet. The next largest eleven REITs include General Growth Properties, DDR Corp., Kimco Realty, CBL & Associates (NYSE:CBL), Macerich (NYSE:MAC), Weingarten Realty (NYSE:WRI), Regency Centers (NYSE:REG), Pennsylvania REIT (NYSE:PEI), Realty Income (NYSE:O), Vornado Realty Trust (NYSE:VNO), and Taubman Centers (NYSE:TCO). The snapshot below is based on square foot area: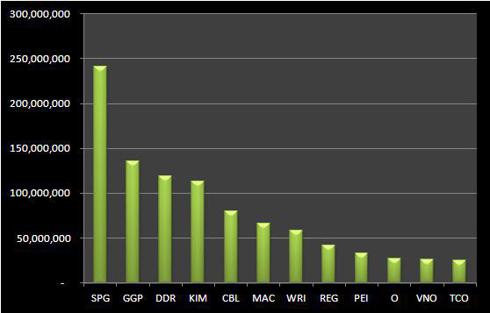 Bet Big on Retail REITs
With a combined portfolio of just under one billion square feet (967 million), these twelve retail REITs have considerable strength in numbers. Individually these REITs are considered risk-aligned alternatives with broad geographic and tenant diversification fundamentals. By focusing on strategically enhanced risk controls, these REITs have engineered successful acquisition and disposition programs that are targeted to balance risk and returns - resulting in consistent income and dividends.
At 5 percent, CBL & Associates and Pennsylvania REIT led the way in the dividend category. Followed by the next three largest REITs - Realty Income (4.6 percent), Weingarten (4.5 percent), and Kimco (4.2 percent). A snapshot of dividend yields: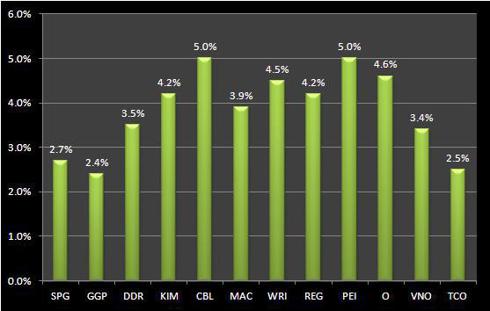 The Best Value
Bigger is not always better. Simon's current price per share is $143.51 and the dominating mall sector REITs' valuation metrics have soared to considerable levels. In fact, most of the dozen REITs mentioned here have become less interesting for the value investor; however, several are worth considering for the risk-aligned income investor. Here is a snapshot of the dozen REITs and current stock prices: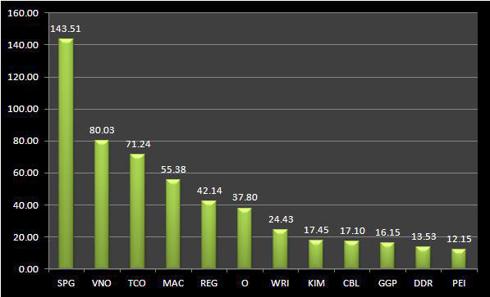 As I have written in previous Seeking Alpha articles, several of the larger retail REITs have room to grow and the value investor could derive considerable stock appreciation (and income) by entering at the right time.
For example, Realty Income has a current dividend yield of 4.6 percent and is trading at $37.80 per share (should the stock price decrease to $35.00 per share, the correlated dividend yield will hit 5 percent). Realty Income has a higher than average payout ratio so the "monthly dividend company®" tends to increase dividends moderately; however, the safety of the dividend is derived from the extraordinary occupancy record (never dropped below 96 percent) and 18 year track record of dividends paid AND increased.
Taubman Centers has also a built its prudent risk-management platform on sustainable dividends and healthy coverage ratios. As of December 31, 2011, the interest coverage ratio was 2.6x and the fixed charge coverage ratio was 2.1x. Consequently, Taubman has one of the most conservative leverage histories and its current debt to total market cap is 39 percent (as of December 31, 2011). Taubman Centers was the only mall REIT not to reduce dividends in 2009 and the company has never reduced its dividend since the IPO in 1992 (20 years in a row).
Kimco Realty is trading at $17.45 per share (16 percent below the 52-week high of $20.31). The current dividend yield is 4.2 percent and the nation's largest owner of neighborhood and community shopping centers, is one of the oldest public REITs and has outperformed the S&P 500 and the composite REIT index in their more than 20 years on the NYSE.
Kimco announced in November that it was raising the annualized dividend to $0.76 per common share ($0.19 per quarter), up $0.04 from the previously annualized dividend of $0.72. With one of the lowest payout ratios of their REIT competitors at 60 percent, the Kimco dividend seems secure. (While attending the annual ICSC RECon event in Las Vegas, I had an opportunity to interview Dave Henry, Kimco's President and CEO. Here is a link to the Forbes.com article and the interview.)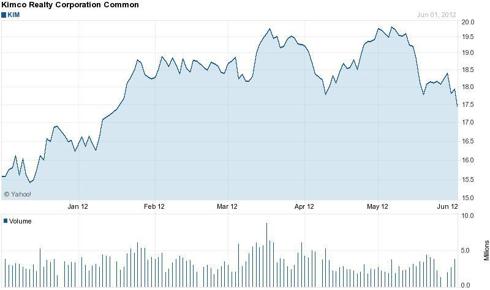 Disclosure: I have no positions in any stocks mentioned, and no plans to initiate any positions within the next 72 hours.