It's doubtless that you've heard as many times as I have over the last few weeks various financial advisors touting large caps, generally, and large cap industrials as the place to be at this point in the economic cycle. More recently, I've also taken great interest in the growing debate regarding bottom fishing in value. Recently, SeekingAlpha ran a story written by the folks at Bespoke Investment Group. That article offered some evidence that "the rally in growth stocks has come to a grinding halt… as value stocks have taken back the reigns of outperformance".
If we are inclined to play into either (or both) of these supposed trends, which options have we? According to this review, we are allowed to purchases ETFs tracking the following, ex-international: 1) Industrials; 2) Large Cap; and, 3) Value, of small-, medium-, and large-cap persuasions.
The following opportunities lists are inexhaustive, do not consider fees, nor do they argue for or against holding or shorting any particular ETF. Many of you know that I often compare domestic investments to Vanguard's Total Stock Market Index, VTI. So, too, here will I do that. Best performers in each category are shaded green; conversely, laggards are shaded red.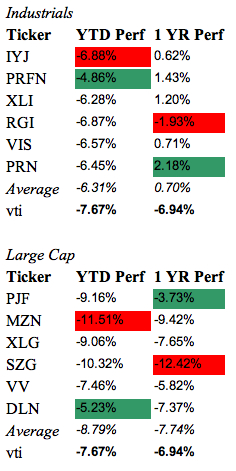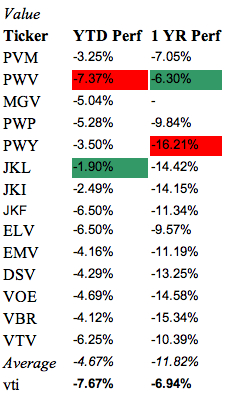 Perhaps, had we bought into some of the industrials ETF one year ago and had the foresight to hold them into 2008, we would be pleased with our outperformance or, at least, mild underperformance. Best in show honors were bestowed upon PowerShares' FTSE RAFI Industrials tracker, which outperformed VTI YTD by ~2.8%, and to PowerShares' Dynamic Industrials, which outperformed VTI 1YR by ~9.1%. Clearly lagging in the category, and barely beating VTI YTD was iShares' Dow Jones US Industrials; lagging in the 1YR period was Rydex's S&P Equal Weight Industrials. The slight outperformance of the agglomerated components YTD is ~1.4%, while the 1YR performance is a much more impressive 7.6%.
With regard to large caps, Wisdom Tree's Large Cap Dividend overpowered VTI by ~2.4%, YTD while PowerShares' Dynamic Large Cap bested VTI by ~3.2%. Laggards included that of Claymore's Info SuperSector YTD, down 11.5%, and SPA's MarketGrader Large Cap 100, down 12.4%. Overall, the sampled large cap ETFs have underperformed VTI by ~1.1% YTD, and underperformed by about 0.8% over 1YR.
Finally, we arrive at value. From the start, we see that, YTD, the sampling of ETFs has outperformed the broad markets – by ~3% - with the best performer more than cutting in half VTI's losses. However, not surprising to many, value also underperformed to the tune of nearly double the losses – down ~11.8% - of VTI. Winners included iShares' Morningstar Small Value Index, down 1.9% and PowerShares' Dynamic Large Cap Value, down 6.3%, YTD and 1YR, respectively. Laggards were the same PowerShares ETF, down 7.4% YTD, and PowerShares' Dynamic Small Cap Value, down 16.2% over 1YR.
If it's one concept these data reveal, it's that generalized statements in times of high volatility are very difficult to support as defacto givens. While there is certainly some credibility underlying the assertion that value investments are making inroads among the markets' better performing indices/ETFs, investing in large cap industrials over the last year represented a better investment plan – and likely still does, considering their (often) international earnings power and conglomerate group of products and services. And the argument for large cap industrials is sound: not everyone spent last year piling into only the emerging markets, technology, and gold… As I write, the S&P is falling 40 points, with the DJIA down 326 (3:26PM on Tuesday 02/05/08).
Sources
http://www.proshares.com/funds
http://www.claymoresecurities.com/ETF/ETFhome.aspx
http://www.ishares.com/home.htm
http://www.powershares.com/products/default.aspx
https://personal.vanguard.com/us/funds/ETF/byname
http://www.wisdomtree.com/ETFs/index.asp
Yahoo! Finance
Google Finance
Disclosure: author is long VTI