India ETF products and the markets they track seemed to have a better week than expected. The major development within India occurred Thursday as the government announced the most recent GDP growth number. GDP growth came in at 5.3% for the fourth quarter (Jan - March) and was well below estimates. In fact, the growth number was the lowest since 2003. This caused markets to sell off. In addition, continued deterioration of the world economy on news from Europe, the U.S. and China also put pressure on valuations.
Yet with all this negative news, there were two India ETFs from iShares - SMIN and INDA - that finished the week positively. Many others only lost around 1% of their value. Here's the entire performance grid of all U.S. listed India ETF products via IndiaETFs.com: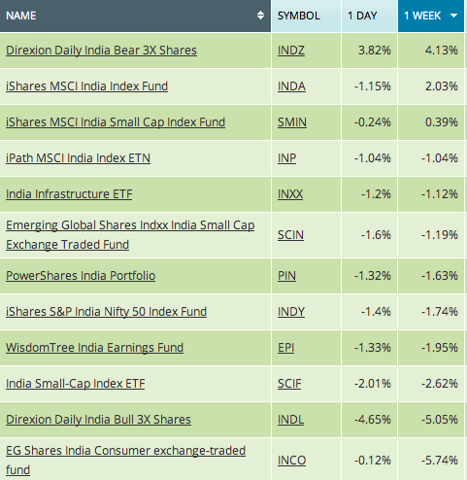 Four India ETF Funds Still Have YTD Gains
Indeed, despite the internal problems of the fiscal and current account deficit, the decline of the rupee and continued inflation, there are still India ETF products that have gained for the year. Four ETFs are in the green, including two small cap India ETF funds - SCIF and SCIN, the largest India ETF - EPI and an ETF focused on Indian consumers - INCO. Of course, the big disappointment thus far has been the PowerShares India ETF, PIN, the worst non leveraged India ETF in year to date performance. Here's the year to date performance chart of all the funds: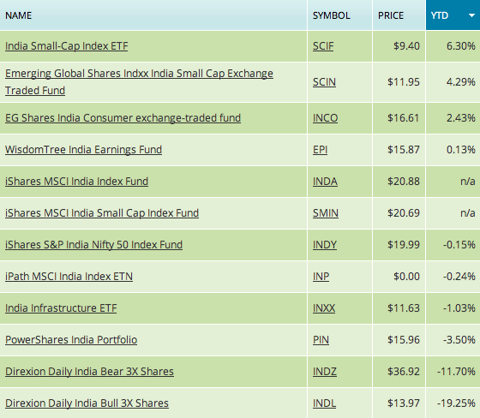 Going forward, it seems as though Indian markets are likely to trade downward to flat as economic news internally and externally is pushing investors to an even greater "risk off" posture. Perhaps the EU crisis will allow India the time it needs to change policy and make tough decisions in order to get deficits under control. Investors will look toward the next Reserve Bank of India (RBI) monetary policy review on June 18th to see if that body can help to revive GDP. Externally, there is also the chance for liquidity moves around the world to combat the global economic slowdown. In the meantime, India seems like a market that should be underweight at best.
Disclosure: I have no positions in any stocks mentioned, and no plans to initiate any positions within the next 72 hours.