Weekly Outlook: Well, the 2012 correction that most analysts/bloggers/market-makers have been expecting seems to have started as we had a disastrous Friday in the market. The Nonfarm Payrolls came in well under expectations and the unemployment rate ticked higher from 8.1% to 8.2%. The combination of these two weak numbers sent stocks soaring downwards nearly 300 points, setting the market up for a very weak start to June. We will be curious to see how the market can get out of this current jam and if it can turn things around. Until we get some better data, policy changes, or Fed capital injections, this market will most likely continue to drift lower.
We have a lot of headlines and data this week that should once again move the markets, and we should also see some increase in volume this week as more traders/investors get back into the market after a holiday week. Yet, we definitely need some type of good news to help ease this market or at least get a more flattened movement. We have a busy week highlighted by headlines and data. Let's get into what will be moving this market.
We have a decent amount of data coming out this week that will be interesting to see how it moves the market. We start out on Monday with Factory Orders. Tuesday will be key with ISM Services, and Wednesday we get the Fed Beige Book, Crude Inventories, and some productivity numbers. Thursday's initial jobless claims will be quite crucial as it was quite weak this past week and we finish the week with Trade Balance and Wholesale Inventories. It's not quite as packed full this week with data, but ISM Services, the Beige Book, Jobless Claims, and Trade Balance will all be important headlines. A lighter week of data actually may be more helpful as it may cause less violent movements.
The really important headlines though will be from Europe and the Fed. Europe has some key data throughout the week like the Producer Price Index and Sentix Investor Confidence on Monday. On Tuesday, Europe will be reacting to Factory Orders and Retail Sales. Wednesday is the big day with Euro-Zone GDP, Central Bank rate decision, and Industrial Production. Thursday is the Bank of England rate decision, and Friday is Trade Balance. A good deal of data will be coming out this week, and what we need is some strength in the euro. News from Greece, Spain, and any other developments will be hotly watched.
Earnings are a little bit more interesting this week with some key companies reporting results that could have some impact on the market. First, we have Dollar General (NYSE:DG) on Monday. LDK Solar (NYSE:LDK) and JA Solar (NASDAQ:JASO) intrigue us on Tuesday. Thursday is intriguing with Anheuser Busch (NYSE:BUD), Lululemon (NASDAQ:LULU), and JM Smucker (NYSE:SJM). While none of the companies reporting are going to blow the market away, each is dominant in its own space and can move that sector somewhat. Further, it will be interesting to see how discount retail is faring in solar, beverages, consumer discretionary, and consumer staples, respectively.
The Fed may be the wild card this week. More and more, we are hearing the murmurs of QE3. Will it be effective? Will it happen? Is it inevitable? When QE3 is announced, it will be very dominant to the market and provide some definite upside to the market. It is just a matter of when it may happen. The Beige Book on Wednesday will be a chance for the Fed to telegraph some of that ideology. Fed speeches will also be parsed this week with Chicago's Evans speaking on Tuesday, Lockhart speaking on Wednesday and Thursday, and a number of other speeches. Overall, the Fed will start to be very crucial to this market not losing its footing. The longer the stall for QE3, the longer the market goes lower, but at the same time, the more QE, the less effective it will be.
So, where are we headed this week?
Nothing makes us excited for the week ahead. Mostly, we are looking at a week that will be parsing a lot of information and making quick judgments on QE, European moves, and where we are headed next. It has a bearish feeling, but the times when the market is all feeling one way is a time when the market can easily reverse itself. Any unexpected positive announcements will definitely bring a turnaround for the market. At the same time, more weak headlines will just give the market more reason to sell. It's definitely a wait and see week, and we continue to be neutral/bearish until we get some major announcement that changes the current direction of the market.
Stocks To Trade:
Two stocks we are watching for this week are Michael Kors (NYSE:KORS) and Yamana Gold (NYSE:AUY). Right now, if the market is correcting, discretionaries, especially recent IPOs, are going to suffer. One such company is KORS. While we like the long-term outlook, it could be a rough summer for a company with a lot of potential investors that will look to move into staples and more stable companies over KORS. The company has a lot of downside as it is forming a downward wedge as well as is below its 200-day MA but has its 50-day above that.
On the flipside, gold is going to start looking more attractive like it did last summer, and one stock that is breaking out right now is Yamana Gold. AUY will definitely be a nice pickup as its breaking the 200-day MA.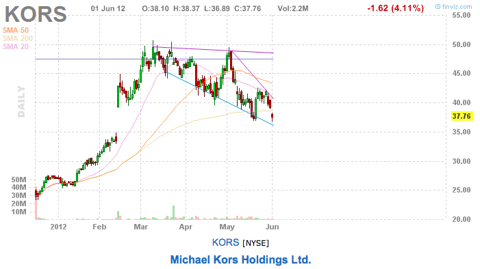 Click to enlarge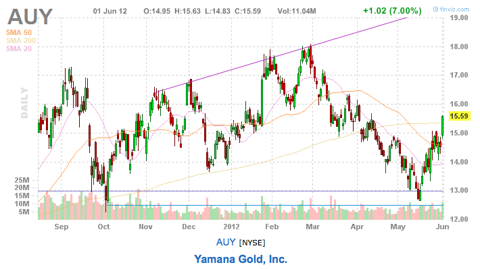 Click to enlarge
Oxen Group Holdings:
We have the following positions. In our Short-Term Equity Portfolio we are long Bristol Myers (NYSE:BMY), Bed Bath & Beyond (NASDAQ:BBBY) and TripAdvisor (NASDAQ:TRIP). We are short Smuckers , Molson Coors (NYSE:TAP) and SPDR Dow (NYSEARCA:DIA). In our Options Portfolio, we are long Monster Beverage (NASDAQ:MNST), Disney (NYSE:DIS) and Panera Bread (NASDAQ:PNRA). We are short Priceline.com (NASDAQ:PCLN), Sina (NASDAQ:SINA), Apple (NASDAQ:AAPL), and General Dynamics (NYSE:GD). We have a reverse iron condor on Ultra Proshares Financial (NYSEARCA:FAS). In our Earnings Alpha portfolio, we are long FedEx (NYSE:FDX), Discover (NYSE:DFS), Western Digital (NYSE:WDC) and Dollar General . We are short Adobe (NASDAQ:ADBE). We have a reverse iron condor in Verifone (NYSE:PAY) and reverse iron butterfly in Joy Global (NYSE:JOY).
Chart courtesy of finviz.com.
Disclosure: I am long TRIP.