With rumors of new quantitative easing by the Fed, credit de-leveraging, and another potential recession in the US upon us, we thought it prudent to provide our take of how a recession or slower growth might affect sales at some of the retailers in our coverage universe. Please note that we aren't saying the US is sliding into a recession; certainly poor jobs growth has politicians and pundits trumpeting the failure of the economy, but after another strong earnings season (mid-single-digits growth), we aren't ready to throw in the towel on the US economy.
While consumers have de-leveraged (paid down debt) over the past few years, interest rates have continued to bounce around record lows. Treasuries have yielded a negative real return for much of 2012. Central bankers, fearful of a deflationary spiral, are even flirting with negative nominal rates, thus charging banks for deposits. Yet, unemployment, as measured by the Bureau of Labor Statistics, has fallen from 9% in the third quarter of 2011 to 8.2% at the end of the first quarter of 2012. That's easily the most significant employment gain over two quarters since the recovery began. Even though April job growth was lackluster, we tend to see this more as noise rather than a definitive signal on the economy at this time. Still, we have noticed some similarities in the retail sector that have shades of similarity with 2007.
Low-end Sales are Lagging High-end Sales…
In 2007, as we saw unemployment slowly creep up, we noticed that low-end retailers, as measured by same-store-sales growth, decelerated earlier, and turned negative more quickly, than retailers of the high end variety.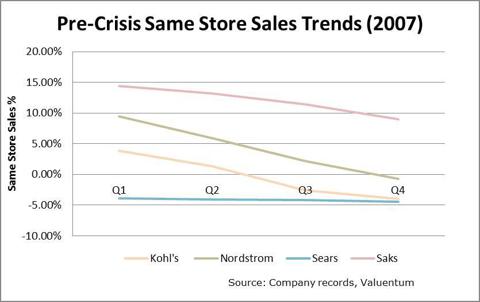 In fact, the declines happened earliest at Sears (NASDAQ:SHLD), which is tied to both housing and low-end consumers, followed by Kohl's (NYSE:KSS) at the low-middle end and then Nordstrom (NYSE:JWN) of the upper-middle class. Interestingly, Saks (NYSE:SKS), an ultra-luxurious retailer, hardly felt a thing during the pre-crisis period. The low-end showed signs of deteriorating credit and spending far before the high-end.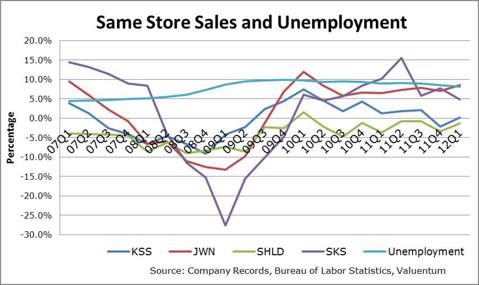 But during 2008, it was really Nordstrom and Saks that suffered. Saks saw same-store-sales fall by nearly 28%! For a company that doesn't open many stores, that's over 25% of revenue disappearing. We think this can be attributed to two factors. For one, we think shoppers that were more in the sweet spot of Nordstrom's target market were shopping at Saks, while those with income levels consistent with shoppers at Kohl's and Sears were instead frequenting Nordstrom. When credit contracted in 2008, everyone cut back, and thus the low-end won customers by default. Additionally, we think Saks and Nordstrom are disproportionately affected by the wealth effect of the stock market, which is why when the major indices lost more than half their value during the Great Recession, sales at the luxury retailers were abysmal.
That also explains why both have experienced outsize recoveries recently, in terms of same-store-sales growth. It's also important to note the sales growth outperformance of Nordstrom relative to Saks in the last few quarters (see image above). We think the performance gap is driven largely by weakening sales at Saks, which has over a quarter of its revenue coming from its New York flagship store that is heavily correlated to the performance of the stock market. As the S&P 500 fell in the back half of 2011, Saks' same-store-sales growth slowed. We also think Saks' recent performance suggests that consumers may once again be becoming slightly more conservative with their spending habits. It's possible that many former Saks shoppers may now be frequenting Nordstrom for its lower-priced luxury items.
It Might be More Than The Economy…
Even though we saw unemployment fall significantly during 2011, we didn't see the same acceleration in same-store-sales during this time period than what we saw in the fourth quarter of 2009 and the first quarter of 2010. We think this suggests that consumers are feeling a little better about trading up, especially with the poor execution by Kohl's and Sears and a shift toward off-priced designer items at TJ Maxx (NYSE:TJX), Marshall's and Ross Stores (NASDAQ:ROST). We've also noticed stronger sales from fast-fashion competitors like Forever 21, H&M, and Zara. Though same store sales data isn't available for these retailers, we think their ability to quickly cycle through fashion is critical to their popularity with younger, more fashionable consumers. It's quite possible that consumers are becoming less interested in Kohl's products and that Amazon (NASDAQ:AMZN) may be making it incredibly difficult on Sears. Many stores of both retailers are in desperate need of capital spending dollars for a makeover.
What if We Do Enter Recession Again?
Though it's unlikely that a massive consumer credit bubble will pop again in the US any time soon, there's still a great deal of international deleveraging and foreign austerity that could negatively affect growth and employment in the United States. If weakness in Europe and China both continue for an extended period of time, there still exists the remote likelihood that domestic GDP could tip back into negative territory again. If this does happen, we would expect the low-end retailers to contract earlier again, but less drastically than the high-end as we outlined in what happened during 2007-2008. The recent decline in oil prices should hit consumers shortly, leaving them with more dollars to spend on discretionary purchases.
Therefore, we think the best strategy for entering a position in the retail sector at this time is to adopt a wait-and-see approach - specifically to wait for same-store-sales to collapse (if they do) before establishing a position in any name. In this scenario we'd expect both Nordstrom and Saks to outperform to the downside during a recession and outperform to the upside during the subsequent recovery. We'd also avoid the low-end retailers like Kohl's and Sears in this situation, unless the valuations were considerably attractive. We think their respective business models are under attack from online channels, a bevy of low-priced fashionable competitors, and a possible shift in consumer tastes.
Most importantly, however, as we outline in our white paper here, we think finding those consumer names that have both good value and good momentum qualities is the secret to outperformance in any market over any time period. In the spirit of transparency, we make available our 16-page equity reports on the firms mentioned in this article available here.
Disclosure: I have no positions in any stocks mentioned, and no plans to initiate any positions within the next 72 hours.