According to retireby40.org, the average amount owners spend on their dogs is $1542 per year, while cat owners spend an average of $1183 per year. This is primarily for food and litter, which can be found at PetSmart (NASDAQ:PETM). PetSmart has grown to become a mid cap company with a market cap of $6.81 billion. The company has the growth momentum to become a large cap stock in the years ahead. This presents a great opportunity for investors to outperform the market.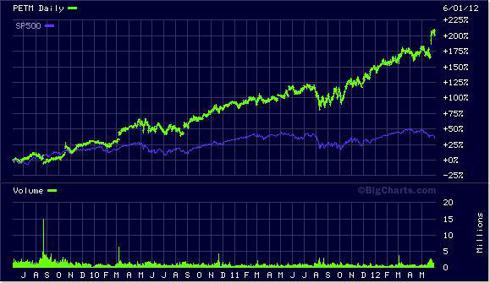 Click to enlarge
PetSmart has about 1,241 pet stores and over 194 PetHotels in the United States and Canada. It is the largest specialty retailer for the lifetime of pets with over 10,000 distinct items. Pet services such as grooming, training, boarding, and veterinary services have also contributed significantly to the company's success.
The company achieved a compound annual growth rate (OTCPK:CAGR) of 10% in sales growth and over 15% in EPS growth over the past 6 years ending in FY11. The stock has grown from the single digits in 2000 to the current price of about $62.
PetSmart believes that meaningful differentiation is the key that makes the company the leader in its field. Differentiation allows the company to be the best in management, marketing, merchandise assortment, store experience, services, customer insights, financial framework, and social responsibility in the industry.
The stock tends to grow in line with earnings over time giving the company a fair valuation. This is evident with a forward PE ratio of 17.17, a PEG of 1.18, and a price to book ratio of 6.35. From 2008 to 2011, the company achieved an average 20% return on invested capital each year. This shows that the company has learned how to get a good bang for the buck.
The company plans to open 45 to 50 new stores in 2012. This represents a 3% - 4% increase in store count which should continue to provide increases in revenue and earnings growth.
PetSmart has 23 upward earnings revisions for FY13 and another 23 upward revisions for FY14. It is expected to grow earnings annually at 16.53% for the next five years. This growth should allow the current stock price of $62 to grow to about $130 in five years, realistically doubling your money. This performance should significantly outperform the S&P 500.
Overall, PetSmart's growth in sales and earnings of its quality products and services should propel the company to meet or exceed its earnings expectations over the next several years. This is another great above average company to invest in for the future. It has proven itself by growing from a small-cap to a mid cap company. Investors should continue to benefit as it grows into a large cap company.
Disclosure: I have no positions in any stocks mentioned, and no plans to initiate any positions within the next 72 hours.