In the current market environment, it seems that regard for underlying corporate fundamentals has disappeared. Either everything is sold off during down days, or everything is bid up during up days. The technology sector is no different. Many companies in that sector are growing comfortably, and executing on their strategies.
Cash is of paramount importance in the technology sector, due to a constant need for R&D and investing in the future. Many companies in this sector carry billions of net cash & investments on their balance sheet, so that they can continuously invest in new products. However, with recent market weakness, this cash creates additional benefits: both buybacks and acquisitions become cheaper. The purpose of this article is to highlight 5 cash-rich technology stocks that could take advantage of market weakness to strike deals or return capital to shareholders. It is meant to be a starting point for further research, and not an explicit endorsement of any one company.
Before we delve into our selected companies, it would be wise to mention Apple (NASDAQ:AAPL), by far the richest technology company of them all, with $110.176 billion in cash (and no debt) as of the end of second quarter of fiscal 2012. Despite its cash position, Apple has been reluctant to do either large deals or meaningful capital returns. Even Apple's dividend and buyback announcement, which is set to cost $45 billion over the next 3 years, will do little to dent the company's cash position. The company generated $31 billion of operating cash flow in the first 2 quarter of 2012 alone. Given Apple's reluctance to aggressively deploy cash, and its relatively low R&D expenditures (relative to the rest of the company), Apple's cash is likely to keep accumulating on the company's balance sheet (whether or not that is the most appropriate course of action is beyond the scope of this article). We turn now to 5 technology companies rich in cash & investments (for the record, all data, including stock prices, is current as of Sunday, June 3. Net cash and investments per share will utilize diluted shares).
Marvell Technology (MRVL)
Marvell is one of the leading semiconductor companies, with a large presence across a variety of industries. The company's has $2.225895 billion of net cash & investments on the balance sheet, which translates to $3.74 per share of cash & investments. Based on Marvell's closing price of $11.97 on Friday, June 1, 31.24% of the company's market capitalization consists of cash & investments.
Marvell has been aggressive in deploying its cash, with a particular emphasis on stock buybacks. In the past 7 quarters, Marvell has bought back 16% of itself via its buyback program.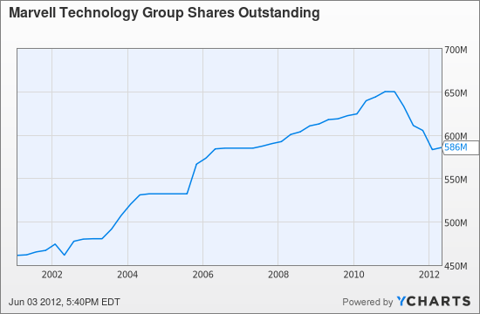 MRVL Shares Outstanding data by YCharts
In addition, Marvell announced that it is expanding its buyback program by an additional $500 million and. The company also bowed to institutional investor pressure and agreed to initiate a quarterly dividend of 6 cents per share, which translates to an annualized yield of 2% at current prices. Given that the company's stock has dropped by almost 14% year-to-date, its expanded buyback will allow for even more shares to be repurchased than before.
NVIDIA (NVDA)
NVIDIA, one of the leading graphics companies, has been steadily accumulating cash. Unlike Marvell, the company has yet to make a meaningful return of capital to its investors (the company's existing buyback program, set to expire in May 2013, has seen little use in recent years). Much of that, in our opinion, is due to the company's need to retain a buffer as it slowly transitions away from traditional GPUs and towards mobile and cloud products such as Tesla and Tegra chips.
At the present, NVIDIA's existing financial position is strong. The company has $3.130812 billion in cash & investments (and no debt) on the balance sheet, which translates into $5.01 per share in cash & investments. Based on its most recent stock price, that means that 41.82% of NVIDIA's market capitalization is in cash. NVIDIA's reluctance to buyback stock has allowed its balance sheet to become one of the strongest in the sector (relative to the size of the overall company), yet it has also contributed to dilution.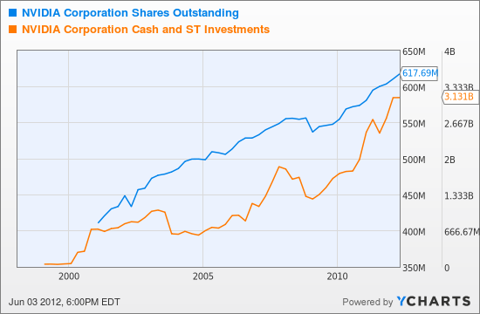 NVDA Shares Outstanding data by YCharts
It is possible that as NVIDIA transitions away from traditional GPUs it will decide to return capital to shareholders.
Qualcomm (NASDAQ:QCOM)
Qualcomm is one of the few top tier technology companies that utilizes almost no debt. The company has $26.568 billion in cash and investments on the balance sheet, and debt of $1.039 billion. That translates to net cash & investments of $14.89 per share. Based on its current stock price, 27.01% of Qualcomm's market capitalization is in cash.
Qualcomm's business model, which contains a large licensing business, allows the company to post operating margins of over 30%. Thus, Qualcomm is able to accumulate billions in cash each year that it is then free to invest in new technologies (the company's R&D spending is up to nearly $1 billion per quarter), acquire new companies (Atheros), or return capital to shareholders. Qualcomm posted record revenues and profits in its most recent quarter ($1.28 in GAAP EPS and $4.943 billion in revenues), and used its second quarter fiscal 2012 results to expand its buyback program and boost its dividend.
Although it did not buy back any stock in its most recent quarter, Qualcomm announced a new $3.5 billion buyback plan alongside its most recent earnings release. It replaces an older buyback plan. In addition, Qualcomm increased its dividend to 25 cents per share, from 21.5 cents previously (the stock yields 1.81% as of this writing).
In the technology sector, there are several types of companies. Some hoard cash, other buy up company after company, and others commit themselves to consistent returns of capital to shareholders. Qualcomm skews to the third category, with the company demonstrating a consistent commitment to returning capital to shareholders, all while maintaining a good cash cushion and acquiring companies when needed.
Oracle (NASDAQ:ORCL)
If Apple and NVIDIA are hoarders of cash, and Qualcomm is a return of capital kind of company, then Oracle falls under the acquisitive category. CEO Larry Ellison is a serial dealmaker, especially when a deal is able to cause trouble for a competitor.
Oracle's acquisition history consists of a large and growing list of software (and occasionally hardware companies like Sun) companies. Most recently, Oracle bought Virtue, a social marketing company for a reported $300 million (official terms were not disclosed). Oracle is always on the hunt for new targets, and with $14.965 billion in net cash & investments on the balance sheet ($29.742 billion in cash & investments and $14.777 billion in debt), Oracle has plenty of firepower to continue acquiring companies to bolster its presence in the cloud computing and database markets. Oracle's net cash equates to $2.92 per share, or 11.23% of its market capitalization.
Oracle has a mixed record on the capital return front. The company added $5 billion to its buyback in December 2011, and should Oracle's stock price fall further than the almost 20% drop it has sustained over the past year, it is possible that the company will choose to ramp up its buyback activities from the $3.457 billion the company has spent so far in fiscal 2012 (Oracle is set to report full year fiscal 2012 results this month). On the dividend front, however, Oracle has not made a meaningful effort to increase its payout, in keeping with the company's preference for using cash for acquisitions. Oracle pays a dividend of just 6 cents per share, for a yield of just 0.92% as of this writing, and boosting that payout is not a priority for Oracle.
NetApp (NTAP)
NetApp's cash position is notable not for its size, or proportion of market capitalization, but for the fact that it may attract suitors. Due to the poor guidance the company announced in its most recent earnings release, the stock has fallen sharply, closing at just $29.44 on June 3. The company traded as high as $54.57 in the past year.
NetApp is still solidly profitable, despite a slowdown in its business. Depending on who is asked, this slowdown is due either to a weak macroeconomic environment, or intensifying competition from EMC (EMC). For the record, NetApp itself sees macroeconomic weakness as the issue, while analysts generally see EMC as the issue. In any case, NetApp's financials are strong, with the company holding $5.3985 billion in cash & investments on the balance sheet, and convertible debt of $1.2023 billion (much of NetApp's convertible debt is hedged against dilution). For the sake of conservatism, we include this debt in our net cash calculation. As of the end of fiscal 2012 (NetApp's most recent quarter was Q4 2012), NetApp had net cash & investments of of $4.1336 billion, which is equivalent to $10.82 per share. Based on the company's most recent stock price, NetApp has 37.09% of its market capitalization in cash. What makes this figure notable is that NetApp may now be too cheap for a large technology company to ignore, something we discussed in depth in a recent article about NetApp's financials.
The verticalization of IT is a major trend in the technology sector, and many Tier 1 technology companies are competing to become one-stop technology vendors for their customers. And storage is an essential part of becoming a one-stop technology company. Given that EMC, the other pure-play storage company, is too large to acquire, and that the other leading storage companies are Dell (NASDAQ:DELL), HP (NYSE:HPQ), and IBM (NYSE:IBM), the only way for a major technology vendor such as Oracle or Cisco (NASDAQ:CSCO) to gain a foothold in the storage market is to buy NetApp.
Conclusions
These companies are meant to be a starting point for readers to do further research. This article was written for long-term investors, not short-term traders. The reason for that is due to the nature of cash deployments. In market environments such as this one, cash-rich technology companies are able to continue investing in R&D, or make acquisitions cheaper than they would be in normal market environments. Such investments, however, take time to pay off, and investors must be willing to wait to see the pay-offs.
Disclosure: I am long NVDA, QCOM, AAPL, EMC, CSCO, HPQ, IBM. We are also long CSCO, HPQ, and IBM via the SPDR Dow Jones Industrial Average ETF.