Needless to say, AuthenTec (NASDAQ:AUTH) did exactly what I thought they would, and even surprised me with various improvements in their business.
What follows is a brief summary of their earnings announcement.
Look for a full report on their latest quarter, and their full 2007 results, and analyst conference call highlights in a few weeks after they release their latest 10-K filings and I have a chance to parse the data fully.
Hit Me With Some Numbers
In the mean time, here are some highlights (growth from previous year's 4Q/analyst's estimates where applicable):
Record quarterly sales of $15.7 million (up 67% from prior year/vs. $15.3 million projected)
Record quarterly income from continuing operations of $1.3 million (up 328% from prior year)
Gross margin improves to 50.0% (up from 45.5% from prior year)
$0.04 earnings per share (up 233% from prior year/ vs. $.03 projected)
Great numbers across the board and AuthenTec showed increasing traction in their margins and pricing power.
Some other points of note: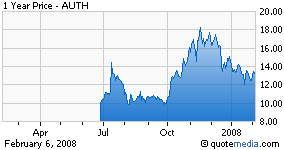 For the 1st quarter of 2008, AuthenTec is projecting sales of between $15-15.3 million vs. analysts estimates of $14.7 million.
This reflects growth of 63 percent year-over-year and is more than double the year-over-year growth rate achieved in the first quarter of 2007.
For the 1st quarter of 2008, AuthenTec expects non-GAAP earnings per share to be in a range of $0.01 to $0.02 per diluted share, compared to a loss of $0.09 per diluted share in the first quarter of 2007 vs. analysts projections of $.01 per share.
For the full year of 2008, AuthenTec expects revenue to range between $72 million and $78 million, up from $52.3 million in the previous year vs. $73.4 that analysts are projecting.
According to Scott Moody:
"We are pleased with our results in the fourth quarter, which reflect substantial improvements over the prior year and prior quarter," said F. Scott Moody, Chairman and CEO of AuthenTec.

""These results were driven by the increased demand for our fingerprint sensors as well as continued improvement in margins and disciplined expense management. Over the last few years we have built a solid financial and operational foundation, while rapidly expanding sales and unit shipments.

Yet as pleased as we are with these results, we are even more excited about our future prospects since we believe we are still in the beginning stages of a billion unit per year market opportunity.

To capitalize on this opportunity, we have continued to aggressively invest in new and exciting products and technologies. In fact, during the first quarter we will introduce the AES2810, the first single chip match-on solution for the PC market, and the AES1711, a low power sensor that is ideal for the wireless device market."
Bottom Line
While I need to listen to the conference call and read through the 10-k filing when it comes out to get better feel for everything including the cash-flow figures which were not included in the earnings release, everything else looks great as expected, and it looks like AuthenTec is firing on all cylinders.
I read that an analyst reiterated his buy recommendation on the stock, and LOWERED his price target to $15 from $16.
That's like saying to your wife that she looks great and doesn't need to change a thing when she asks you if she looks fat, and then getting her a gym membership "just in case".
In other words, there is nothing wrong with the company, or its prospects, in fact they are just as good as ever, but in typical Wall Street fashion, everyone wants to be behind the bus not in front of it.
If Monday's market reaction to AuthenTec's earnings is any indication (shares were essentially unchanged while all the major indexes declined by 3%), we've got some pleasant days ahead.
I reiterate MY buy recommendation, but instead of lowering my price target I am still saying that AuthenTec's shares are poised to increase in price by at least 50% within the next year, with a real chance that they could double within the next 1-2 years especially if they keep executing like this.
If you aren't in, it's time to get in.