Cheniere Energy Inc. (NYSEMKT:LNG) is a natural gas terminal and pipeline company. It has no PE or FPE. Its earnings are not positive. In fact it has lost an average of -$145 million per year for the last 3 years on a GAAP basis. The FY2011 loss was the worst at nearly -$200 million. LNG's interest expense alone for FY2011 was approximately $260 million. LNG's total revenue for FY2011 was only about $290 million. It's easy to lose money with this kind of fiscal dynamic. LNG has a book value per share of -$0.64. Ouch! You're getting debts for your investment money.
The stock price reflects the promise of the planned LNG export terminals the company is building. The first one, Sabine Pass, is scheduled to go online sometime in 2015 or 2016. The new terminal is supposed to allow US companies to access the more expensive prices currently available in such countries as Japan (recently more than $15/MMbtu for LNG). The US natural gas prices are much lower. In fact the surge in unconventional natural gas drilling since 2008 has led to a glut in US natural gas. This has driven down prices in the last year from $4.97/MMbtu to a recent low of about $1.90/MMbtu. A more recent US natural gas price rally pushed that figure back up to $2.75/MMbtu. However, prices seem to be on their way back down, and they are currently at $2.34/MMbtu.
The problem with LNG is that its stock price is based on the promise of future revenues and earnings. These are in turn based on worldwide demand for LNG. These are all just educated "assumptions". LNG would quickly go bankrupt if it were to continue in its current state. Instead LNG has plans to become the first and perhaps the biggest US LNG exporter. It has plans for more than one LNG liquefaction facility, but the Sabine Pass facility will be the first. It is already permitted. LNG is just now raising the money. It will take $4.5B to $5.0B in funding to build the first two trains of the Sabine Pass LNG facility, which are due to go online in 2015 or 2016. One engineer in the business told me the 2016 estimate was much more realistic. This is a huge amount of financing for a company that has a current market cap of $1.65B. It already has $2.67B in debt (mrq), and some of this debt will come due on Aug. 1, 2012. From a strictly fiscal standpoint the level of indebtedness looks daunting. LNG does have 90% long term fixed contracts with investment grade customers for the first two trains of the Sabine Pass facility. However, the company has much bigger plans than those tow trains.
If the international pricing on natural gas falls significantly, LNG could find itself in dire trouble. With worldwide economies slowing currently, the possibility of LNG prices falling is increasingly large. Such an occurrence would make it harder for LNG to sell stock to prospective investors and debt to prospective creditors. This could add greatly to delays and to the overall costs. For instance the costs of trains 3 & 4 (due for completion in 2017 or 2018) could easily skyrocket. This would put LNG in a very bad position.
LNG predicts that the contract price for LNG will be indexed on oil between 11% and 15% of the cost of a barrel of oil per MMbtu. LNG expects the delivered cost to Cheniere Energy of LNG to the Americas, Europe, and Asia will be $7.10 to $9.35/MMbtu. This means the demand price has to be this high or higher. Cheniere Energy expects demand for LNG to range from $11 to $23/MMbtu based on oil prices of $100/barrel to $150/barrel. A few years ago this kind of demand picture for natural gas worldwide seemed like a sure thing. Now there are doubts creeping in.
The US has been the first to actively develop its shale gas resources. This has created a local glut. Cheniere Energy plans to circumvent this by shipping LNG elsewhere. This sound logical. Unfortunately geologists now know that a number of other countries have shale gas resources similar to the US, and more are being discovered all of the time. China has mostly undeveloped reserves that are far in excess of those in the US. Argentina has substantial reserves that are mostly undeveloped. Recent discoveries indicate that the UK has substantial offshore shale gas reserves. Australia and many area of Southeast Asia have substantial newly discovered natural gas fields. Poland's shale gas is in the process of being developed. There are also huge new natural gas developments in the Middle East and Africa, including LNG facilities. The above may lead to lower prices in Europe and elsewhere.
In many European countries government policy has been against developing shale gas, but this policy may be about to change. The current EU economic troubles can only help to facilitate this change. The EU will need all of its resources to dig itself out of its current economic hole. This will probably mean the relaxation of current rules surrounding shale gas development. For instance, it is easy to see a troubled Eastern European country making this decision.
All the above means that worldwide natural gas prices may fall from their current levels in the next several years. It means that Cheniere Energy may do okay with its first two, 90% long term contracted, trains at its Sabine Pass facility. However, it may have trouble getting the high value contracts for the subsequent two trains and for its Corpus Christi facility. LNG could accrue a huge amount of debt with little or no way to pay it back. Its plans could get delayed, and they could increase in cost. There is no real barrier to entry in this business except the huge amounts of money involved. If it is a lucrative business, it makes sense that LNG will eventually see a large amount of competition. This too could cut into profits.
The bottom line is that LNG is a small cap company in a market where prices are more likely to change for the worse than for the better near term and possibly longer term. Cheniere Energy is taking on huge debts at a time when most companies are cutting back. This should hurt it in terms of available creditors in the future. In a slowing worldwide economy LNG is the kind of stock that will normally get hit hard. It may eventually be successful. Only time will tell on that. However, that may be four or more years away. In the meantime Cheniere Energy will be a very weak company. Increasingly troubled investors will see it more as a "risk" than as a solid investment. Investors who want to cut down their risk profile in troubled times will sell their riskiest investments. So far LNG is all promise and little substance. It is "risky". That makes it a sell or a short in today's increasingly troubled market.
Many believe that oil prices will eventually bounce back up, but even robust oil prices have taken an over 20% dive in the last month. When this happens, it is harder to have faith in "assumed" future Future LNG prices are "assumed" indexed on the prices of oil. When oil itself is almost 20% below the lowest of the assume prices for it, it is hard to have confidence in the "assumptions". Oil seems to be heading lower. As I write WTI Nymex oil is at $81.45/barrel.
LNG has 14.30% short interest, so a lot of people believe it will go down. Plus it has had -590,000 shares of insider selling in the last six months. Even the company's management has doubts about the stock. In a bull market the momentum/HFT traders like to support this kind of stock. However, they disappear in a troubled market. LNG looks fundamentally weak.
The five year chart of LNG gives a technical idea of how far the stock may fall.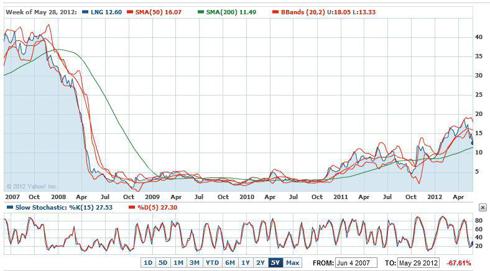 Click to enlarge
(Click to enlarge)
Given that LNG does not actually make any money, LNG can easily fall to $5 or below. The new stock issuance agreement will not help shareholders believe they will own a significant part of it by the time the LNG facilities are done. Four years before the company shows real profits is a long time to wait. The slow stochastic sub chart shows that LNG is oversold. The main chart shows that the LNG price is close to breaking through its 200-day SMA. It is not easy to see how the stock would avoid this. If this were to occur, it would be a technical sell signal.
Overall the market is looking weak. Some indices have already broken through their 200-day SMA's. This is a sell signal. With the trouble in Europe and the weak, recent data from the BRIC's and the US, the technical indications are likely going to see fruition. This makes LNG a sell and a short for aggressive traders.
NOTE: Cheniere Energy owns 88.6% of Cheniere Energy Partners LP (NYSEMKT:CQP). Much of the fundamental fiscal data came from Yahoo Finance.
Good Luck Trading.
Disclosure: I have no positions in any stocks mentioned, but may initiate a short position in LNG over the next 72 hours.