When we first heard of mortgage real estate investment trusts, we were skeptical of those products. We would wonder why an institution would bother to lend money to the mortgage REITs through repurchase agreements instead of buying the MBS securities themselves and pocketing the MBS yields themselves. After researching the companies in the industry ourselves, we have seen the benefits that mREITs offer. We have learned that the primary purpose of mREITs is high current yields that exceed what can be offered on fixed income securities and even closed-end funds because the mREITs are utilizing leverage of 5 to 7 times capital. We ran a regression of Annaly Capital's (NYSE:NLY) monthly returns versus the SPDR S&P 500 ETF(NYSEARCA:SPY) from 1997 (when NLY went public) to May 30th and we found that Annaly generated a monthly alpha of 1.43% with a monthly beta of 0.40. As the regression generated a t-stat of 2.84 for the Alpha and 3.8 for the beta, we concluded that NLY generated a significant level of risk-adjusted alpha vs. the S&P 500 during this time period.

Click to enlargeSource: Returns data from Bloomberg LP
Like bond mutual funds (whether open-ended or closed-ended), mREITs must pay out the net taxable income to the shareholders in order to keep its qualifying tax-exempt pass-through entity status. Our firm has not only come to appreciate the high yield, low volatility and diversification benefits of mREITs, we have experienced it directly by owning mREITs for our principal account. We previously held a long position in American Capital Agency (NASDAQ:AGNC), which we sold when AGNC's stock price was 10% over book value. We sold because we believed that AGNC would soak up the premium to book with a secondary stock offering, allowing us to reenter cheaper. We also currently own a position in CYS Investments (NYSE:CYS).
In addition to Annaly's core mortgage real estate investment trust business, it also has ancillary businesses consisting of registered investment advisory firms that it acquired (Mergenser and FIDAC), warehousing mortgage financing (Shannon Funding LLC), a fixed income broker-dealer (RCAP Securities) and middle market debt financing (Charlesfort). We are impressed with the fact that FIDAC is the external subadvisor of two competitors in the mortgage REIT sector, Chimera Investment Corporation (NYSE:CIM) and Crexus Investment Corporation (NYSE:CXS). Because of the super cheap interest rates on short-term debt due to the Federal Reserve's Zero-Interest-Rate-Policy for short-term debt securities, NLY and other mREITs were able to generate a larger net interest spread and increase the dividends per share that were paid to the shareholders from 2005 to 2009, which have declined modestly since peaking around 2009.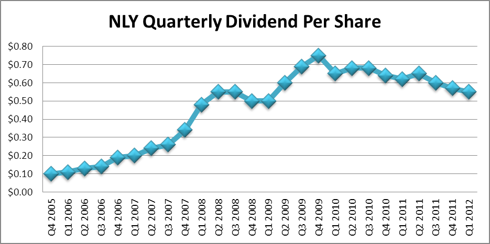 Click to enlarge
Source: Annaly's Investor Relations Website
With regards to Annaly and its dividends, we see the company as a company that typifies a high current dividend yield rather than sustainable dividend growth. Its dividend growth was due primarily to Federal Reserve policy actions rather than organic business growth. However, even when dividends bottomed out in 2005, it still paid a healthy 3.5% dividend yield.
Now let's compare Annaly's high current dividend yields versus BlackRock's dividend yield and growth rates.
BlackRock (NYSE:BLK) is the industry leader in asset management. BlackRock had $3.688T in Client AUM as of the last quarter. It achieved its mammoth scale through organic growth and four timely acquisitions, which were as follows:
State Street Research & Management Company ($50B in AUM from MetLife (NYSE:MET))
Merrill Lynch Investment Management ($592B in AUM from Merrill Lynch (NYSE:BAC))
Quellos Fund of Funds ($21.9B in AUM from Quellos Group LLC)
Barclays Global Investors ($1.85T in AUM from Barclays PLC (NYSE:BCS))
BlackRock was not always a dividend (growth) champion. It first paid a quarterly dividend of $.20 in September 2003. With the exception of 2009, BlackRock has raised its dividend by 20% every year until 2012. In 2012, BLK investors had to settle for a 9.09% increase in the dividend.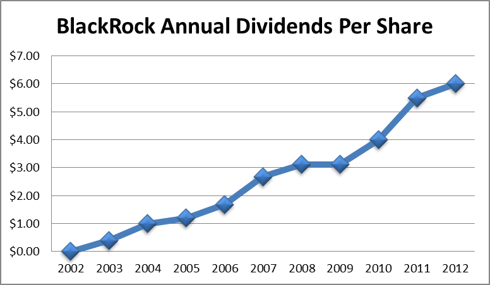 Click to enlarge
Source: BlackRock's Dividend History Page
Based on our analysis, we have determined that both types of dividend investing belong in a prudent investor's portfolio. For those who need high levels of current dividend income, you can't go far wrong with high-quality mortgage real estate investment trusts like Annaly , American Capital and CYS Investments . CYS and AGNC were not public around the time we invested in BlackRock so we will use Annaly as our dividend yield company to compare against BlackRock, our Dividend Growth Champions. An investment in Annaly on February 5, 2004 (when we bought BlackRock) would have provided us with a total return of 100%, consisting of a 17.79% decline in the price of the stock and 117.79% total return from dividends as of May 31, 2012. This not only would have exceeded the 35% return on the S&P 500 during the time period, it would have come with significantly reduced volatility versus the S&P 500 during this time period.
BlackRock has earned its reputation as a Dividend Growth Champion, in our opinion. BlackRock's business generated $2.826B in operating cash flows last year and only required $247M in CapEx. This resulted in $2.579B in free cash flows for the company. BlackRock's consistent ability to generate free cash flows in excess of its business reinvestment requirements enables the company to not only grow its dividend payments to shareholders, but also engage in share repurchases and strategic, timely, game-changing acquisitions like SSRM, MLIM, Quellos and BGI. We purchased BlackRock at $57.96 on February 5th, 2004. When we first bought shares of BLK, we were primarily interested in its capital appreciation potential and its dividends were a secondary concern for us, even though we reinvested our dividends received. We have earned a total return 235% on our BlackRock investment even though we dealt with the global crisis and compression of BlackRock's PE serving as headwinds to our investment. Like Annaly, BlackRock's return during this period outperformed the S&P 500.
In conclusion, we are intrigued by the dividends paid by these companies. We feel that an investor seeking income can do well by including high quality companies that offer high current yields like Annaly and high quality companies that utilize its mammoth free cash flows for dividend growth and share repurchases like BlackRock .
Finally, with regards to the high dividend yield versus high dividend growth, we like high dividend growth (BlackRock) better than high dividend yields (Annaly) due to the following factors:
BlackRock's impressive dividend growth has resulted in a yield on our original investment of 10.35%, which is comparable to the 11.1% we would have achieved investing in Annaly.
Annaly's revenue is more closely dependent on Central Bank Monetary Easing. Fortunately for NLY, the Fed is planning to pursue its ZIRP until about 2014, enabling it to pay outstanding dividend yields for the next three years.
BlackRock derives a greater percentage of its revenue from traditional albeit lucrative and specialized business services activities rather than its proprietary investment book like NLY.
BlackRock relies less on secondary market financing than NLY
BlackRock's asset management operations enjoy more asset class diversity and capabilities than Annaly.
BlackRock offers more geographic diversity than Annaly
BlackRock generated a higher total return during this time period.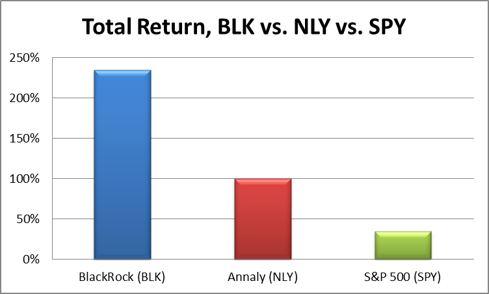 Click to enlarge
Source: Bloomberg LP
Disclosure: I am long BLK, CYS.
Additional disclosure: Saibus Research has not received compensation directly or indirectly for expressing the recommendation in this report. Under no circumstances must this report be considered an offer to buy, sell, subscribe for or trade securities or other instruments.