You would have to be living under a rock not to sense the buzz created by Johnson & Johnson (JNJ) at the American Society of Clinical Oncology-ASCO-meetings yesterday when the results of the Phase 3 trial for the company's Zytiga treatment for prostate cancer were presented. Heralded with a major press release from Janssen Pharmaceutical Companies ('Janssen') of JNJ, the company was quick to point out that Zytiga (abiraterone acetate) plus prednisone showed improvements in asymptomatic or mildly symptomatic chemotherapy-naïve patients with metastatic castration-resistant prostate cancer. Readers will recognize this indication as that of Dendreon's (DNDN) Provenge. So, it was not surprising that the anticipation of the release of these data, together with the general weakness of the market last week, caused Dendreon's stock to continue its fall.
The latest round of weakness in the stock arguably could be traced to Janssen's previous announcement the study had been unblinded based on the unanimous recommendation of an independent data monitoring committee. According to the company, "[T]he Independent Data Monitoring Committee-IDMC-unanimously recommended unblinding the study based on a planned interim analysis in which differences in radiographic progression-free survival, or rPFS, overall survival, or OS, and secondary endpoints were observed that constitute evidence of clinical benefit as well as continued evidence of favorable safety in patients receiving abiraterone acetate plus prednisone as compared to those receiving placebo plus prednisone. Based on these results, the IDMC also recommended that patients in the placebo arm be offered treatment with Zytiga." In fact, Zytiga reduced the risk of prostate cancer worsening or death-the definition of progression-free survival-by 57% compared to a placebo. And the chances of the results being a chance occurrence were less than one-hundredth of 1%.
After an initial burst of enthusiasm for the drug by the medical community and the press-accompanied, of course, by taking Dendreon to the woodshed-some members of the media pressed JNJ for more details regarding one of the two primary endpoints: OS. As it turned out, the trial had not achieved statistical significance (stat sig) for overall survival. Here are the data.
rPFS: The data demonstrate a statistically significant improvement in rPFS in the abiraterone acetate plus prednisone arm (Zytiga arm) of the study compared to the placebo plus prednisone (control) arm. The median rPFS in the control arm was 8.3 months but had not yet been reached in the Zytiga arm because progression events were occurring more slowly in the Zytiga arm compared to the control arm (N=150 vs. 251, respectively). The Hazard Ratio (NYSE:HR) equaled 0.43, there was a 95% confidence interval (NYSE:CI): [0.35, 0.52], and the p-value was <0.0001.
OS: Treatment with Zytiga plus prednisone resulted in an estimated 33 percent improvement in survival (median overall survival in the Zytiga arm was not reached and was 27.2 months in the control arm; HR=0.75; 95% CI: [0.61, 0.93], p=0.0097). At the time of these interim analyses, the pre-specified p-value of 0.0008 to achieve statistical significance was not reached. The strict requirement of achieving less than 0.04 at the final look, there is the possibility the trial still could achieve stat sig OS. However, with patients in the placebo arm now crossing over and taking Zytiga, the ability to demonstrate stat sig OS is problematic.
Let's review the study, dubbed COU-AA-302. This was an international, randomized, double-blind, placebo controlled Phase 3 study that included 1,088 men with mCRPC who had not received prior chemotherapy, who were randomized to receive abiraterone acetate (Zytiga) 1,000 milligrams-mg-administered orally once daily plus prednisone 5 mg administered twice daily or placebo plus prednisone 5 mg administered twice daily. The co-primary endpoints of the study are rPFS and OS. One 'cycle' of dosing comprises 4 weeks of Zytiga treatment (co-administered with prednisone), and the full treatment for the patients on the treatment arm of the study was just under 14 months.
The background above is interesting, but it really doesn't get to the point, which is: strange things happen when science meets hype, for it is precisely at this boundary that reality sets in. And that's exactly what happened when the scientific and medical communities got its first look at Zytiga's Phase 3 trial data.
What am I talking about? Here is the presentation given by JNJ at ASCO on Saturday morning, June 1, 2012 (courtesy ASCO Daily News; presentation by Dr. Charles Ryan). Look closely at the second figure, which is shown below: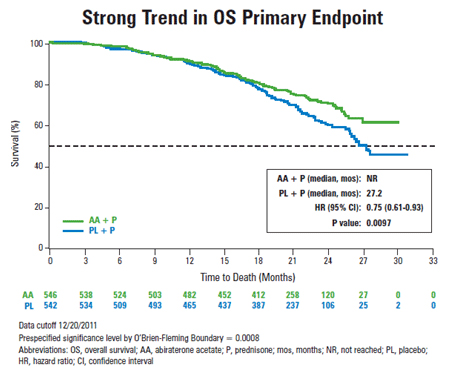 (The same graphic can be found in the video presentation around the 15-minute mark). This is one of the strangest Kaplan-Meier analyses I have ever seen. The treatment and placebo arms of the study do NOT separate for nearly 18 months!
Compare these data with a more 'normal' K-M analysis for a late-stage disease. Below, for example, are the data for Dendreon's Provenge presented by Gomella, et al. (L. G. Gomella, C. Nabhan, J. B. Whitmore, M. W. Frohlich, D. J. George; The Kimmel Cancer Center at Jefferson, Philadelphia, PA; Advocate Lutheran General Hospital and Oncology Specialists, S. C., Park Ridge, IL; Dendreon Corporation, Seattle, WA; Duke Cancer Institute, Durham, NC) in a 2011 ASCO poster presentation. (You can view the entire poster here. (Reproduced with the permission of Dr. L. G. Gomella, personal communication, November 17, 2011; I discussed these and other results pertaining to Provenge here.)) For the Provenge data, the curves separate almost immediately, with the control arm (that is, the arm without the benefit from either Provenge or Frovenge) shown in red dashes. No matter how you slice and dice the data, there is a clear advantage to administering Provenge that is seen almost immediately (certainly by the 6-month mark).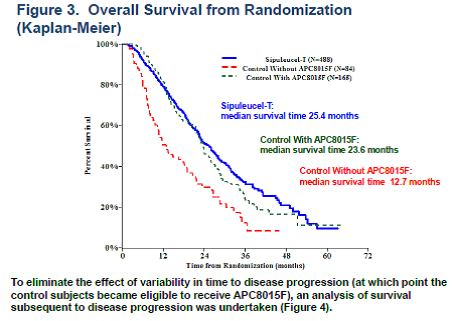 One might posit the bizarre behavior of the Zytiga K-M analysis can be explained by a very long median PFS and OS for the patients in the control arm. These indicators showed that patients enrolled in the trial must have been very healthy. So, the long period taken for the survival curves to separate may mean Zytiga provided no benefit to them while their health remained good seems plausible. Who knows? Alternatively, maybe prednisone, for all its debilitating side effects, truly is a wonder drug, and it alone was responsible for the longevity of patients in the placebo cohort!
The curves for the Zytiga Phase 3 M-K analysis did separate eventually, but they did so beyond the point when patients completed their treatment (14 months). Specifically, no survival effect was seen until month 18…4 months beyond the point where the patients had been taken off the drug (and prednisone). Of concern, as well, was the fact that 69% of patients in the treatment arm (Zytiga + prednisone) discontinued treatment at the time the trail was stopped (versus 84% of patients in the placebo + prednisone arm). Many ASCO participants found these results 'surprising.'
Now, about 50% of patients were known to take subsequent therapies. Still, the IDMC had good reason for recommending termination, given that the study had achieved stat sig PFS. Whether Taxotere or Provenge was administered by the time the interim analysis was performed, there is a question here as to how these therapies might have been working to improve the survival benefit. Whether or not the trial will achieve stat sig OS with patients crossing over from the placebo arm and taking the drug is another matter entirely, and one upon which the entire debate regarding FDA approval will almost certainly be focused on these issues in the months ahead.
To set the stage for that debate then, here are points that should frame and instruct the discourse.
First, would it be better to treat men with Provenge when they first become candidates, knowing that the hazard ratio-HR-when Dendreon's treatment is used continues to improve with time? (HR is the ratio of the hazard rates corresponding to the conditions described by two sets of explanatory variables. For example, in a drug study, the treated population may die at twice the rate per unit time as the control population. The hazard ratio would be 2, indicating higher hazard of death from the treatment. Or in another study, men receiving the same treatment may suffer a certain complication ten times more frequently per unit time than women, giving a hazard ratio of 10.)
The science supports early treatment in the form of the immune system learning, as we and others have talked about in the past.
Further, how do the Zytiga Phase 3 results just reported impact on the use of Provenge? There is a danger, I believe, if Zytiga is approved for pre-chemo patients, that doctors will, basically, put their patients on 'auto-pilot,' and will not, under most circumstances, interrupt their treatment to administer other treatments, even if such treatments may be indicated. This conclusion is based on an ASCO 2012 paper in which it was asserted that "[T]aking periodic breaks from a commonly used treatment for prostate cancer could shorten men's lives.
Still, is maintaining treatment continuity Good Medical Practice under all circumstances? Treating a patient with Zytiga pre-chemo without interruption for the full term (14 months) carries the risk that he will transit Provenge's 'space' and finish his treatment with no option to avail himself of Dendreon's immunotherapy. More to the point, if Zytiga treatment is begun pre-chemo, Good Medical Practice, the core ethical guidance imposed on physicians, should require patients be provided with some level of monitoring. This should be done to determine when the may be a candidate for Provenge, Taxotere, or other treatments so these can be 'layered on,' in serial or parallel fashion, before the patient's immune system is compromised or the disease metastasizes to the point that there are no available options.
The Journal of Clinical Oncology already has weighed in on this topic vis-à-vis the sequencing of Provenge and Zytiga. Here's what it had to say: "The practical dilemma of the appropriate sequence of use of the two new noncytotoxic agents (sipuleucel-T and abiraterone) is being addressed by trials that are under development. For now, given the broader window of applicability of abiraterone and the longer time required to develop an immune response with sipuleucel-T, if both agents are to be used, it seems reasonable to administer sipuleucel-T first with Abiraterone after additional disease progression. Biomarkers to help define the optimal use of immunotherapy are needed."
The subject of Zytiga use pre-chemo leads naturally to this question regarding insurance payments. Should Medicare and the insurance industry pay for a treatment based a long (18-month) delay for OS curve separation? That is, is it worth it to treat patients for 18 months with an expensive treatment when they really don't need that anyway? Fifteen (15) cycles of Zytiga costs more than $82,425. Cost per cycle according to JNJ presentation is $5,495/cycle, not including blood tests and other treatments that may be required for adverse events…a cost that is poking its head close to Provenge $93,000 cost. And again, there is no indication of a survival benefit for at least 18 months following the initiation of treatment. In the case of the Zytiga Phase 3 trial, 20% of the patients on Zytiga died before the curves separated. They acquired no life-extension benefit whatsoever! And if the patient is on Medicare, for example, and transits the 'donut' hole twice during his Zytiga dosage, his out-of-pocket expenses will exceed by a wide margin the co-payment charges incurred by Provenge patients. (The latest data indicate 70% of Provenge patients have no out-of-pocket expenses.)
Other questions loom large, as well. If you read the protocols for Dendreon's IMPACT trial here, you will see there was an entry restriction of 6 months for patients entering the study. Should CMS and other insurers impose an 18-month life expectancy entry restriction on patients before they will reimburse for Zytiga pre-chemo?
What's the bottom line? Just this (and this is a message David Miller of Biotech Stock Research has been trumpeting to one and all for well over a year): Dendreon management must get the message across primarily to urologists-who are the ones who see early stage prostate cancer patients-that if they are going to help the early stage sufferer, then (1) if that patient has a 6-month or longer survival expectation, and (2) if he is eligible for Provenge, administer Provenge first! Then, layer on Zytiga or other treatments, as indicated.
If Provenge is effective, the patient should start to see a survival advantage within 6 months. Instead of simply talking about Provenge's 4.1-month median survival advantage, talk about a 38% improvement in 3-year survival and/or a 22.5% improvement in risk of dying. Put another way, these data say the odds of a patient treated with Provenge (Sipuleucel-T) surviving at 3 years is about one in three comparing to the odds of about one in five for an untreated patient. This level of efficacy, coupled with a mild side effect profile (mild flu-like symptoms), paints a compelling picture for Provenge's use as early in the disease cycle as possible that is difficult for both the patient and his physician to ignore.
This is what the Zytiga Phase 3 trial data tell me.
Technical Analysis
The Daily chart, courtesy StockChart.com, shows the stock continued to fall into Oversold territory last week. The MACD is negative, with just the hint of turning up.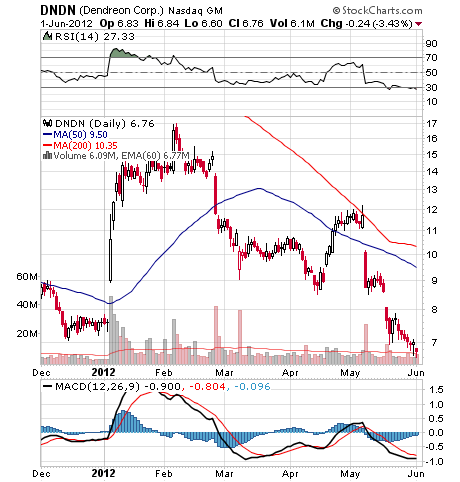 The Weekly chart shows much the same story as above. The price is testing the low from last October while the Relative Strength is approaching Oversold levels. The MACD is neutral,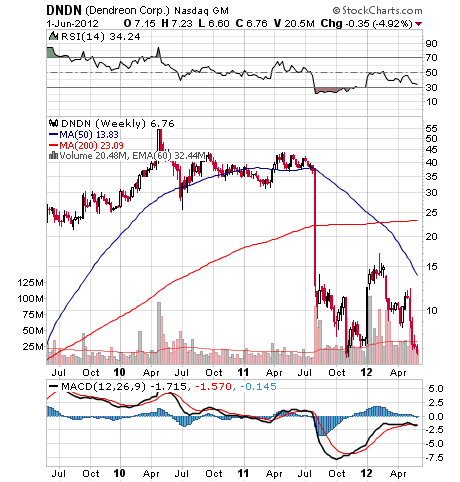 Disclosure: I am long DNDN.
Additional disclosure: I own DNDN and do not intend to change my position within 72 hours of the time of publication of this article. I am not a registered investment advisor and do not provide specific investment advice. The information contained herein is for informational purposes only. Nothing in this article should be taken as a solicitation to purchase or sell securities. Before buying or selling any stock you should do your own research and reach your own conclusion. It is up to investors to make the correct decision after necessary research. Investing includes risks, including loss of principal.