Back on January 20th I wrote the article "Steel Is In China's Hands" showing how the steel industry's future was highly influenced by what happened in China, given that steel (NYSEARCA:SLX) travels and China produces nearly 50% of the world's output. I also followed that article with several others, explaining how several sectors from residential construction to shipbuilding were not giving off good signs for this industry.
Since then, of course, the performance of the steel shares, including those I named in that article - United States Steel (NYSE:X), AK Steel Holding Corporation (NYSE:AKS), Arcelor Mittal (NYSE:MT) and Nucor (NYSE:NUE) - has been dismal, as the following table shows: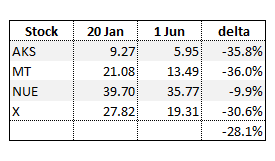 The losses were predictably massive, with the average coming in at -28.1%, helped by Nucor's greater stability (it fell "just" 9.9%). All the other stocks fell more than 30%.
So where does the sector stand now?
The crisis the steel sector finds itself in is one of overcapacity. It will probably not resolve itself until some of that capacity is removed, usually by bankruptcy of some producers.
Another factor that could help would be action by monetary authorities, namely the FED, BCE or the Bank of China taking rates substantially lower. It makes little sense to speculate when such action might happen, but it might make sense to react positively if it does happen.
In the meantime, traders can follow the steel contract quoted on the LME as a proxy for other steel prices: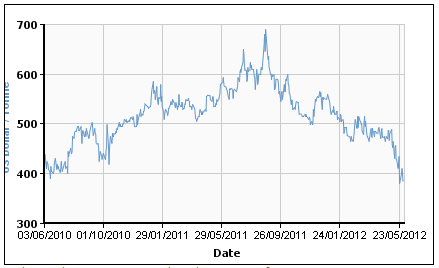 The trend evident in this chart, and its latest acceleration, were instrumental in establishing that steel sector's woes would hit in the short term. Likewise, were prices to turn up significantly it's likely that they'd give us warning before the stock market reflected the improvement (unless the improvement in the steel prices was driven by a clearly defined catalyst such as heavy central bank intervention).
China
Unfortunately in China most of the correction in demand from the residential construction market should still be ahead of us. Likewise, the shipbuilding sector should also be in a deep funk for considerable time as well. On the other hand, at least one of the sectors that were pushing down steel consumption, auto making, seems to have already stabilized. The automobile market stands somewhere in between investment and consumption, and might well skirt the worst of China's transition from an economy driven by investment, to one more driven by consumption.
Conclusion
In spite of the deep punishment this sector has already suffered, there is still a lack of catalysts for a turn around. The most near term catalyst one can hope for is heavy monetary action by the most powerful central banks, which would probably be enough to drive these shares higher. Up until that happens though, the best one can do is to stay away from the sector and monitor steel prices.
Disclosure: I have no positions in any stocks mentioned, and no plans to initiate any positions within the next 72 hours.