The key to increased profits for health insurers lies in controlling costs. The best way to control costs is to own the service you're providing.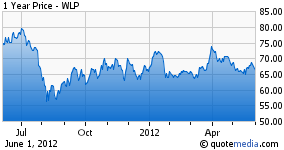 That's why WellPoint (WLP) is paying a reported $900 million to buy 1-800-CONTACTS, a company Fenway Partners took private five years ago for just $340 million.
Vision care is called a "voluntary" service, and is not part of state-mandated health care packages. Under Jeff Spahr, WellPoint has been trying to build this end of the business from within the 34 million market of people now in its health plans.
With 1-800-CONTACTS the company not only gains cost control over this part of its business, but a brand name that gives it visibility among consumers who don't have vision coverage. While its main business is limited to 14 states, moreover, the contacts business covers every state.
So the purchase makes strategic sense both from the point of view of cost control and from the point of view of an expanded national footprint.
WellPoint needed to make some move because over the last year its performance has trailed that of rivals like Aetna (NYSE:AET), Humana (NYSE:HUM) and especially UnitedHealth (NYSE:UNH), which has been making most of its acquisitions in the technology space. Over the last year WLP is down almost 14%, but since January it's just about broken even, with Humana's performance now trailing the field. (Taken from a five-year time horizon, however, Humana has still been the best bet for investors.)
The "voluntary" business should not yet be seen as material to the company's total results - it's still too dependent on actions within the total market for that - but it could prove material down the road.
Disclosure: I have no positions in any stocks mentioned, and no plans to initiate any positions within the next 72 hours.