It didn't require Scooby and the Mystery Machine to decipher American Mortgage Acceptance's (AMC-OLD) oddball Friday 8-K. The 8-K disclosed a hasty written consent to amend AMC's bylaws regarding affiliate transactions -- specifically, to allow for a majority vote of the Board to sell property to AMC's sponsor, Centerline Holding (NYSE:CHC). Why was AMC in such a hurry to amend its bylaws when the Board would surely be meeting in a couple of weeks to review fourth-quarter results?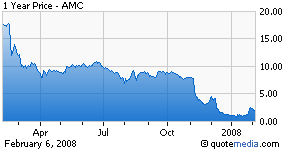 A good memory and a terrible nerdy habit of devouring SEC filings reminded me of this disclosure from the third-quarter 10-Q:
[I]n October 2007, we decided not to pursue a second CDO securitization. In connection with that determination, we entered into an agreement that will terminate our Citigroup repurchase facility on February 28, 2008....

We also plan to sell all of the first mortgages pledged as collateral for the Citigroup line to a third party and recognized an impairment loss of $1.3 million as of September 30, 2007, reflecting the market value of the loans as of that date….
To the extent that any of these assets remain on the facility after February 1, 2008, the rate will increase to a range from LIBOR plus 0.95% to LIBOR plus 1.60%. Is it possible that AMC was in a big hurry to unload mortgages financed by the Citi line? Decide for yourself, but the issue seemed pretty clear-cut for me when I saw this Tuesday afternoon 8-K disclosure:
On January 30, 2008, the Registrant sold four first mortgage loans to an affiliate of Centerline. This sale resulted in sales proceeds of $23.3 million, of which $16.5 million was used to repay principal amounts on a repurchase facility collateralized by these investments. Based on the amortized cost of $24.6 million prior to the sale, the transaction resulted in a realized loss of $1.3 million.
American Mortgage shares closed Wednesday at $2.19/share, down 88% from its 52-week high.
Disclosure: none