International Paper Co. (NYSE:IP) is expected to report Q4 earnings today with a conference call scheduled for 10:00 am ET.
Guidance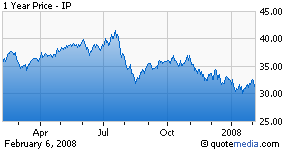 The consensus estimate is 65c for EPS and revenue $5.63B, according to First Call.
Backdrop
The global paper and forest products industry is going through a decline caused by a move from printed products to the Web, a faltering U.S. housing market, and a weaker dollar affecting cost pressures because the sector has significant lumber operations in Canada.
Most analysts believe International Paper has been weathering the storm better than most because of its limited exposure to the stronger Canadian dollar. Large reductions in production capacity have also allowed it to increase prices for paper products. With regards to Q4 guidance, company CEO John Faraci said the company expected "slightly" higher Q4 earnings with a "modest" improvement in pricing, but noted that they also face increasing costs for wood, energy and transportation.
International Paper has been going through a restructuring of its business to reduce costs, including closing plants, and selling assets, allowing the company to shift its focus to in-demand paper products and paying down debt. Key issues on the conference call: An update on their restructuring, industry demand and pricing, and overseas operations and joint ventures.