Shares of software security firm Symantec (NASDAQ:SYMC) have fallen considerably over the last month, bringing the company's price to a two year low. As a result, the company trades just a few percent away from its March 2009 lows even though the company's revenues and profits are considerably higher now than they were then. The company now trades at a P/E below 10, despite having more cash than it does debt and despite a return on equity in the mid-teens over the last few years.
As a provider of security and storage software, Symantec likely enjoys some level of customer stickiness with its products. Enterprises are loathe to change providers of essential software that is already integrated into the company's existing systems. Doing so would increase costs, headaches and risks that something goes wrong.
As a result, Symantec may benefit from a somewhat captive customer, allowing it to charge a premium for its services. Furthermore, the company's cash flow is somewhat predictable and likely sustainable, since a large part of its sales consists of subscription and maintenance revenue.
As one of the larger software security firms, Symantec may also enjoy economies of scale that many competitors can't match. Symantec can afford to throw more resources at improving its products, while at the same time benefiting from lower costs per unit than smaller competitors (such Commtouch, which otherwise looks even cheaper), due to the larger volume of sales.
The company is also shareholder-friendly. Symantec has repurchased billions of dollars worth of stock over the last several years, reducing its share count considerably.
But it's not all smooth sailing for this company, as there are risks to consider. The technology space is ever-changing, and Symantec is thus always at risk to some extent of losing share to a competitor who puts together a better mousetrap. To stay current and relevant, Symantec's strategy requires considerable R&D expenditures and M&A transactions, which are also risky.
To illustrate this, consider the company's ROE* over the last three years, as depicted below: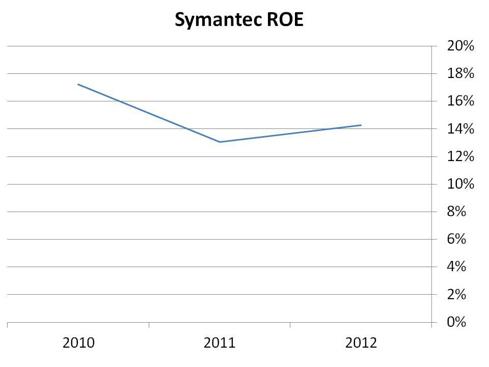 But in 2009, the company took a big bath, writing down $7.4 billion worth of Goodwill. If this Goodwill was still included in the company's balance sheet, this is what he company's ROE would currently look like: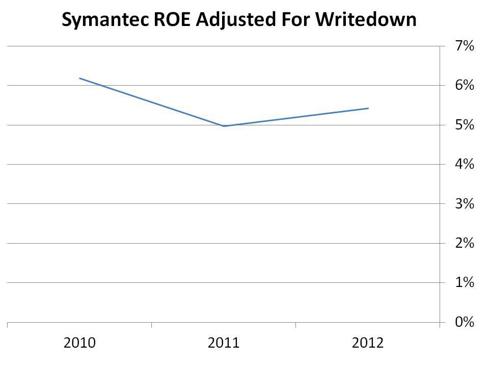 Not nearly as impressive! The company benefits from the cash generated from the companies it has purchased, but when one includes the cost of those purchases in calculating returns, the company's returns on capital fall considerably. In other words, the massive 2009 write-down makes today's returns seem better than they should.
Finally, $2.4 billion of the company's cash reserves are stuck overseas and unavailable to shareholders without repatriation taxes. This encourages the company to make foreign acquisitions, and reduces the number of buybacks that can take place, increasing risk to shareholders. The company's recent attempt to take complete ownership of VeriSign Japan is one such example, and may require around $1 billion.
Overall, Symantec appears to be a cheap company with an abundance of cash and sustainable earnings thanks to captive customers. However, there are obsolescence and acquisition risks and reasons to believe that the company's returns on capital are not as attractive as they first appear. Shareholders should be sure to understand the industry and these risks before jumping in.
*excluded from net income was the gain from the sale of a joint venture in 2012
Disclosure: I have no positions in any stocks mentioned, but may initiate a long position in SYMC over the next 72 hours.