We were absolutely blown away and inspired by the response to our initial analysis of SUPERVALU. We were so inspired we decided to follow it up. We most certainly expect a higher dividend and free cash flow yield for SUPERVALU (NYSE:SVU) than Wal-Mart (NYSE:WMT), after all, SVU hired Craig Herkert from Wal-Mart to come back and turn around SVU's fortunes. However, we felt that SVU is not so distressed that it should be trading at 2.2X 2013 free cash flows. After all, the company achieved $400M in recurring free cash flows from operations last year. It is the hallmark of a great investment analyst to take in the questions of his audience, whether it is a portfolio manager or even John Q. Public and to be able to say "You know what; I will get back to you on that." There were a number of issues addressed in the initial analysis and we will address them here and in subsequent analyses.
SUPERVALU's underfunded pension plan: We are displeased that SVU has an underfunded pension plan and that it increased in FY2012. However, we noted that it was due to an actuarial loss of $461M. That august blue chip supermarket chain Kroger (NYSE:KR) also saw actuarial losses of $344M in just its company-sponsored plans. Also, Kroger participates in 45% more multi-employer pension plans than SUPERVALU. Furthermore, SVU generated higher net investment income than KR, contributed more to the pension than KR and paid less benefit payments than KR in FY 2012. Finally, SVU amended the SUPERVALU Retiree Benefit Plan to modify benefits provided by the plan. In 2007, SVU eliminated service crediting in its pension plans after December 31, 2007 for existing participants and no employees hired after December 31,, 2007 would be eligible to join the pension plan. As of December 31, 2012, SVU eliminated crediting for pay increases. That other august blue chip retail grocer Safeway (NYSE:SWY) also saw a similar pension funding situation as SUPERVALU and Kroger, except that its pension plan saw an actual loss of 2.2% on its pension plan assets in its most recent fiscal year. We also found that SVU's total contribution to its multi-employer pension plans is around 2.5% of total employee costs, much lower than the level at its competitors, the number of employees covered by SVU's multi-employer plans decreased by 5% from last year.
click to enlarge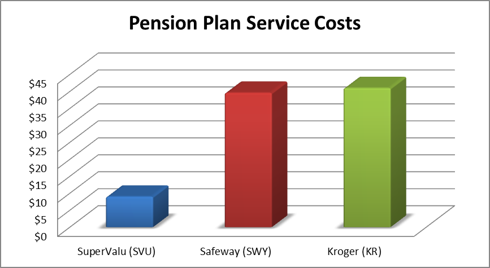 Source: Most Recent Annual Reports, amounts in $Ms
SUPERVALU's ability to maintain its dividend: We found that bears on SUPERVALU point to the 50% dividend reduction in 2010 as "proof that SVU can't maintain its dividend". While dividend cuts are never pleasant, we disagree with that thesis. In our prior analysis, we pointed out that SVU's 2009 dividend represented less than 40% of SVU's 2013 free cash flows. The reduced dividend only represented 18% of SVU's 2013 FCFs. To put it another way, SVU's 2012 recurring free cash flows were over 5 times what SVU paid in dividends. We also think the 2010 dividend reduction was a good pragmatic business decision in order to make it easier for SVU to negotiate with Joseph Hansen and the United Food and Commercial Workers Union. A dividend cut is not the end of the world with dividend paying stocks. Wisconsin Energy (NYSE:WEC), one of our favorite utilities initiated a similarly shocking ~50% dividend reduction after paying increased dividends for about 15 straight years. How did that work out for WEC?
12 years later, WEC's dividend is over 50% above the 1999 pre-cut dividend levels and is triple the 2000 post cut levels
Wisconsin Energy has increased dividends for eight straight years
Wisconsin Energy's split-adjusted stock price has increased by 234% since the September 11, 2000 dividend cut. WEC earned a total return of 369% during this time period.
With regards to SVU's dividend, we believe that not only are we paid a fair price to wait, but we will take advantages of market weakness to add to our position.
SUPERVALU's CapEx program: We believe that SVU is not underfunding its stores. We believe that the company is exhibiting discipline with regards to capital and operational investments while at the same ensuring the continued reinvestment of the company. To test out this thesis, we went by our local Star Market in Chestnut Hill. The store had been remodeled in 2010 and we were pleased with the décor, the helpfulness of the staff and the willingness of the Store Director to roll up his sleeves to provide us with an enjoyable shopping experience. The last SUPERVALU store we visited previously was the Highland Bigg's in Cincinnati and we were disappointed with that store (with the exception of the kosher section). We were glad that SVU sold Bigg's to Remke Markets because it enabled Remke Markets to expand and it enabled SVU to harvest cash from those struggling stores in order to reinvest in its healthier stores.
87% of SVU's stores have been remodeled in the last 10 years and 54% have been remodeled in the last 5 years. SVU is taking a more disciplined approach to capital investments. Investment decisions for the store portfolio balance the physical condition and sales volume of each store with the competitive environment of the neighborhood and the expected impact of new merchandising concepts. Remodels must meet an after-tax hurdle rate of 15 percent, excluding maintenance capital, and are tracked for three years following project completion. SUPERVALU opened 15 new traditional grocery stores in FY 2009, the year before Herkert arrived. Since Herkert has been CEO, SVU has only opened 10 traditional grocery stores and sold or closed 150 poorly performing grocery stores. Finally, SVU is shifting its store portfolio from traditional grocery stores to Save-A-Lot hard discount stores, most of which are owned by franchise licensees.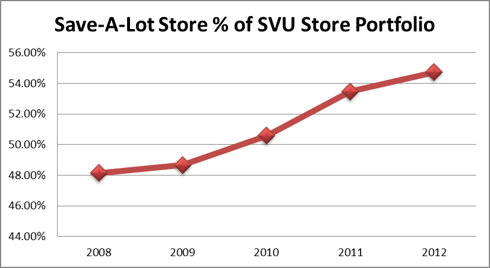 Source: SUPERVALU's 2012 Investor Fact Book
In conclusion we are confident in our investment in SUPERVALU. We think the concern about SUPERVALU's risks has resulted in SUPERVALU's stock being a SUPERVALUE for patient, assertive investors. We will be providing additional analysis on SUPERVALU over the next week. Upcoming analysis reports will touch upon the following critical items for SVU
Save-A-Lot hard discount stores
Operational investments in price competitiveness
Evaluation of management and its guidance
SVU's heritage business as a wholesaler to independent grocers
Sales momentum
Cash flows and debt management.
Real estate owned by SVU (stores owned by SVU instead of leased)
Disclosure: I am long SVU.
Additional disclosure: Saibus Research has not received compensation directly or indirectly for expressing the recommendation in this report. Under no circumstances must this report be considered an offer to buy, sell, subscribe for or trade securities or other instruments.