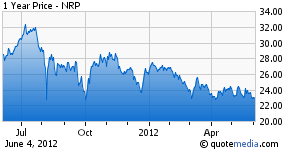 In March I wrote an article on Natural Resource Partners, L.P., (NYSE:NRP) that discussed the positive attributes of this high yielding MLP. Last week I listened to a live NRP webcast presentation that reminded me of the compelling value proposition. President and COO Nick Carter explained how prudent, sustainable growth and the natural diversification of revenues over time, makes for a safe long-term investment. As I write this on Monday, June 4th, NRP units are yielding 9.65%.
Intuitively viewed as a, "coal company," NRP has been lumped in with coal producers who have on average plunged twice as much from 52-week highs. Peabody Energy, (BTU) is down 63%, Walter Energy, (NYSE:WLT) down 65%, Arch Coal, (ACI) 80%, Alpha Natural Resources, (ANR) 81%, and Consol Energy, (NYSE:CNX) is down 50%.
However, NRP is not really a coal company because the Company doesn't mine coal and because 25% of its revenues come from non-coal related sources. Instead, NRP collects royalties from companies that mine or produce mineral resources from NRP controlled properties. Without the burden of actual operations and with minimal labor and corporate overhead, NRP reported an EBITDA margin of 87.5% in 2011.
To reiterate NRP's business model, the company does not mine or produce any resources, therefore it's not exposed to hot-button issues like cost inflation, reclamation, unions or legacy liabilities. In fact, NRP has largely avoided the brunt of the coal market maelstrom by adroitly focusing on leasing coking coal reserves in Appalachia and thermal coal reserves in the low-cost Illinois basin.
Having taken the time to assure readers that NRP is not a coal producer, why should it matter that the Company's attributable production has a high proportion of coking coal? First, coking coal prices are significantly higher than thermal (steam) coal, which means a higher royalty payment for NRP. Second, coking coal production has suffered far less curtailments than that of thermal coal, helping NRP to forecast an increase in attributable volumes in 2012.
Not only is NRP weighted towards coking coal, which accounted for 31% of coal production and 45% of coal revenues in 1q 2102, but approximately 75% of their attributable coking coal production this year is expected to come from the highest quality / highest priced, "low-vol" category. This is very important going forward as NRP controls a substantial 700 million + tons of coking coal reserves.
NRP has invested more than $500 million into the Illinois basin, an investment that is now paying off. Despite a decline in royalties from thermal coal assets in central Appalachia, overall attributable coal production is forecast to be up 5%-10% this year, due mainly from gains in the Illinois basin. A major lessee in the basin is a private company named Foresight Energy. While it's not easy getting information on Foresight, consider the following quote from bond rating agency Standard & Poors:
"On May 23, S&P upgraded Foresight Energy (FORENE) to B from B-. Despite relatively weak conditions in the coal markets, S&P believes that the Company's operating performance will likely improve in coming months. This assessment assumes that the Company's new mines will have cash costs of between $20 to $25 per ton and that coal prices will average $45 per ton or higher through 2013. This should allow Foresight to generate between $300 million and $350 million in EBITDA on approximately 16 million tons of production in 2012 and more than $450 million of EBITDA on about 21 million tons of production in 2013."
NRP collects royalties on all of the coal that Foresight produces at 3 of the Company's 4 mines. Given Foresight's industry-low costs and strong margins, the attributable production growth from the Illinois basin baked into NRP's budget appears likely to occur. NRP finds itself in a position where it's closely tied to one of the best producers in one of the best coal basins in the country. As Foresight and the Illinois basin grow, NRP will grow with it.
At 3/31/12, NRP had total liquidity of $360 million, including cash of $107 million and $253 million available on a $300mm credit facility maturing in 2016. This liquidity can be used to support distributions and/or to make acquisitions of mineral bearing properties. COO Carter expects the current buyer's market for mineral rights to be in place for at least the remainder of the year.
Away from coal-related royalties, NRP's 51% ownership of a joint venture with International Paper, (NYSE:IP) should be noted. This deal has been flying under the radar screen because management has been busy getting all manner of permits and approvals for ~8.8 million acres of prospective resources. NRP contributed $42 million to the joint venture 2 years ago and is receiving a minimum annual preferential distribution of $4.25 million. This JV distribution is poised to grow as just 1% of the JV acres have been leased so far.
Another avenue for growth comes from NRP's aggregates business. At some point, the housing market will rebound and the rebound might even be robust. NRP's 380 million tons of aggregates reserves are valuable but substantially under-utilized. In a year or two, both pricing AND volumes in NRP's aggregates segment could be growing nicely. Collecting a current yield of 9.65% is attractive for a company with limited downside, a strong balance sheet and solid growth prospects beginning in 2013.
I expect NRP to prove itself as a high yielding, but surprisingly low risk company. I believe that the yield on the units should be closer to 8.5% than 9.65% and that the distribution will increase from $2.20 per unit to $2.25 by the end of next year. That would imply a unit price of ~$26.5, which is ~16% above the current price of $22.8. Add to that the 9.65% current yield, and an investor today might enjoy a total return of about 25% over the next 12 months.