FuelCell Energy, Inc. (NASDAQ:FCEL), together with its subsidiaries, engages in the development, production, and sale of high temperature fuel cells for clean electric power generation. It offers Direct FuelCell Power Plants that electrochemically produce electricity using various fuels, including gas, methanol, diesel, biogas, coal gas, coal mine methane, and propane. The company markets its products to electric utilities and independent power producers; universities; government installations; wastewater treatment facilities; oil production and refining; gas transmission; food and beverage processors, and agricultural operations, as well as landfill gas markets; various commercial, industrial, and municipal customers; and government customers, including food processing plants, government buildings, hotels, and military installations.
It is scheduled to report its Q2 FY2012 results on June 6, 2012, before the market opens.
Recent EPS Actuals vs. Estimates
The company has exceeded analyst estimates in last four quarters. In the last quarter it reported ($0.05) loss per share, beating analyst estimates of ($0.06) loss.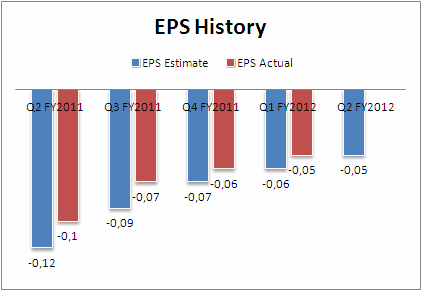 Analyst Estimates
The consensus for EPS is ($0.05) loss based on 4 analysts' estimates, up from ($0.10) loss a year ago. Revenue estimates are $33.54M, up from $28.61M a year ago. The median target price by analysts for the stock is $2.50.
Average recommendation: Overweight
Source: Marketwatch
Analyst Upgrades and Downgrades
On March 11, 2012, Ardour Capital upgraded the stock from Accumulate to Buy.
Key Metrics
Market cap: $190.42M
52 week trading range: 0.80 - 1.95
P/S: 1.51
Annual dividend yield: N/A
Total debt: $22.19M
Return on Equity: -61.33%
Return on Assets: -14.87%
Latest Developments
Insider Trading
In the last 3 months there were 21,028 shares sold by insiders and 20,572,969 shares bought by insiders, including the 20M shares bought by POSCO on April 30, 2012.
Competitors
FuelCell Energy operates in Industrial Electrical Equipment industry. The company could be compared to A123 Systems Inc. (AONE), American Superconductor Co. (NASDAQ:AMSC), Ballard Power Systems Inc. (NASDAQ:BLDP) and Cummins Inc. (NYSE:CMI). Below is the table comparison of the most important ratios between these companies and the industry.

Here are the price movements for the last 6 months for these companies: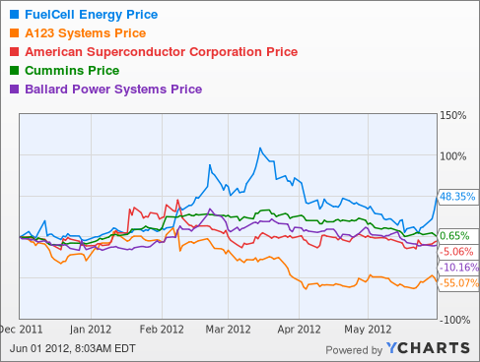 Here are the latest developments on the named competitors:
Technical Insight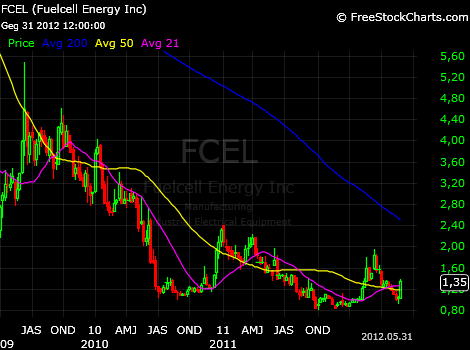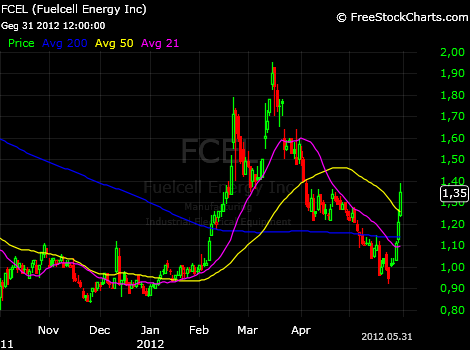 FCEL has recently jumped from quarter lows. It is now trading above 21- and 50-week moving averages, as well as 21-, 50- and 200-day moving averages.
Sources: Yahoo Finance, Google Finance, CNBC, Marketwatch, Reuters, Forbes.
Disclosure: I have no positions in any stocks mentioned, and no plans to initiate any positions within the next 72 hours.