While the entire market suffered its worst day of the year Friday, gold equities enjoyed a very strong day. I have noticed this trend happening on many days that the market sells off.
Click to enlarge images.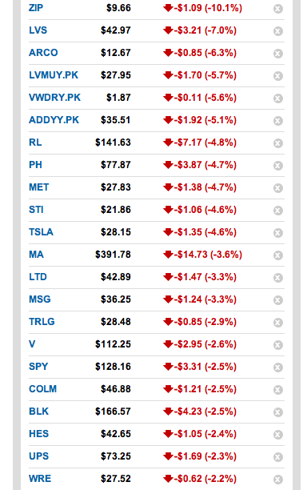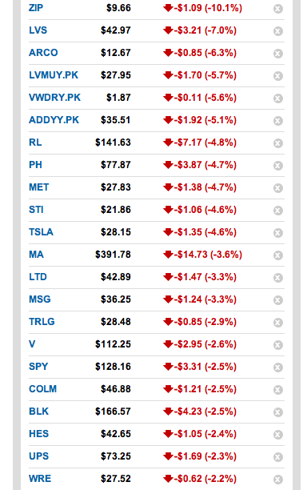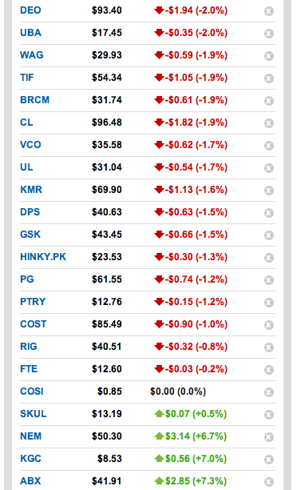 The above images of my watch list really say it all. Equities spanning the gamut from Zipcar (ZIP) to Madison Square Garden, Inc. (NASDAQ:MSG), Louis Vuitton (OTCPK:LVMUY), Hess (NYSE:HES) and Mastercard (NYSE:MA) all sold off. (OK, Cosi, Inc. (NASDAQ:COSI) is flat and Skullcandy (NASDAQ:SKUL) eked out a gain.) Seemingly nothing was spared from this sell-off. However, equities like Barrick Gold (NYSE:ABX), Kinross Gold (NYSE:KGC), and Newmont Mining (NYSE:NEM) all shot up about 7%.
So what does this tell us?
That investors potentially see gold equities as a market hedge. Gold equities appear to be something that people are flocking to when the market is trending negative. As an added bonus, they all also pay decent dividends. As opposed to just holding the precious metal that can only appreciate in price, gold equities also pay dividends as you hedge against the market.
Hedge away? I'm interested in your comments.