The market was as emotional as ever yesterday. Stocks were being pushed up and down on every latest macroeconomic data point. I continue to try to answer the two basic questions of investing: what to buy and at what price? This is not as easy as it seems, yet is easier than it may look. For one, I usually avoid the complex, opting for the simple and understandable. Said another way, I am, as always, looking for a 1 ft hurdle to jump - leaving the seven footers for the Wall Street crowd.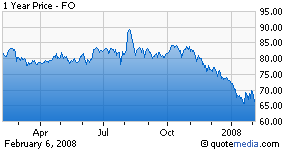 My search led me to Fortune Brands (FO). This unassuming company caught my eye years ago and has performed well operationally since. The price of the stock, however, has come down. Good old Mr. Market's gloomy outlook may be presenting the intelligent investor with an opportunity to acquire shares in this simple business. As we know you pay a high premium for a cherry consensus. And a depressed Mr. Market offers up sweet pitches. I should say that to me a sweet pitch is a great business with durable competitive advantage being sold at a reasonable price. We may have that here with Fortune Brands being sold at 12x earnings.
Let's go through a few facts and ask some basic questions.
First, I always ask myself whether Berkshire (NYSE:BRK.A) (NYSE:BRK.B) owns or would buy the company in question, and whether the company has a durable advantage that is understandable. The answer is that, to my knowledge, Berkshire does not own FO shares. "Would they buy shares" is a little tougher. I think Warren would like to own FO. Clearly FO has great brands that have durable advantage. Their brands are consumer monopolies. Their brands are #1 and #2 across the board. Their brands fit into three distinct businesses that neatly offset each other with respect to business cycle: Spirits and Wine, my favorite; Home and Hardware, necessary; and Golf, anybody up for 9 holes? Seriously, here is the roster. In spirits and wine: Jim Beam, Makers Mark, Knob Creek, Sauza, Courvoisier, Dekuyper, Clos du Bois, and my favorite Canadian Club. In Hardware: Moen, Aristokraft, Therma tru, Master Lock, Omega, Waterloo, Kitchen Craft, and Diamond. And in Golf: Titleist, Foot Joy, Pinnacle, Cobra, and Scotty Cameroon. A list of top brands like this clearly indicates a business with thick, high walls with a big moat.
Perhaps the reason Warren would not buy is that FO does have quite a bit of debt. But lest I seem too negative, I should note that they took on the debt to acquire some of the best brands in Spirits. Not a bad idea. And they may buy another - Absolut. If they do this, their "castle" will have even thicker walls though they may owe more money. In short - I think it is a Berkshire type company that has understandable advantages but may have too much debt for Berkshires liking.
Next, I like to ask: Is this business a franchise that will be the clear winner 10 years out? People order their drinks by name and many a person orders a CC and water or a Beam and coke or an Absolut with tonic. I suspect their Spirits business will be growing earnings for many years. The golf division is competitive but I think I heard a fact one time that Titleist is the most played ball on the PGA tour. This bodes well. Finally the winners seem to be long term in hardware as well - Thermatru, MasterLock, etc.
Let's address Fortune's ability to convert great brands into profits.
We are looking for high return on equity, strong earnings with low debt, a nice dividend and a reasonable price to buy in at.
Fortune had a couple really bad years (1999 and 2000) where there was not a return. Other than that, they have done reasonably well recently. Leaving off the 1999 and 2000 years when earnings went negative, we see from 2001 to 2006 that FO has had an average return on equity of 21%. The good news is that is far better than the 12% long term average of the S&P 500. The bad news is the 1999-2000 trouble.
Fortune has grown earnings well as of late though. Diluted, continuing operations earnings from 02 - 06 are $3.55 - $5.42. Over the same period, sales went from $4.47 - $8.77. They did this while increasing their dividend and growing the Spirits business which is their best business. It really rakes in the profits far better than the other two businesses. It is 31% of sales but 45% of operating income.
The next question is whether the share price is reasonable and represents a long term value. To me this one is pretty easy - if you believe FO will be around a long time making profits, 12x earnings for the shares is cheap. I think we are only afforded this p/e multiple because of the fear around the housing downturn and the fact that 44% of Fortunes profits come from Home and Hardware. I think Mr. Market is too pessimistic and giving the shares away cheaply. Clearly, the entry price seems reasonable.
Fortune seems to be a good pitch, if not a sweet one. The only real issue is the debt, which management says they are focused on paying down. I would give them a chance. Owning these awesome brands should give a good result and remember that it is better to be certain of a good result than hopeful of a great one.
Disclosure: Author has a long position in FO