For those of you who can and will short stocks or buy put options (both of which increase in value as stocks lose their value), you don't have to really care which way the market goes -- you can make money in either direction. For those who are "long only" investors who are only buy-then-sell stocks, though, your choices may feel limited right now. Don't throw in the towel too quickly, as there are some arenas with stocks going higher.
Utilities (NYSEARCA:XLU) in general have been one of the safer plays whenever the market/economy faces real trouble because they have relatively stable dividends and revenues. In particular, water is one that many are focusing on as a "hot commodity" of the future -- many are anticipating that as the global population grows, technologies for clean water and water rights/costs will become more and more important (and potentially profitable) over time.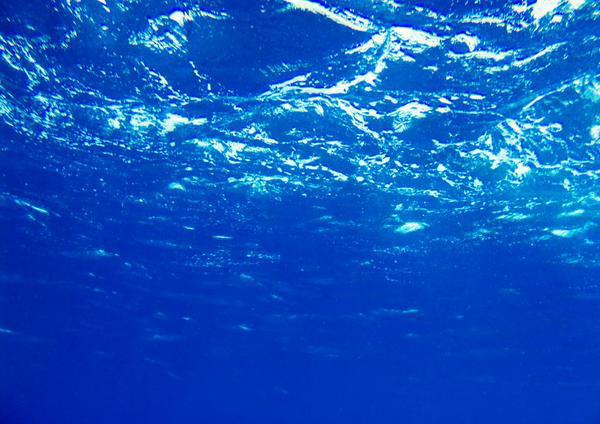 We have identified an interesting bullishness from ... water utilities. It wasn't last week's hottest industry. That honor belongs to gold (NYSEARCA:GLD). But water utility stocks were right up there, and have been for a while.
In fact, the S&P 1500 Water Utilities Index has been one of the leading indices for any time frames since March. Better still, the chart looks like it's forming a nice rally as it comes out of a U-shaped reversal effort, which tend to have longevity. The sector may be one worth looking at, even though it's a rarely considered arena.
According to our data, the S&P 1500 Water sub-sector may only contain two of the bigger names in the industry: American States Water (NYSE:AWR) and Aqua America (NYSE:WTR). A quick snapshot of the fundamentals on these two stocks:
AWR is trading at a forward 15 times P/E ratio and revenues grew nicely at 13% last quarter. It has ROA/ROE/PM/OM in the 5% to 23% range, a fairly high amount of debt, and a forward dividend yield of around 3%.
WTR's forward P/E Ratio is about 20 times and revenues grew 4% last quarter. Profit Margins and ROE, etc. are a bit higher than AWR. It looks like a bit less debt load than AWR when compared as a ratio. Forward dividend yield is 2.8%.
S&P 1500 Water Utility Index -- Weekly
Click to enlarge image.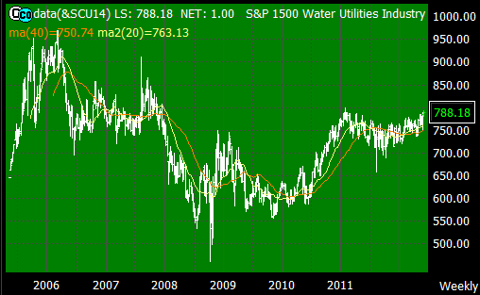 Other stocks that come up in the S&P Utilities Group under Water include:
(Some of these may not be primarily water or have different businesses; also, some are foreign and/or may have very small market caps -- please do your own research and due diligence.)
There aren't many active Water ETFs currently, but among them are S&P Global Water Index (NYSEARCA:CGW), PowerShares Water Resource (NASDAQ:PHO), PowerShares Global Water (NASDAQ:PIO) and FirstTrust ISE Water Index (NYSEARCA:FIW). PHO and FIW have options trading available. Be sure to check the liquidity and holdings on any of these ETFs before trading or investing in them.
Disclosure: I am long XLU.
Additional disclosure: ETFTRADR clients are currently in a bullish XLU option position, status of this position can change at any time.