By Michael A. Gayed
On Wednesday last week, the central bank monetary policy committee (Copom) decided once again to cut the Brazil interest rate, continuing its easing cycle to counter softening demand from Europe and lower inflationary pressures. At an all-time low of 8.5%, expectations for further Brazil interest rate cuts are increasing as fears grow over a potential disintegration of the euro and a global slowdown. As a result, the Brazilian real (NYSEARCA:BZF) has been under significant pressure, particularly against the U.S. dollar (NYSEARCA:UUP).
A weaker currency usually makes goods cheaper to foreign buyers, which in turn results in more purchases for an export. Of course, a company in Brazil has to be large enough to have operations that would actually allow it to sell overseas in order to benefit from currency devaluation.
In the world of market-cap investing, it is generally large-cap companies that have a global reach rather than small-cap companies, which are more sensitive to the domestic economy. With that said, investors may finally be coming around to that idea.
Take a look below at the price ratio of the Market Vectors Brazil Small Cap ETF (NYSEARCA:BRF) relative to the large-cap iShares Brazil ETF (NYSEARCA:EWZ). As a reminder, a rising price ratio means the numerator/BRF is outperforming (up more/down less) the denominator/EWZ.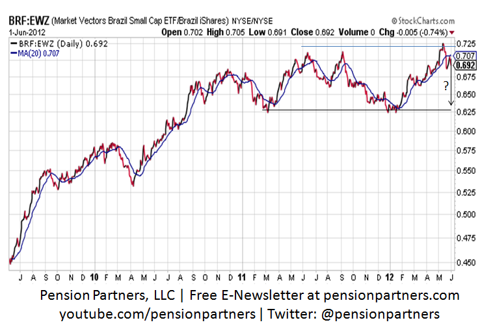 Click to enlarge
Notice that the ratio of Brazilian small-caps vs. large-caps hit a 'resistance' line and now appears to be rolling over, as small-caps under perform. This would be consistent with investors believing that currency devaluation and Brazil interest rate cuts will likely persist, which provides an edge for large-cap exporting companies.
The implication? If you are getting bullish on Brazil, you likely want to favor large-cap stocks at this point. But remember, you likely also need to hedge against a falling Brazilian real, which would negatively impact your returns translated into your own domestic currency.
Disclaimer: This writing is for informational purposes only and does not constitute an offer to sell, a solicitation to buy, or a recommendation regarding any securities transaction, or as an offer to provide advisory or other services by Pension Partners, LLC in any jurisdiction in which such offer, solicitation, purchase or sale would be unlawful under the securities laws of such jurisdiction. The information contained in this writing should not be construed as financial or investment advice on any subject matter. Pension Partners, LLC expressly disclaims all liability in respect to actions taken based on any or all of the information on this writing.