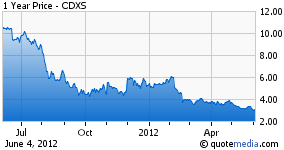 Codexis (NASDAQ:CDXS) is a producer of custom industrial enzymes. These products enable novel, sustainable processes for the manufacture of biofuels, bio-based chemicals and pharmaceutical ingredients. The company's flagship CodeXyme cellulase enzymes convert non-food plant material, or cellulosic biomass, into affordable sugars, which can then be converted into renewable fuels and chemicals. The company has commercialized its technology, products and services in the pharmaceuticals market. There are currently over 50 pharmaceutical firms using Codexis' technology in its drug manufacturing processes, including in the production of some of the world's best-selling and fastest growing drugs.
Green Enzyme Based Manufacture
Codexis uses its CodeEvolver technology platform to introduce genetic mutations in microorganisms, promoting changes in the enzymes those microorganisms produce. Once the company identifies potentially beneficial mutations, they test combinations of these mutations to develop enzymes with performance characteristics superior to competitive products. Many of today's fuels and chemicals are derived from non-renewable petroleum resources. Codexis' cellulose enzymes enable fuels and chemicals to be made from renewable resources, such as cellulosic biomass. Today, cellulosic fuels and chemicals are not manufactured on a commercial scale because the economics are not yet competitive with existing petroleum-based fuels and chemicals. Codexis' CodeXyme cellulase enzymes have the potential to yield cellulosic fuels and chemicals at costs competitive with traditional petroleum, resulting in an environmentally cleaner manufacturing processes and enabling a transition away from costly foreign oil.
For the commercialization of CodeXyme cellulase enzymes in the fuels market, the company has been collaborating with Shell (NYSE:RDS.A) and Iogen Energy Corporation. The company has agreed to work exclusively with Shell on the production of cellulosic biofuels until November 2012. As one of the world's largest producers of biofuels, Shell is an attractive partner and speculation over whether this research and development agreement will be extended after November has caused some recent weakness in Codexis' stock. From an April 2012 post on BioFuelsDigest:
In California, Codexis is putting pressure on Shell to make a decision regarding the expansion of the research partnership between the two companies and Raizan. Although the pact expires in October, interim CEO Peter Strumph is confident that the partnership would continue. Codexis and Shell's research into cellulosic ethanol is more than halfway completed, he said, and the companies are holding discussions about the development of the market, which is expected to grow from virtually no volume currently to up to 21 billion gallons in the United States alone by 2022.
The company is also developing microorganisms that produce chemicals from cellulosic sugars. These microorganisms function as mini fermentation factories that convert sugars into specialty or commodity chemicals. Its first chemical development initiative is the CodeXol detergent alcohols program. Detergent alcohols are used to manufacture surfactants, an active ingredient in consumer products, such as shampoos, liquid soaps and laundry detergents. The annual global market for detergent alcohols is approximately $4 billion. The company plans to sell CodeXol detergent alcohols as a drop-in substitute for over 70% of the detergent alcohols market. Management believes that the CodeXol detergent alcohols process offers attractive production economics compared to incumbent oleochemical and petrochemical production routes. Management also believes using CodeXol detergent alcohols in its manufacturing process would better enable major consumer products companies to meet sustainability and corporate social responsibility goals. One example of trends developing in corporate social responsibility initiatives likely to stimulate interest in Codexis technology is the Sustainable Living Plan announced by Unilever (NYSE:UL), under which Unilever is committed to sourcing 100% of its agricultural raw materials sustainably by 2020.
Pharmaceutical Enzymes and Intermediates
While the fuels and chemical applications for Codexis' technology offer compelling longer term opportunities and in large markets, the segment of the company's business that is gaining the most traction currently is pharmaceutical production applications. The company sells enzymes, development services and screening tools that enable novel manufacturing processes for active pharmaceutical ingredients as well as pharmaceutical intermediates that are manufactured using the company's custom enzymes. Its customers include several of the world's largest pharmaceutical companies. These novel manufacturing processes lower production costs and eliminate the need for certain costly manufacturing equipment. Pharmaceutical companies are taking notice as revenue from this segment has been growing steadily over the past three years and the technology is being used in the manufacture of blockbuster drugs like Lipitor. The company recently announced an extension of its research collaboration agreement with Merck (NYSE:MRK):
Merck has evaluated the use of Codexis enzymes extensively across programs in various stages of development. In addition, the companies have collaborated to develop enzymes for custom reactions, most notably for sitagliptin, the active pharmaceutical ingredient in Merck's Januvia.
This comes on the heels of news that Merck and Codexis developed an enzyme-based production method for a key intermediate in the production of boceprevir, the active ingredient in Merck's VICTRELIS (boceprevir) capsules.
"Incorporation of innovative environmentally sustainable means of manufacture is a key aspect of our research and development strategy," said Richard Tillyer, Ph.D., senior vice president Discovery and Preclinical Sciences, Merck Research Laboratories. "Enzymatic based methods can offer a biodegradable and renewable alternative to currently employed methods."
The company was also issued a recent patent for enzymes used in the production of Hep-C therapeutics, a group of therapies that have generated a great deal of market interest because of the size of the market.
(Click to enlarge)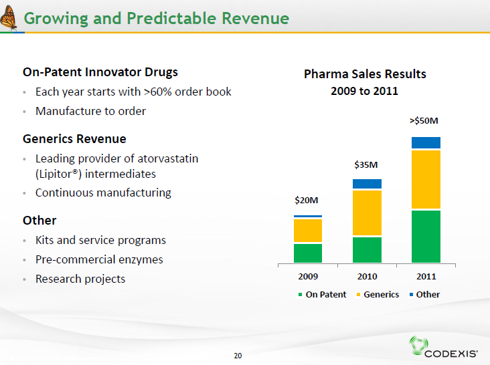 Click to enlarge
The Stock is in the Doldrums
Despite what appears to be positive momentum with its technology in a variety of applications, Codexis's stock is currently trading at all-time lows. Several factors have contributed to the decline in the shares, most notably the uncertainty surrounding the future for its collaboration with Shell, the recent resignation of its CEO and management's guidance for flat revenue growth in the coming year. In spite of these negatives, the company presents what I believe is a compelling investment profile. As indicated in the chart below, 2012 revenues are anticipated at around $125 million with product sales continuing to contribute a larger component of those revenues. The company has $64 million in cash and equivalents and projects a burn of around $10 million. The company's current market valuation is a paltry $110 million.
(Click to enlarge)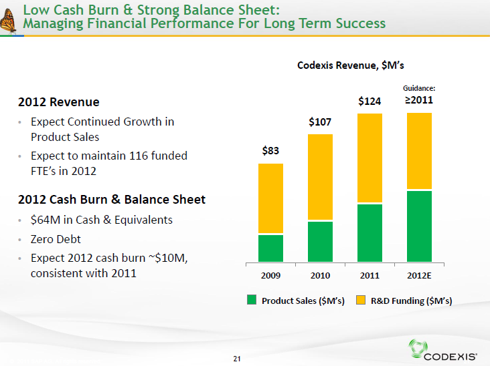 Click to enlarge
Given the company's strong balance sheet it is in no danger of running out of cash anytime soon. I think recent developments in its pharmaceutical business are reason enough to own the stock. According to the company's 10-K, drug companies benefit from the use of Codexis technologies as outlined below:
Our enzymes:
• Enable innovators to manufacture products more efficiently during preclinical and clinical development using optimized enzymatic processes, with relatively low investment;
• Eliminate the need for innovators to invest in the development of complex chemical synthesis routes during the development stage;
• Allow innovators to achieve higher product purity during the development stage prior to investing in expensive late-stage clinical trials;
• Reduce the risk of adverse effects arising from product impurities;
• Allow the removal of entire steps from synthetic chemical production routes during commercial scale production, reducing raw material costs, energy requirements and the need for capital expenditures; and
• Decrease the manufacturing costs for our customers.
These benefits are validated by the fact that major pharmaceutical companies like Merck and Pfizer are adopting these enzymes into their manufacturing processes and this segment of Codexis' business is demonstrating significant revenue growth. More from the 10-K:
For instance, as a part of our ongoing collaboration with Merck, we have developed an enzyme for use in a new manufacturing process for sitagliptin, the API in Merck's pharmaceutical product Januvia. Januvia is Merck's first-in-class medication for the treatment of Type II diabetes. We have also entered into agreements with several leading contract manufacturing organizations, or CMOs, including Royal DSM N.V., or DSM, Dishman Pharmaceuticals and Chemicals, Ltd., and AMPAC, under which these CMOs can use our enzymes in their manufacturing processes.

We are currently supplying Pfizer (NYSE:PFE) with an intermediate in the manufacture of Lipitor, a cholesterol-lowering drug that is the world's best-selling prescription drug. We also developed a key intermediate for boceprevir, which is Merck's hepatitis C drug. We have also developed enzymes for use in the manufacture of certain generic intermediates and APIs by various companies, including Arch and Teva Pharmaceutical Industries Ltd., or Teva (NASDAQ:TEVA).
Conclusion
Investors buying Codexis at these levels are acquiring an industry leading technology company at less than 1x revenues and close to book value. I believe the progress the company has made in pharmaceutical manufacturing processes alone justifies an investment in the company at these levels, with that sector contributing $50 million in revenues in 2011. Once investors get some clarity on the future of its relationship with Shell the shares should start to reflect the value of Codexis technology platform being demonstrated in the pharmaceutical sector. Management is confident Shell will continue its collaboration, at these prices it appears the market believes otherwise. The current stock price offers investors a good entry point as Codexis' existing business initiatives and strong balance sheet should put a floor under the stock and a positive outcome with Shell is likely to send shares significantly higher.
Disclosure: I am long CDXS.