It has now been one month since the huge crash of Green Mountain Coffee Roasters (NASDAQ:GMCR) shares after its second quarter earnings report. Green Mountain widely missed revenue numbers and earnings per share were in-line with estimates. After the huge miss, and a re-examination of the company's forecasting methods, the company issued quarterly and full year guidance that was well below expectations. Shares were roasted again, and I said I would come back to the name in a couple of weeks. Shares closed Friday at a 2-year low, and are off roughly 80% from their 52-week high. Despite the huge losses already, shares might not have even bottomed yet. Let's look at where things stand.
First, I'll look at the current quarter. Green Mountain issued revenue guidance in a range of $861 to $897 million, which was widely below expectations of $1.05 billion. Currently, analysts have taken their estimates down to an average of $871.63 million. Given that the company has widely missed revenue estimates in two of the past three quarters, I would be much more happy if the analyst average was in the $845 to $860 million range. Another revenue miss this quarter would be extremely devastating. In terms of earnings per share, the company guided to non-GAAP EPS of $0.48 to $0.53. At that time, estimates were for $0.72, but they have now been lowered to $0.50. I'm not too worried about the bottom line. In the past four quarters, Green Mountain has crushed EPS estimates twice, met once, and missed once by just a penny. Considering that the one cent miss and the in-line meet were both in quarters where the company missed tremendously on the top line, they should beat EPS numbers if revenues can come in somewhat okay.
Now onto the current fiscal year, which ends in September. Green Mountain guided to net sales of $3.8 to $4.0 billion, which was well below the $4.27 billion expected at that time. Remember, second quarter numbers missed by $86 million and guidance (the midpoint) for Q3 was about $170 million below expectations. Current street estimates call for $3.87 billion. That is below the midpoint, but I'd like to see estimates in the $3.65 to $3.8 billion range currently. There is still plenty of room for the company to miss. On the earnings front, the company gave a range of $2.40 to $2.50 (non-GAAP). Estimates at that point called for $2.67, now they are at $2.38. Analysts are actually below the lower end of the company's range, so they feel that the company might even take down expectations even more. I think this potentially sets up for a beat on the bottom line. However, the revenue number is the more important number at this point.
After a 5% drop on Friday, shares stand at just $22.42, a 2-year low. The 52-week high was at $115.98. This has been one of the greatest short plays of the past year or so, but there also have been plenty of opportunities for longs to make a killing. Analysts have taken down their price targets, but the average still remains at $51.67, with a range of $23 to $94, and a median of $47. That implies that analysts think the stock could double in the next year or so. That might be rather optimistic to most, but remember, this stock traded at $50 going into earnings. Should the company report a good quarter or two the rest of this year, shares could easily rebound to that level.
Now if you look at the following chart, remember that we saw a similar fall in November when the company reported a huge revenue miss. The stock fell from $70 to the upper $30s, and then rebounded to $60 quickly, and even back above $70 after the next quarter's numbers came in above expectations. After the damage that has been done, I don't see us rebounding to $50 that quickly. Like I mentioned above, it probably takes two, maybe even three great quarters to get us back to those levels. Investors have become very weary of the company's growth prospects lately, and the company will need to prove that growth is not slowing as fast as it seems.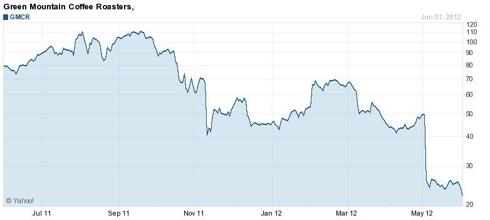 Click to enlarge
(Source: Yahoo! Finance)
Now, there are plenty of other issues worrying investors besides the slowing revenue growth. Green Mountain's accounting has always been questionable, and the company is still being investigated. They have been forced to revise numbers in the past. The company has also been criticized for its high inventory levels, which have more than doubled in the past year. Yes, you can't sell what you don't have, but when you have too much, you are either forced to discount it, or you are just wasting capital that could be used more efficiently elsewhere. Green Mountain also has some patents expiring this year, and bears are saying that competition is going to increase heavily in the near future.
Also, the company's relationship with Starbucks (NASDAQ:SBUX) has been questioned more and more. This was especially true after Starbucks announced plans for a single cup espresso machine, which will be out for the holiday season this year. Starbucks has repeatedly said that they are complimentary products to Green Mountain's, but think about it. If Starbucks wanted to crush Green Mountain, they could easily do so. In fact, after the last week or so, Green Mountain's market cap has actually dipped below that of Dunkin Brands (NASDAQ:DNKN). Green Mountain is expected to have revenues of about 6 times that of Dunkin this year, but Green Mountain has a lower market cap. If that doesn't show how much this stock has tanked, I don't know what will.
Green Mountain's troubles have also hurt other names in the space (and one not in the space) as well. Coffee manufacturer and distributor Coffee Holding Co. (NASDAQ:JVA) has traded similarly to Green Mountain. When GMCR goes up, JVA tends to rise as well. When GMCR falls, so does JVA. Think of it this way. The relationship between Coffee Holding Co and Green Mountain is similar to the relationship between Zynga (NASDAQ:ZNGA) and Facebook (NASDAQ:FB). When the larger name does well, the smaller is expected to as well.
Another name feeling the Green Mountain pinch has been SodaStream (NASDAQ:SODA), the company whose products allow you to make your own soda at home. Although soda and coffee are two vastly different products, the make it at home tie between the two is unquestionable. SodaStream is actually doing very well now, launching a new soda machine this year and expanding into Wal-Mart (NYSE:WMT). Unfortunately, it seems attached to Green Mountain's hip. SodaStream shares fell 10% when Green Mountain plunged after earnings. This is despite the fact that SodaStream has been raising their expectations for this year, unlike Green Mountain.
So where do I stand on Green Mountain currently? Well, I said I would look at the name when it dropped into the $20 to $25 range. Well, we are at that midpoint now. As I stated above, I don't think analyst estimates have come down enough yet, and I think that leaves room for further disappointment, especially on the top line number. Green Mountain's growth is slowing, the only question is how fast. I would go as far out to say that if they were to post two more consecutive bad quarters, this stock could see single digits. Yes, single digits.
Until expectations come down a bit more, I still believe that this name is a very good short candidate. The short sellers still seem to be in control of this name to a degree, and I think that Green Mountain could easily lose the $20 level. This would be especially true if global markets continue to decline on poor economic news. Should expectations come down to the levels I mentioned above, or the name drop below the $20, I will re-evaluate my position. For now, I will not be buying Green Mountain shares. If you are looking to be in this space, I would stick with Starbucks at the moment.
Disclosure: I have no positions in any stocks mentioned, but may initiate a long position in SODA over the next 72 hours.