Shares of leveraged gold miner ETF Direxion Daily Gold Miners Bull 3X (NYSEARCA:NUGT) are up nearly 60% from an all-time low hit in mid May. However, shares of NUGT are still down 60% over the past year.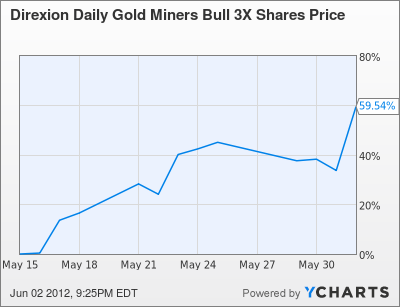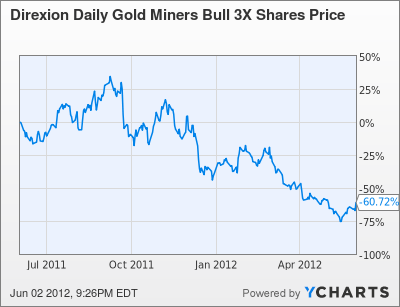 During the same time NUGT has declined over 60%, Gold has actually risen slightly. Gold is represented in the chart below by the SPDR Gold Shares Trust (NYSEARCA:GLD).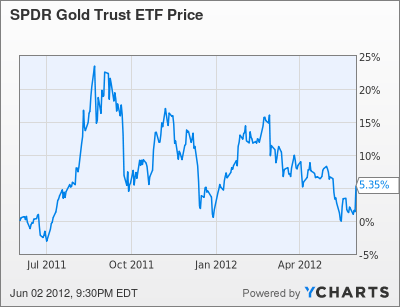 The recent rally in NUGT has happened for a variety of reasons. Firstly, as the problems in the eurozone have continued to build, investors have been looking for alternatives to the struggling euro. Additionally, gold staged a massive rally of over $60 per ounce following a weaker than expected U.S. jobs report. Buyers are likely speculating that another round of QE from the Fed is on the way. Interestingly, during the recent rally, gold miners have actually outperformed the metal itself.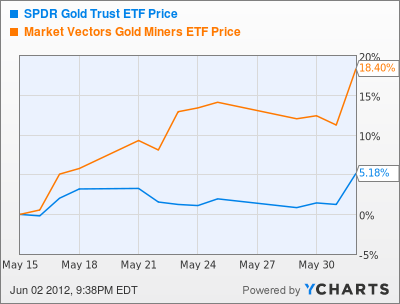 The outperformance of the miners is interesting because they have underperformed the metal itself significantly over the past few years.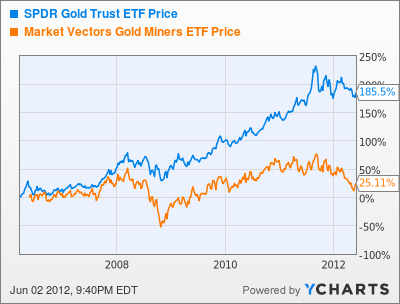 If the miners continue to outperform, NUGT should be a good play. However, despite the arguments about valuation, I remain skeptical that the miners will finally outperform gold itself. There are a few reasons for this. Firstly, if gold is going up based on "fear" and a weak global economy, then global equity prices will likely head lower. In this situation, it is difficult to imagine that gold stocks will be able to keep pace with the metal itself. At the end of the day, gold stocks are still stocks, not gold. That being said, Friday's price action in the mining stocks relative to the S&P 500 (NYSEARCA:SPY) was encouraging. Miners have also had difficulty with their actual mining operations as it has become more difficult to mine gold as the reserves are now deeper and more difficult to mine. Political instability has also added to the troubles for some miners. Lastly, miners continue having problems with labor disputes.
Alternatives
For investors looking to make a leveraged bet on gold itself, not the miners, there are a few options. The Velocity Shares 3x Long Gold ETN (NASDAQ:UGLD) offers 3x long exposure to gold while Pro Shares Ultra Gold (NYSEARCA:UGL) offers 2x long exposure to gold.
Short-Term Only
Before market participants decide if NUGT is the right trade for them, investors must first consider their time frame. For day traders and short-term swing traders, NUGT can be a good way to play any momentum in the gold miners. However, for long-term holders, NUGT is certainly the wrong play. The same goes for UGLD and UGL, okay for short-term traders but not long-term holders.
Disclosure: I am long UGLD.