Late last week, the Maxim Group initiated coverage on shares of Aastrom Biosciences (ASTM) with a Buy Rating and a 12-month price target of $6.
Shares of the company had been falling along with the rest of the markets, but now that Aastrom is enrolling patients in a pivotal Phase III trial for critical limb ischemia analysts at the firm feel that shares should head back up based on a high probability of success given the prior data sets and powering of the current program.
In a note to clients, Maxim's analysts point out that critical limb ischemia is a severe obstruction of the arteries that decreases blood flow to the extremities (feet, legs, and, less frequently, hands), progressing to the point of severe pain, skin ulcers, and sores. The Sage Group, a research group, estimates that there are more than 1 million CLI patients in the United States, with an incidence that is growing with an aging population. Of these patients, up to 40% are categorized as "no-option patients", ineligible for further revascularization. CLI is an unmet medical need today.
The sense here is that at $30,000 per procedure the therapy could create significant economic value for both Aastrom and patients, especially if it means that those patients would be avoiding amputation.
More than 60% of nontraumatic lower-limb amputations occur in people with diabetes. Statistics as of 2006 show that about 65,700 nontraumatic lower-limb amputations were performed in people with diabetes. $58 billion was spent for indirect costs (disability, work loss, premature mortality, etc.)
The pivotal Phase III trial will see approximately 600 patients and will be 90% powered to show a benefit of ixmyelocel-T over the placebo. In the firm's previous Phase IIb RESTORE trial, ixmyelocel-T showed a 61% risk reduction vs. the control group. Aastrom has assumed an event rate of 34.5% in the control group, expecting that ixmyelocel will separate down to 22.2%, according to the initiation report.
We recently interviewed Tim Mayleben, CEO of Aastrom Biosciences. During the interview, Mayleben broke down some of the details about the impressive $40 million private placement with Eastern Capital Limited. Despite this bullish bet, investors seemed to forget the strong proposition and upside potential presented by ASTM.
Shares have been up +9.34% since January 1, but are down -39.14% since last year.
Perhaps some overhang in the stock could be to blame for the marked downward trend in shares. "Aastrom also has access to an at-the-market financing vehicle, which is currently active for up to $20 million in aggregate offerings," according to Maxim. "Management may utilize the facility to preserve capital at opportune times in the marketplace. With that said, we believe management would prefer to raise capital with solid fundamental investors, and we do expect at least one more significant capital raise before we see pivotal trial results."
Analysts point out that biotechnology companies like Aastrom generally see a rise in valuation as they enter pivotal stages of development. Especially when the indications represent both an unmet medical need in a large patient population.
Those very same parameters fit a number of companies who are in late-stage clinical trials. Some, like Cel-Sci (NYSEMKT:CVM) have seen shares waking up as Phase III trials finally kicked off. The stock is up +36.25% since January, but it has definitely helped that leaks from doctors involved in the studies report promising (none-the-less anecdotal) results. It also doesn't hurt that despite arguments about the business management of the firm and frustration about how long it has taken them to finally get here, respected publications like Kiplinger and Fierce Biotech have started to take notice, listing Cel-Sci's Multikine cancer drug candidate among the "most promising" right along side CPI-613, from privately held Cornerstone Pharmaceuticals and cabozantinib, from Exelixis (NASDAQ:EXEL).
Over the long term, making money in any biotech or drug stock is about products, but as others have pointed out, there are a number of biotech stocks who have yet to sell a single dose but have returned tremendous gains for speculators. Inhibitex (NASDAQ:INHX), Amarin (NASDAQ:AMRN) and Pharmacyclics (NASDAQ:PCYC) are among them.
Where does that leave us?
That's easy. Put ASTM on your watchlist-- particularly in order to get clarity on where shares will finally bottom out. Long term, this appears to be a big winner, but be conservative and cautious with your bets and let the chart tell you when to join the pre-party.
Click to enlarge.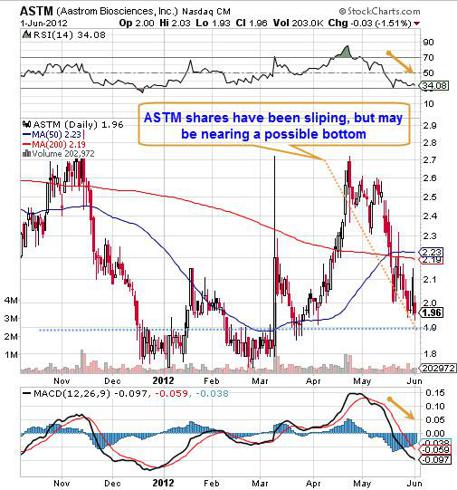 Disclosure: I am long CVM. I have been long CVM for some time and do not plan to sell my shares until after Phase III trial results are released.