The recent top holding of the iShares S&P GSSI Natural Resources Index Fund (NYSEARCA:IGE), ExxonMobil (NYSE:XOM), made headlines last week when it announced the largest annual profits ever reported by a U.S. firm— $41 billion, a 3% increase over the firm's 2006 profits. The sum exceeded analysts' expectations, but the news still wasn't enough to keep the firm's stocks afloat. Shares in ExxonMobil slid about 9% in January, leaving the stock trailing the S&P 500 by about two percentage points for the month.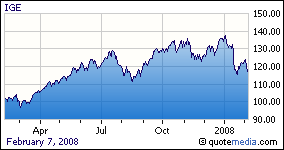 ExxonMobil wasn't alone: Each of IGE's top five holdings as of last week underperformed broad market indices for the month of January. The stocks were dragged down by sinking oil prices and signs of a global economic slowdown. Their losses contributed to IGE's roughly 8% year-to-date decline through February 1, though the blow was softened by the ETF's stake in gold, natural gas and other commodities that fared better in recent weeks.
IGE is heavily weighted toward energy stocks— they recently made up almost 80% of its portfolio— but the fund also invests in a wide range of natural resources shares. Among its recent holdings were shares of gold miners, natural gas drillers, aluminum producers, forest-products manufacturers and, of course, all sorts of oil companies. Most of IGE's portfolio is made up of shares of large firms: Its average market cap was recently $33.4 billion. Just under a fifth of the fund's assets are invested in foreign-based stocks.
After peaking at $100.09 a barrel on January 3, the price of oil pulled back more than 10% by February 1. Most of the conditions that caused oil prices to soar in 2007 remain, but extreme volatility in international markets last month suggests that the recent economic woes of the U.S. could spread abroad and slow the intensely oil-guzzling growth of countries like China and India. If a global slowdown occurs, demand for oil is likely to lag expectations. That in turn will likely lead to a further pullback in oil prices, a more challenging climate for oil companies and the possible end to a multiyear rally for energy stocks. Because IGE has such a huge stake in those stocks, it's likely that this fund will continue to move up and down with the price of oil as well.
Investors often turn to commodities when the overall economy faces hard times, because the value of materials like silver, oil and wood tends to remain fairly independent from the broad stock and bond markets. That's especially true when investors expect inflation to rise, because raw materials tend to maintain their value when the general price level increases. That helps to explain why ETFs with high exposure to commodities crowded into the ETF Momentum Tracker's Sector Momentum Table in recent months. By last week, eight of the funds in the table's top ten positions were tied to the value of one or more commodities. IGE, which has shuffled between positions twelve and eight on the table since April 14, 2007, settled at eight last week.
IGE might have an advantage over the other iShares energy sector ETFs due to its more diversified portfolio. ETFs like iShares Dow Jones Oil and Gas Exploration (NYSEARCA:IEO) and iShares Dow Jones Oil Equipment (NYSEARCA:IEZ) easily outperformed IGE in recent years because they were exposed to nothing but rising energy stocks. Most of IGE's holdings outside of the energy sector haven't done much for the fund over the last few years, but that has changed recently as gold prices soared while oil prices dived. Take last month, for example: The only stock among IGE's top-ten holdings to show a positive year-to-date return through February 1 was Barrick Gold (NYSE:ABX)—which also happened to be the only non-energy holding among the bunch. The gold miner's 26% return for the period helped IGE outperform both IEZ and IEO.
Recent number-six holding Encana's (NYSE:ECA) 0.26% year-to-date loss through February 1 was the best performance among the IGE's top energy holdings. That's largely because the Canadian firm produces much more natural gas than oil, and frigid weather across the U.S. in late January caused natural gas inventories to decline significantly even as oil and gasoline inventories showed surpluses. Most analysts expect natural gas prices to increase over the intermediate term and think oil prices might pull back. Those trends would clearly benefit this firm.
IGE recently had an R-squared of 33 when compared to the S&P 500, indicating that the fund's performance correlated with the broader market only 33% of the time during the three years through January. That independence should serve investors well if the stock market continues its erratic behavior. And if commodities like gold and natural gas continue to increase in value while oil slides, IGE could skip ahead of its energy-sector peers on the ETF Momentum Tracker's Sector Momentum Table.