It can be a very smart idea to follow the buys and sells of insiders in a company. Because, after all, who knows more about the company than the people who are running it. This might be the case with Pacific Sunwear (NASDAQ:PSUN), a specialty retailer that sells apparel, shoes, and accessories to teens and young adults. Today, SEC filings showed that President and CEO Gary Schoenfeld and two other directors bought a total of 300,000 shares of PSUN since May 29, between $1.45 and $1.55 per share.
The insider buying looks to be significant and possibly signals a bottom in PSUN. I can find no record of insiders buying in the open market since before 2011. The size of the transactions are large enough to look deeper into PSUN. On May 17, 2012, PSUN reported first-quarter earnings that showed signs of life from this struggling retailer. PSUN reported a loss of $0.20 per share vs. expectations of a loss of $0.29 per share. Details of the quarter were also positive as comp. sales and gross margins were stronger than expected and SG&A expenses were smaller than expected. On top of the Q1 results, management guided the midpoint of gross margins and same-store sales above current analyst expectations.
I believe management is buying shares in PSUN as they see the turnaround in Q1 accelerating into Q2. In the quarterly earnings, management stated:
We had a strong second half of the quarter that led to sales at the high end of our guidance and gross margins which exceeded plan, resulting in close to a $10 million improvement in our pre-tax operating results compared to the first quarter of last year. ... We achieved positive comps in both genders for the first time since 2005 and are optimistic that these positive trends can continue as reflected in our guidance for the second quarter.
Executives don't come out and buy shares in their company unless they are confident in their business. With these transactions, management is signaling to investors that the business is turning around. Why else would they buy?
Short interest in this name remains high at 7.5 million shares, which is 20 days to cover. Shares once traded near $7 in November 2010. With the stock trading near $1.50, a continued turnaround in PSUN could send the stock to $3 in the near term as more investors see the signs of this coming turnaround.
Click to enlarge image.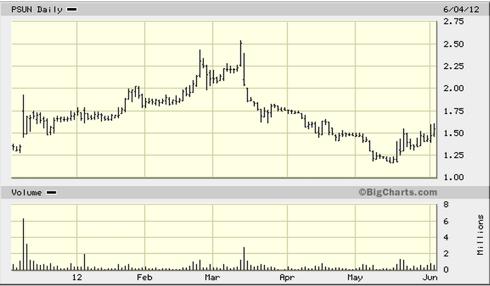 Disclosure: I have no positions in any stocks mentioned, and no plans to initiate any positions within the next 72 hours.