After a horrible jobs report Friday, there was a real bloodbath in the markets as the S&P 500 was down 32.29 (-2.46%) to 1,278.04. As of the end of trading on Monday, June 4, the S&P was basically flat for the day, after large falls in Asia and Europe. More importantly - or frighteningly - the S&P 500 broke its 200 day moving average last Friday, with the S&P 500 finishing the day at 1,278 while the 200 day moving average finished at around 1,284.50: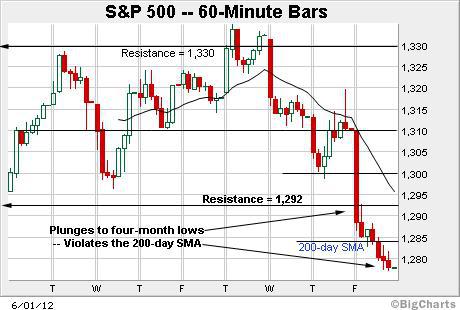 For those who follow technical indicators, a drop below the two day moving average is frequently considered a bearish sign. Meanwhile, over the last three months, the VIX - sometimes called the "Fear Index" - has trended steadily upwards over the last three months: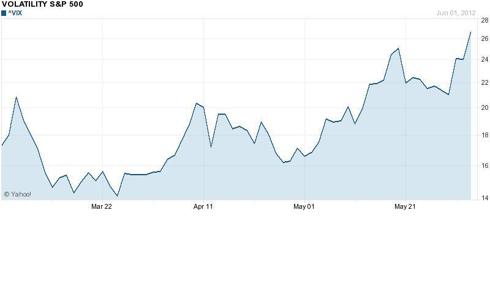 Finally, as this piece from CNN Money notes, the we are toward the extreme end of fear on the Fear and Greed Index.
The question is if this presages further drops ahead, or if we may be due for a sharp bounce back? There are certain things that seem like they could happen over the near term and which might induce a short rally:
The Fed announces - or at least gives some hints - that QE3 is on the way. Investors are already heavily beating the drum for the FED launch QE3, and according to a CNBC poll of 60 money managers taken after Friday's job report 58% now believe QE3 is likely.
The ECB makes clear that they are prepared to take dramatic steps to slow the rot of the eurozone crisis, perhaps by announcing a clear commitment to purchase unlimited sovereign debt from Spain to cap 10 year government bond yields at 6%. So far, there is no sign of this happening, and on Monday June 4th Goldman Sachs predicted that a eurozone crisis would result in a full scale US bear market in stocks.
Germany announces its support for eurobonds. There is no sign that Chancellor Angela Merkel is willing to budge in her opposition to this occurring.
New polls come out showing Mitt Romney jumping out to a clear lead over President Obama.
At this point, I rather doubt that we can count on anything out of Europe, and I suspect our best hope may be a signal from the FED that it is ready to launch the next round of QE. Absent that, it appears the path of least resistance is down.
Disclosure: I have no positions in any stocks mentioned, and no plans to initiate any positions within the next 72 hours.