Aegerion Pharmaceuticals (NASDAQ:AEGR) is an emerging biopharmaceutical company focused on the development and commercialization of novel life-altering therapeutics for rare and often fatal diseases. The company's lead product, lomitapide, is a first-in-class, small molecule, oral therapy to treat severe lipid disorders for an orphan patient population. Aegerion submitted a New Drug Application to the FDA, and an Marketing Authorization Application to the EMA, in the first quarter of 2012. The company also plans to initiate a clinical program to treat patients with a severe genetic form of hypertriglyceridemia called familial chylomicronemia (FC).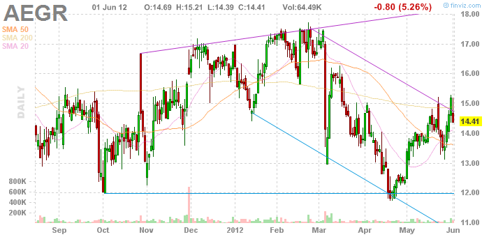 Click to enlarge
What are lipids?
Lipids are naturally occurring molecules, such as cholesterol and triglycerides, which are transported in the blood. Elevated levels of cholesterol, or hypercholesterolemia, and elevated levels of triglycerides, or hypertriglyceridemia, can dramatically increase the risk of experiencing a potentially life threatening cardiovascular event or other serious medical issue, such as a heart attack or stroke in the case of hypercholesterolemia or acute pancreatitis in the case of hypertriglyceridemia. The company is initially developing its first product candidate, lomitapide, as an oral, once-a-day treatment for patients with a rare inherited lipid disorder called homozygous familial hypercholesterolemia (HoFH). HoFH patients are unable to clear low density lipoprotien cholesterol, known as LDL-C, or "bad cholesterol", from the body efficiently, resulting in extremely elevated LDL-C levels in the blood. As a result, these patients are at a very high risk of experiencing life-threatening cardiovascular events, and typically have a substantially reduced life span relative to unaffected individuals.
I see at least 3 reasons to buy the stock currently:
1. Lomitapide FDA decision expected late 2012 and EMA decision in 1H 2013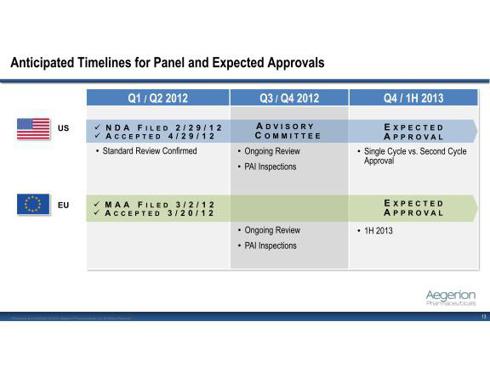 Click to enlarge
In the first quarter of 2012, the company submitted a New Drug Application (NDA) to the United States Food and Drug Administration (FDA), and a Marketing Authorization Application (MAA) to the European Medicines Agency (EMA) requesting approval to market lomitapide as an adjunct to a low-fat diet and other lipid-lowering therapies, to reduce cholesterol in patients with HoFH. In March 2012, the EMA accepted the MAA for review with a review start date of March 21, 2012. In April 2012, the FDA accepted the NDA as being sufficiently complete to accept the filing for a full review. The FDA has informed that the NDA will be subject to standard review. Based on meetings with the FDA and EMA, the company submitted the NDA and MAA using the 56-week results from our 78-week pivotal Phase III trial of lomitapide in the treatment of adult patients with HoFH. The 56-week results of the trial were announced in May, 2011. The company completed the trial in late 2011, and in January 2012, the company announced the 78-week results of the trial which were consistent with the 56-week results.
2. Insider buying
Marc Beer is the Chief Executive Officer of Aegerion. Marc purchased 2000 shares of Aegerion in March 2012. Marc took Aegerion public in October, 2010. Marc brings over 20 years of development and commercialization experience in biotechnology, pharmaceuticals and diagnostics. In April 2000, Marc became the founding CEO of Viacell (VIAC), a biotechnology company specializing in the collection, preservation and development of umbilical cord blood stem cells, and over a period of seven years led the company from its inception to a rapidly growing and robust commercial organization. Under Marc's leadership, the company grew to more than 300 employees, went public in 2005 and was ultimately acquired in 2007 by PerkinElmer (NYSE:PKI). Prior to founding Viacell, Marc held various positions within Genzyme (GENZ), most recently as Vice President of Global Marketing where he was responsible for the commercial launch of several products addressing orphan disease populations on a global scale. Prior to Genzyme, he held a variety of sales and marketing roles in the pharmaceutical and diagnostic divisions of Abbott Laboratories (NYSE:ABT).
Martha Carter was appointed Chief Regulatory Officer of Aegerion in February 2011, bringing over 30 years of regulatory affairs experience in prescription and over-the-counter drugs, biologics, biotechnology products, and medical devices. Martha purchased 1000 shares during March 2012.
Mark Fitzpatrick was appointed Chief Financial Officer in April of 2011. He brings over 15 years of financial management experience in both public and private companies. Mark purchased 500 shares during March 2012.
3. The company is expecting to be profitable in 2014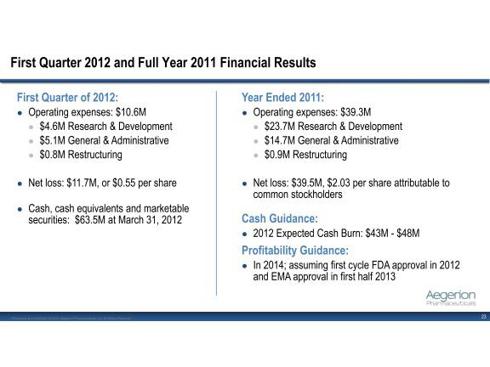 Click to enlarge
For the first quarter ended March 31, 2012, Aegerion reported a net loss attributable to common stockholders of $11.7 million, or $0.55 per share, compared with a net loss attributable to common stockholders of $6.8 million, or $0.39 per share, for the same period in 2011.
Cash, cash equivalents and marketable securities totaled $63.5 million as of March 31, 2012, compared to $46.8 million as of March 31, 2011 and $73.2 million as of December 31, 2011.
The company gave a profitability guidance during a webcast on May 17th. The company is expecting to be profitable in 2014 assuming that lomitapide will be approved by FDA and EMA.
Conclusion
I believe a share price of $20-25 is reachable if lomitapide will be approved in schedule. I plan to initiate a long position in the company during this summer.
Disclosure: I have no positions in any stocks mentioned, but may initiate a long position in AEGR over the next 72 hours.