Today I reviewed a few high yield energy entities. The stock market has been very weak, thus I will choose my entry prices very carefully. In volatile markets, the damage can continue as margin clerks throw the baby out with the bath water. I am looking for high yield dividend payers.

Click to enlarge
Mid Con Energy Partners, LP (NASDAQ:MCEP)
Mid Con Energy Partners is an upstream master limited partnership (MLP). The partnership pays 47.5 cents per unit, per quarter. This represents a 10.4% distribution yield. The partnership operates in the Mid Continent region and is primarily an oil production entity. The assets are long life and mature wells.
The SEC S1 indicates the hedges are not as long in duration as I would like. Management did, however, per their May 9th presentation, extend the 2014 hedges to 29% of production. This was from a prior 7% of 2014 production.
Mid Con Energy Partners has hedged 74.7% of 2012 oil production. The Average price is $101.59 per barrel. The 2013 hedged production drops to 60.5%. The 2013 production has a $100.26 average floor price. The 2014 hedged production has a $97.87 average floor price.
I will have to pass on this name. The partnership does not appear to have aggressively implemented production hedges out beyond 2013. This pales in comparison to Linn Energy (LINE) which is very close to a 100% hedged book through 2015.
Pacific Coast Oil Trust (NYSE:ROYT)
Pacific Coast Oil Trust has one quality I seek out like a hawk. The trust pays monthly distributions. Pacific Coast Energy Company LP (NASDAQ:PSEC) established Pacific Coast Oil Trust in 2012. The wells are in California. PSEC believes the trust will pay distributions through 2020.
Pacific Coast Energy Company LP has hedged 70% of expected oil and natural gas production from April 1, 2012 through March 31, 2014. The oil production price is hedged at $115 Brent Futures Oil Pricing. The $115 price point indicates a $1.80 per year distribution. Since Pacific Coast Oil Trust pays monthly distributions, the payment should be approximately 15 cents per share.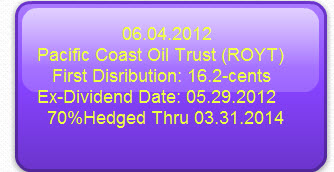 Pacific Coast Oil Trust closed, on June 4th, at $16.18. The $1.80 annual distribution is an 11.12% annual distribution rate through at least the 1st quarter of 2014.
SandRidge Permian Trust (NYSE:PER)
SandRidge Permian Trust has successfully met the expected quarter distributions. This is based upon actual distributions compared to the SEC S1 prospectus on target distributions.

Click to enlarge
The trust hedged 73% of current production through the 1st quarter, 2015. Although the trust is primarily an oil trust, a key driver is 888 development wells. SandRidge (NYSE:SD), conveyed the properties to the trust. SandRidge agreed to drill 888 development wells in the Grayburg/San Andres formation in the Permian Basin. The above table shows investors could hopefully receive mid teen yields through 2015. SandRidge Permian Trust.
I will be tempted to establish a position upon further SandRidge Permian Trust unit price decline.
Enerplus Corporation (NYSE:ERF)
Enerplus is setting new lows each week. In a world of low natural gas prices and falling oil prices, the equity still has plenty of risk. All signs point to a worldwide economy slowing in growth. Declining oil and natural gas prices are putting pressure on management to make difficult decisions.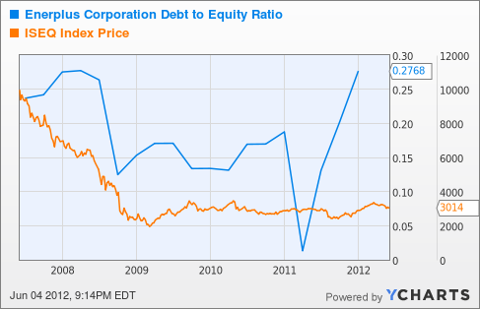 Click to enlarge
ERF Debt to Equity Ratio data by YCharts
The easy decision is to face reality and decrease the monthly dividend. The company will be forced to expand upon their bank debt. Management has effectively used loans but commodity prices have continued to drop along with the global economy expectations. The only investors who should buy Enerplus are investors with confidence in natural gas and oil increases. Hope isn't my type of investment strategy.
LRR Energy, L.P. (NYSE:LRE)
LRR Energy was brought together by parent Lime Rock Resources. LRR Energy is an upstream master limited partnership. The partnership had its initial public offering in late 2011. The natural gas and oil markets have declined dramatically since that time frame.
June 4th New Guidance
The company did update its 2012 guidance today. The update didn't offer any significance of the 50% hedged production through 2015.
LRR Energy doesn't have impressive hedges per their May presentation. The partnership has 68% of oil and 78% of natural gas liquids hedged in 2012. In 2013, these percentages drop to 54% and 57% respectively. In 2014, the oil hedges are 46%. In 2015, the oil hedges are 41%. In contrast, Linn Energy has 100% of production hedged through 2015.
Action
As natural gas, natural gas liquids, and oil have fallen from recent highs, investors are well served to invest in hedged companies. The companies that increased hedged production prices are at a distinct advantage versus the companies who apparently were caught flat footed waiting for higher commodity prices. The global slowdown indicates an error in judgment was made by these firms.
Disclosure: I have no positions in any stocks mentioned, and no plans to initiate any positions within the next 72 hours.