This article is a departure from my usual analysis, which is to look for a portfolio of stocks which might add consistent alpha. Rather than focusing on risk/return alone, I decided to revisit the added dimension of attribution analysis, hopefully as a means of improving investment outcomes.
What are the indicators indicating?
As per our primary indicator, which is the stock/bond (SPY/TLT) trade-off, the indicator is firmly negative thereby indicating to stay out of stocks. There is not much more to say about this really other than that is proving to be a marvelous indicator.
Click to enlarge images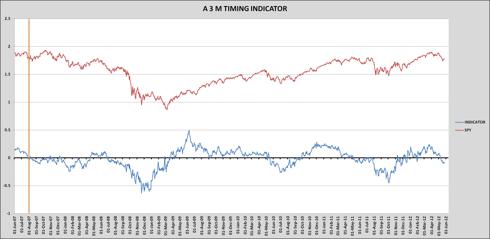 A Financial or a Business Problem - Attribution?
My view, hardly groundbreaking, is that two issues are running side by side. One is the financial stress being generated by the crisis in Europe. The other is a very possible global economic slowdown, but especially in China and in the last week USA. If it comes to pass, an economic slowdown would be expected to result in an earnings downgrade cycle.
The last few years have presented an interesting laboratory setting for analyzing this situation. Earnings in major US stocks have been strong and increasing, while financial stress has affected stock prices at least twice. The issue to resolve is which of these two factors has been most responsible for the current decline in stock prices and what we might conclude for the future.
The analysis period covered 30 June 2010 to the present. The business features used included;
The actual quarterly earnings for a given stock. In this case, my data was based on Caterpillar (NYSE:CAT),
The usual financial indicators used in valuation, ROE, NTA, Dividend Yield.
These are used to value stocks over the period on a conventional basis.
The financial features used included;
Financial risk indicator, in this case based on iShares Barklays 20 Year Treasury Bond ETF (NYSEARCA:TLT),
A market turmoil indicator which is based on volatility and correlation.
This analysis is expected to separate the effects of financial risk features from other business features.
The actual share price of Caterpillar as compared to that evaluated on the basis of the risks applied are: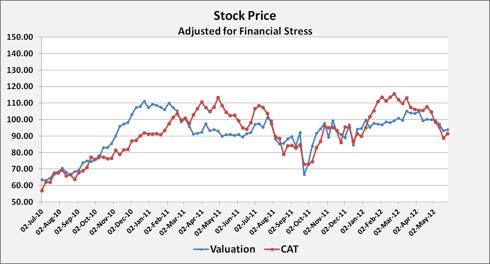 Discussion
This analysis supports the view that Caterpillar can be claimed to be under or overvalued on a regular basis. However, if the model suggests that CAT is undervalued, it probably is, and vice versa. Interestingly, the period of poor market dynamics, August - December 2011, appears to model well.
On the basis of the underlying parameters of financial risk, with no revision of earnings, I expect the following:
If bonds continued to rally, with TLT reaching say $130/share, then CAT would be expected to trade down to $80/share.
If the SPY were, in addition, to hit a market turmoil event as in August 2011, then the lows of $70/share would be very likely to recur.
If on the other hand, financial risk was to dissipate, then all else equal, CAT would be expected to trade above $125/share.
What would happen if earnings were revised down tomorrow, by say 10%?
My modeling indicates that in the current conditions, CAT would very likely be revised down to $70/share. However it is unrealistic to think that TLT would not decrease in time if the economy went into a downturn. With a reduction in financial stress and an earnings revision of -10%, CAT would be expected to stabilize around $110/share.
Conclusion
The current price of CAT most likely reflects financial stress. A dramatic fall in earnings excepted, a return to a more financially stable macro environment could plausibly deliver an upside of 30% plus.
Disclosure: I have no positions in any stocks mentioned, and no plans to initiate any positions within the next 72 hours.