This article focuses on McDonald's (NYSE:MCD) and is the 2nd in my series, ITGOW: Investments To Grow Old With. I believe that McDonald's fits at least 2 of the investment themes that I outlined in my article introducing the series and has recently entered a range in which I am happy to start buying shares. I used the dip Friday to initiate a position in McDonald's using my Sharebuilder Dividend Reinvestment Plan (DRiP) account. Recently another SA author wrote a terrific article entitled McDonald's: Using European Weakness to Your Advantage. McDonald's had already been on my radar screen for the ITGOW series and his article, along with several other key pieces of information that I link to below, helped me decide that MCD is a good value at these levels.
The Stock's Recent Performance
After Friday's 2.94% decline and Monday's 0.45% decline, McDonald's is now down 13.96% for the year, but when you factor in the two $0.70/share dividends that the company has paid in that time, the decline has been around 12.5%.
Let's break the stock's 2012 performance into two time periods. From January 1st to the day the Dow put in its 52-week high (May 2nd) McDonald's fell 2.81% while the Dow rose 7.34%. Thus, the Dow gained 10.15% relative to McDonald's during this period. But since May 3rd, McDonald's has fallen 11.48% while the Dow has fallen 8.8%. This means that the Dow's outperformance was only 2.68% during this most recent period and that most of the 2012 underperformance in shares of McDonald's took place during the first period. This is the period during which the broader markets were rallying and seemed to be ignoring Europe, which means McDonald's missed out this rally. Why might this be?
I have seen many articles that point to McDonald's exposure to Europe as the cause of this weakness. One article, entitled Europe Will Punish These 4 Stocks, points out that roughly 40% of McDonald's revenues come from Europe. A fair point. And with all of the weakness in Europe it is easy to see why the market would punish shares of McDonald's for this...right?
I have a tough time understanding how serious economic hardship in Europe will translate into problems for the company in the long term. People still have to eat... Maybe some consumers won't be able to afford McDonald's anymore or won't be able to afford as much food at McDonald's as they were buying before...but I would argue that prolonged economic weakness in Europe, which seems likely, will shift more consumers into the demographics that rely on McDonald's for cheap food.
I attribute the weakness in the first period of 2012 to both a minor correction in the PE multiple (it had approached 20 when shares traded over $100 and is now just above 16) and an overreaction by the market to what effect European weakness will actually have on the company. And what of this most recent period since the Dow put in its 52-week high on May 2nd? I believe that the decline in shares of McDonald's is almost entirely explained by broader market weakness. If Europe were really the issue with McDonald's then the recent Euro-related fear should have had a much more profound impact on shares of McDonald's than a mere 2.68% underperformance relative to the Dow.
How does McDonald's fit into my ITGOW themes?
McDonald's fits into ITGOW theme #8, Prolonged Income Disparity in the United States, because I also believe the same prolonged income disparity issues will exist in Europe and this broader trend will push more people towards restaurants like McDonald's. It fits #11, Cheap Food, because let's face it - despite all of the reasons not to, many people will invariably choose for the cheapest food they can get. Where else can you drive up and get 3 burgers and a soda for under $5 dollars (including tax)?! McDonald's is also making significant strides towards theme #10, Healthy Food, which will help it skillfully dodge criticism and also reclaim business it may have lost to places like Panera (NASDAQ:PNRA). This push towards healthier food and beverage options will also be key to McDonald's battles against those who argue its food and sugary drinks need to be banned or taxed, as evidenced by New York City Mayor Michael Bloomberg's recently proposed ban of sugary drinks over 16oz.
I traveled to Seville, Spain about a year ago and toured the town with friends late one evening. We went down to the river for what is known as botellón, which translates to "big bottle" but is basically just the term for when local youth gather in packs of 30-40 people and drink alcohol from communal bottles. This is generally followed by bottle smashing and aimless roaming. Apparently this has become even more common recently as unemployment (particularly among youth) escalates out of control.
Even in the 4th largest city in Spain, which has 13 McDonald's restaurants, there is just about nothing open late at night except for bars and what limited food they have is pricey. But do you know what is open late? You guessed it, McDonald's. In fact four of those 13 restaurants in Seville stay open until 2am and one of them is open 24hrs. (Source: McDonalds.es) During my late-night McDonald's experience in Seville the restaurant appeared to be doing great business and even when I visited Spanish McDonald's restaurants mid-day they were packed with young people.
While I recognize this is highly anecdotal, this is the kind of trend that makes me skeptical of arguments that weakness in Europe will be bad for McDonald's over the long term.
Many people either forget or don't know that McDonald's restaurants in Europe tend to be more upscale, part of a strategy that dates back several years. Celebrity Chef Jamie Oliver even praised McDonald's in the UK back in 2010, noting their use of organic milk and free-range eggs.
Believe it or not, it isn't so much Europe that I am worried about but rather Asia, Latin America and Brazil. These markets are where McDonald's is looking for much of its growth and, so far, it seems to be doing quite well.
Potential Headwinds
Like any investment, owning shares of McDonald's is not without its own set of risks. For the purposes of this section I'm going to ignore the obvious macro-risk facing markets right now in the form of a potential collapse of one or more nations that are part of the Euro, namely Greece, Spain and Italy.
Health-Minded Criticism/Regulation - It seems that ever since the movie "Super Size Me" came out, McDonald's has faced increasing scrutiny over not only their portion sizes but also what exactly they are serving to the masses. Whether McDonald's ingredients are dictated by national governments or if only specific products deemed unhealthy are taxed into oblivion, many of these low-cost/high-calorie ingredients are high margin and important for McDonald's. This is why soda tax or the proposed ban on sugary drinks in 16oz+ servings by Mayor Bloomberg in NYC is concerning. As I mentioned above, I think McDonald's is already moving in the right direction on this and they will find a way to make healthy margins on healthy food.
CEO Transition - McDonald's is currently transitioning as CEO Jim Skinner, who took over after a period of turmoil and is widely credited with overseeing a period of tremendous expansion and stabilization for the company, steps aside and turns over the reins to Don Thompson. Thompson, who has been instrumental to the company's McCafe project, seems to be eyeing increased nutritious and premium items. Nonetheless, any high-level transition like this brings a certain amount of uncertainty and this may even explain some of the recent weakness in shares.
Environment-Minded Criticism/Regulation - I work for a large food service provider and packaging from our retail/take-out operations is one of the biggest criticisms that I hear. Granted, McDonald's doesn't have eco-minded University clients to answer to, only its consumers who seem not to mind the large amount of packaging generated by each meal. But I still believe that eventually McDonald's will bow to the environmental pressure related to take-out packaging. Since all McDonald's food, even food that customers have ordered "For Here," is served in paper packaging, this issue concerns all aspects of McDonald's business. McDonald's restaurants are in no way equipped to offer washable flatware and utensils so I see the lesser-evil being an extensive composting program and a complete overhaul of McDonald's packaging from recyclable to compostable in all viable applications. Of course, there would be the one-time retrofit expenses related to adding compost bins and that sort of thing but much more importantly, compostable packaging can be between 3x and 10x the price of conventional packaging and 2x to 5x the price of recyclable packaging. I doubt this will be in the next 5 years but I expect it in the next 10 to 15 years.
Marked Slow-Down in Growth Markets - McDonald's is counting on high growth markets like China and ITGOW theme #3, Brazil, for much of its growth. In a few years ITGOW theme #4, Africa, will also be on this list. Which means that even if the developed markets continue to enable McDonald's to generate great cash flow, the company's growth would be significantly inhibited if these emerging markets are not strong. Keep a close eye on what the company and analysts say about China and also what Arcos Dorados (NYSE:ARCO), the large operator of McDonald's restaurants in Brazil and Latin America, has to say about its earnings and growth prospects.
Inflation Accelerating the Rise in Food Costs - It is hard for me to imagine a situation in which central banks can settle their debts without inflating their way out. This could have a serious impact on the cost of McDonald's ingredients and/or the willingness of customers to pay for the increases. While this is perhaps the most significant risk facing McDonald's during the global recovery, I have to believe that McDonald's hedges against these risks carefully. In fact McDonald's outright states in its SEC filings that it hedges a number of its risks but focuses on its global currency risk in this discussion. Much more importantly, McDonald's has shown over its history that it can effectively manage its recipes, product mixes and pricing so that margins are not (significantly) affected by rising food costs.
Why now?
Is the stock cheap relative to earnings?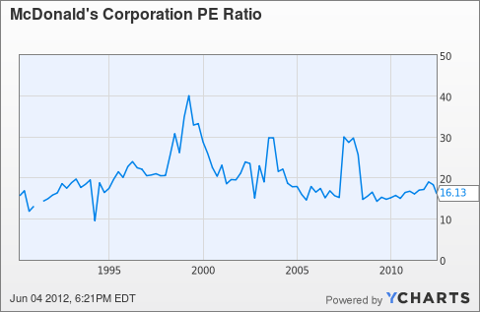 Click to enlarge
MCD PE Ratio data by YCharts
As you can see from the chart above which shows the historical Price-to-Earnings (NYSE:PE) ratio for McDonald's going back to around 1990, there have certainly been times during that period when shares of McDonald's were cheaper based on the PE. That said, it would be tough to look at this chart and say, based on a PE of about 16, that shares of McDonald's are expensive.
Is the stock cheap relative to its dividend yield?
As the price ticks lower and the yield ticks higher, I would apply Jim Cramer's 'accidental high-yielder' term to McDonald's. If your criteria is dividend yield, this would pretty much be the best entry point since the lows of the second half of 2011. McDonald's even increased its dividend at the height of the financial crisis, raising it from $0.375/share to $0.5/share for the 11/2008 dividend, and raised it again to $0.55 for the 11/2009 dividend. The current payout is $0.7/share. Based on its dividend increase history, the company will likely increase the dividend after the next quarterly payout. As the dividend continues to increase, the recent decline in share price has made the yield even more attractive and should offer some cushion against additional downside. (Source: Nasdaq Dividend Data for MCD)
The Bottom Line
I won't try to tell you that McDonald's has put in a bottom since that's just not my area of expertise. However I do believe this is a company with great long-term prospects, a solid 3%+ yield that may not be on fire-sale but is certainly a good enough buy that I happily added it to my long-term DRiP on Friday. I will likely add to this position on any continued weakness. I recently read a great article on SA that argued McDonald's was "Not Yet Cheap Enough," though the article was written based on shares trading around $93 and concluded that the stock was fairly valued at around $95. I first bought shares of McDonald's Friday at $87.27 and am very happy with this price despite the stock having closed Monday at $86.36.
Disclosure: I am long MCD.