INVESTools (Nasdaq: SWIM) announced their acquisition of social networking start page mytrade.com Thursday morning. Think Netvibes/Pageflakes for stock and trading information. Terms of the acquisition were not disclosed.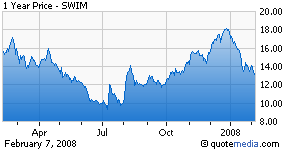 mytrade's daily reads page is pretty impressive, including feeds from sites like: Fred Wilson, Howard Lindzon (who is an investor) and an interesting search window into blinkx for video search. Techcrunch is listed as the only tech listing. Clicking to add additional tech feeds offers GigaOm, Mashable and TechMeme.
mytrade will be the first, but not the exclusive, platform to have access to thinkorswim's innovative new thinkPod trading technology. thinkPod is a web app for order entry, order tracking and portfolio management. The thinkPod widget will allow current and prospective thinkorswim customers to place live trades directly from mytrade. Active thinkorswim customers are automatically enabled to log in to mytrade.
The news release suggests that site visitors can use a pre-made page but no matter what I tried, I was forced to either login or register before I could view the site. I certainly hope this isn't the case as it would provide for inflated numbers like my registration which I will most likely never use again.
The acquisition makes sense as it allows INVESTools to push their stock trading app directly to those using the start page. Makes you wonder if the larger general start pages should be acquired by the likes of Amazon(NASDAQ:AMZN)/Buy.com so they can push directly to their stores.
Disclosure: none